With $75-million mandate at stake, Dragons' Den-style competition aims to elevate sustainable investing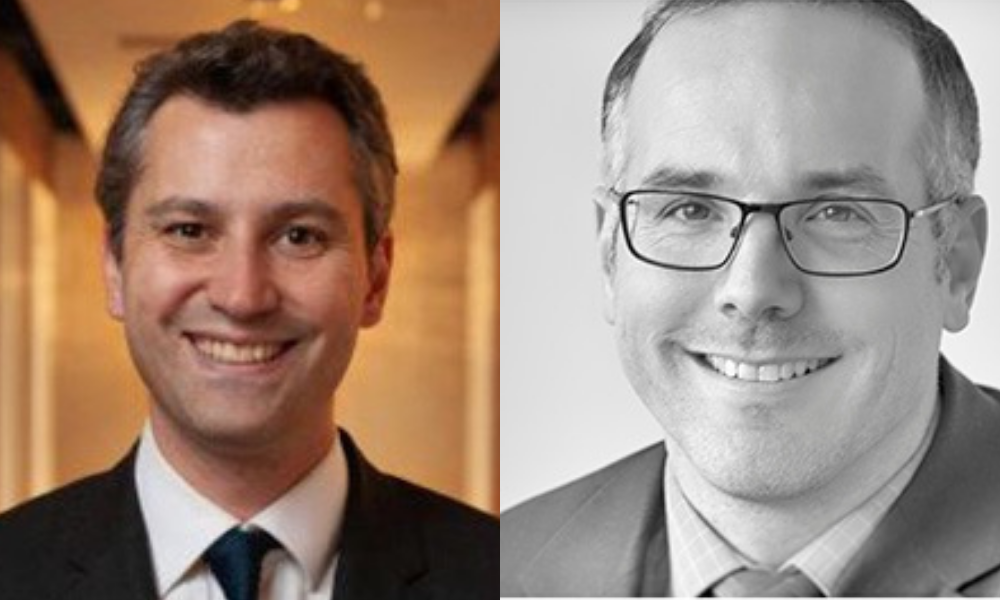 As interest in responsible and sustainable investment continues to gain momentum, a group of institutional investors is holding a search for the most outstanding and upstanding asset managers in the Canadian ESG space.
Taking inspiration from Dragons' Den, The Great Canadian ESG Championship is a first-in-Canada competition that will showcase the most transparent, purpose-driven investment strategies the country's asset management space has to offer. A field of over 55 competitors will be vying for a $75-million pot put together by eight institutional co-investors.
"A couple of days before the deadline, we had only three applications," says Eric St-Pierre (pictured above, left), Executive Director of the Trottier Family Foundation, which spearheaded the ESG championship. "On the morning of the last day, we had 26, and then by the end of the day there were more than 50, which is very exciting."
According to St-Pierre, the competition was inspired by another public competition held by three U.K. institutional investors right before the COVID pandemic.
The idea behind both events is that while there's no shortage of ESG investing strategies being promoted across the industry, the lack of standards around labelling creates risks of greenwashing. With an open call, investment managers will be required to publicly disclose exactly how sustainable and ethical they really are.
"We received proposals from a broad range of firms including investment boutiques, multinational investment managers, and even emerging firms," St-Pierre says. "From there, we'll have a screening process to narrow that down to nine finalists across three categories: equities, fixed income, and multi-asset."
To accommodate the needs of the investing institutions, the competition will include ESG strategies across a broad range of asset classes; each competing manager can submit only one strategy for contention. Managers can propose any strategy, whether it be focused on environmental, social, or good governance objectives, but it must be easily investible within Canada.
Two ESG and finance experts, Millani and Normandin Beaudry, have agreed to independently verify the submissions.
"The idea is to spur the development of solutions that integrate ESG considerations and are accessible to investors in Canada," says Jean-Grégoire Morand (pictured above, right), Partner at Normandin Beaudry. "Our hope is that the finalists will reflect a diversity of asset managers with representation from both big and small firms."
According to Morand, the first priority will be to screen submissions from an ESG standpoint. Some managers may claim to have a green approach, but they'll need to meet certain requirements.
At minimum, they must be signatories of the U.N. Principles of Responsible Investment; for smaller firms that might not have the resources for it or haven't gotten around to it, they must at least have an ESG committee or ESG policy in place. Competitors will also be evaluated based on their active ownership, how they integrate ESG into investment decisions to meet their clients' sustainable objectives, the quality of their disclosures, and whether they practice ESG in their own businesses, as well as other criteria.
"We're also looking at typical finance aspects to evaluate their performance from a returns perspective," Morand says.
The nine finalists will be selected and announced by May 11, with three finalists chosen for each competition category. From that point, they'll have just under a month to prepare formal presentations, which they'll pitch to a panel of judges in a Dragon's Den-style setting in June. After the judges select the best proposal from each category, three leading ESG managers will have shared responsibility over the $75-million mandate.
"We won't let perfect be the enemy of the good," St-Pierre says. "We expect the top nine will be very, very good, and the three winners will be excellent. But our aim is to elevate the best the industry currently has to offer, while still recognizing that even those organizations may still be able to improve as well."
To maximize the impact of the ESG Championship, Millani and Normandin Beaudry will also publish a report in September. Without naming specific companies, the report will shine a light on the most exemplary applications of ESG they encountered during the selection process, along with suggested areas for the industry to do better.
"We want to encourage the industry to see what's important for asset owners, and what they can do to distinguish themselves as a real leader in integrating ESG in Canada," Morand says.