Firm, with $85 billion AUA, to launch new client onboarding tool and advisor website program in new year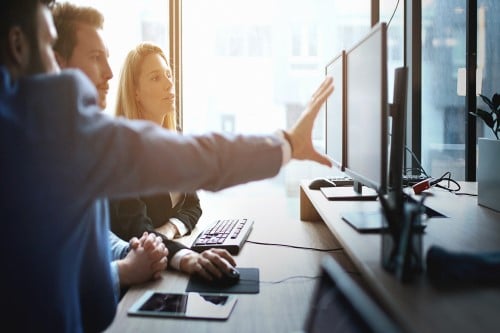 iA Financial Group spent the last two years consolidating. Now they're aiming for a new kind of expansion.
With the acquisition of HollisWealth in August of 2017, iA Wealth became one of the largest independent wealth management firms in Canada. With its newfound size, though, came new challenges. Over the past two years iA Wealth has integrated HollisWealth within its platforms and practices while managing to keep the lights on and the doors open. With that work behind them, iA's team is looking at technology to drive their next stage of growth.
"As of this month, we're launching a brand new client onboarding tool," iA Securities president John Kelleway told WP. "We're going to be launching a new online client portal in 2020, too, and a new advisor website program."
Kelleway says the new onboarding platform, built with software engineering firm Appway, will allow iA Securities advisors to onboard new clients and update existing relationships. He thinks it will provide an improved client and advisor experience.
The new client portal being rolled out next year will allow a greater range of online interactions between clients, advisors, and the dealer. The new website program for advisors will move iA Securities advisors closer to the social space, using more online outreach to supplement their prospecting and client outreach efforts.
"Part of it is delivering on a client experience expectation," Kelleway said when asked why iA's made this tech investment. "But we're also trying to do it for the advisor, to help them to execute on their day to day business needs quicker and more efficiently. So at the end of the day, they spend more quality time with their clients.
"From a dealer's point of view we find having these different technologies put in place, it helps from a P&L perspective. It allows us to be more operationally efficient with the use of technologies and manage some of our financial objectives as well."
Tech isn't the only focus iA has for the future. The firm has formalized its practice management team, something it had previously only done informally, to better serve advisors. That formalization was built on the wider lessons that came with consolidating iA's business over the past two years.
"While we were going through all the changes in harmonizing grids, harmonizing policies and procedures, harmonizing different processes, we had to make sure we still delivered on an advisor/client experience," Kelleway explained about the lessons learned since 2017. "Through any type of change, you have to get the business done day to day. That was probably one of the largest challenges while we we're going through that pace of change."
They accomplished that harmonization through formal teams. One project team led the harmonization of iA and HollisWealth systems. Another team serviced the day to day needs of advisors in the business. Through those two key teams, working parallel to each other over two years, iA managed to successfully integrate HollisWealth without any major hiccups.
The final challenge Kelleway faces is one he's yet to completely overcome: PR.
Though they've made progress, Kelleway is still surprised that iA doesn't always get the brand recognition he thinks it deserves.
"You look at the iA Wealth platforms, that would include myself on the security side and my partners on the MFDA side. We're a business that has more than $85 billion in assets under administration, yet, we still run into the individual who doesn't know the story very well," Kelleway explained. "That would be one of the challenges we have in front of us, one that we continue to work on here in 2020."
Kelleway tells his story starting with the numbers, showing the scale of iA's AUA and "opening the eyes" of people who might not know them well. From there, he reinforces those numbers with the story of an independent, entrepreneurial forum for independent advisors to grow in.
"Our advisors, in my opinion are some of the best in the industry," Kelleway said. "They really do an amazing job focusing on that end-client experience. As a dealer, we're really focused on enabling that to take place. Our goal is really to try and help our advisors meet the expectations of that end client."