Alberta-registered oil company Oryx Petroleum shuts-in production at two new fields as Sunni militias lunge for oil.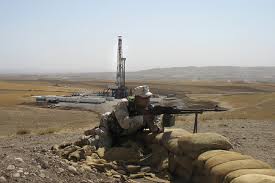 The price of oil jumped sharply at the end of last week as Islamic State fighters came within striking distance of several Kurdish oilfields. The Sunni militias have, recently, captured a large swathe of land through the central part of Iraq. Some worried they were headed for Baghdad. But late last week the Sunni militias turned their attention to the oil-rich Kurdish regions in the north of the country. The fierce Kurdish army, the peshmerga, were, to the surprise of many, pushed back from several small towns. ISIS moved to within striking distance of the oil fields and the ancient city of Erbil, the nascent capital of Kurdistan.

Late last week the TSX-listed oil company Oryx Petroleum Corp, announced that the company temporarilly suspended drilling operations at the Ain Al Safra and Banan drilling sites. Non-essential personnel were relocated from the fields to Erbil. Oryx was founded in 2010 by The Addax and Oryx Group Limited, a larger oil company overseen by international oil executive Jean Claude Gandur, who has been working in Kurdistan for years. Another Gandur-run company, Addax Petroleum, was sold to massive Chinese oil company CNOOC after successfully developing the Taq Taq field in Kurdistan in 2008 and 2009. That field was one of the first new ones to come online in the wake of the American invasion of Iraq.

So far, ISIS has captured a major Iraq dam as the fighters concentrate their efforts on capturing key infrastructure and resource development projects. Earlier captures of Syrian oilfields now see funds from crude sales flowing to ISIS. The price of oil has been rising as a result. But U.S. air strikes on the Sunni insurgency calmed markets. Brent crude oil dropped to below $105 a barrel on Monday as U.S. intervention in Iraq eased concerns over the risk of disruption to supply. In the regional capital Erbil people were said to be celebrating Oil exports from southern Iraq are near record levels as the Kurdistan Regional Government's oil pipeline via Turkey is pumping 120,000 barrels per day of crude oil out of the country. State Department officials have confirmed that the U.S. has begun selling weapons to Kurdish forces in Iraq as a way of helping to defend the oil infrastructure. The rise in the price of oil threatened to forestall any economic recovery now underway. Many think any oil price over $110 a barrel is enough to derail a recovery.