A sizzling U.S. jobs report is fueling the optimism.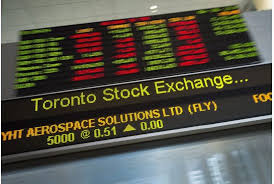 Canada's main stock
index
hit an all-time high of 15256.32 today. The index has dropped back a bit since mid-day. But today's high-water mark beats the top achieved June 06, 2008 when the index was 14969.55 just before the Great Recession. Before that, the market peak was September 01, 2000, when the index hit 11388.82 just before the dot-com crash kicked in.
A report indicating momentum in the U.S. job market supports those talking about a recovery underway in the American economy. The report seems to be fueling the optimism. "Government figures showed a jump in U.S. employment growth and a drop in the unemployment rate, suggesting the world's biggest economy was on its way to overcoming a winter slowdown," according to a Reuters report.
"The steadying, grinding, yet measurably positive recovery in the United States continues," Stephen Wood, a market strategist at
Russell Investments
was quoted as saying. "It appears that the slow economic recovery has gotten traction in the labor markets.
"I'm not convinced that the data so far is going to knock the (Federal Reserve) off its policy path…The taper will continue, and quantitative easing will be sewn up and put to bed by the end of the year," Wood was quoted as saying.