Chris Reynolds of Investment Planning Counsel shares the thinking behind his firm's winning focus on people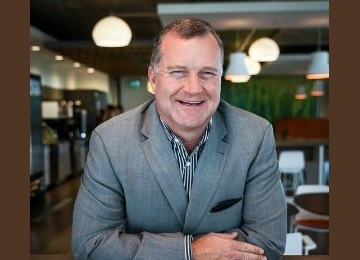 Pride and honour were the common sentiments felt by the awardees during the
Wealth Professional Awards
held last year, and Investment Planning Counsel was no exception. After the firm won the 2016 Fundserv Award for Advisor Network/Brokerage of the Year, excited messages and calls poured out, spreading the news and jubilation like wildfire.
"In truth, there was a big cheer from everyone across teams when we shared news of the win," said
Chris Reynolds
, the firm's president and CEO. "There were lots of smiles, back-patting and celebration all through the halls at IPC. Everyone here has worked hard to build a company that helps advisors build a better business, so it was nice to be recognized for our efforts. The team was so proud of the acknowledgement."
The acknowledgement was surely well-deserved. In a challenging industry swimming with formidable competitors, the 23-year-old firm stood out because of a fundamental and enduring focus on people.
"We're in a tough, competitive and complex business, so there has to be one thing that everyone in the organization rallies around and believes in," Reynolds said. "For us that is 'relationships' … it is our belief that if you look after your customer, they will look after you."
The firm's customer-centric philosophy isn't just externally oriented. It's tempting for any investment business to concentrate on appeasing clients, but at Investment Planning Counsel, they approach the problem more indirectly – and arguably, more holistically.
"[O]ur culture and our people are the most important assets we have as a company," Reynolds said. "We really focus on the relationships we have with our advisors so they can, in turn, enhance the relationships they have with their clients."
Of course, the advisor-client relationship doesn't exist in a vacuum. While it can be very personal, it's still a professional relationship that is subject to oversight. Regulatory groups, set up through industry initiatives and government mandates, exist to safeguard investors from possible deception or substandard service.
The labyrinth of compliance that registrants must navigate is complex not just because of the number of regulators and overlapping policies, but also because of continual changes proposed to protect investors. However, Reynolds doesn't see it as a bad thing necessarily, and he certainly doesn't consider it an impediment.
"As with most people in the industry, I believe regulation will have both positive and negative effects on how advisors interact with their clients," he said. "However, the value that good advisors bring to the table will always be in high demand by consumers. I believe the regulatory changes we see in the industry will expedite the mobility of both clients (switching advisors) and advisors (leaving the business). I think this will be one of the biggest trends and challenges to our business."
With a challenging path ahead, Reynolds' firm is not simply resting on its laurels. The focus on customer relationships will stay front and centre, but the changing needs of investors demand a shift in approach when it comes to the delivery of advice.
"As with any industry, it is important to look forward, not back," Reynolds said. "As a company, we continue to look to what our customers are going to need in the future. We have put much more emphasis on our digital assets and I personally believe that the new world will be focused on client experiences in digital media. It is a big undertaking but that is where we are pointing our resources for the future."
While Investment Planning Counsel's plans for adaptation may be daunting, its extensive advisory network and decades of industry experience in serving clients will surely be a useful foundation for what they intend to build. The team has much to do in the months and years ahead. But in the nearer term, Reynolds is eager to make up for an opportunity he missed last year: the chance to attend the
Wealth Professional Awards
.
"Unfortunately, I was out of the country when the awards event occurred but my business partners attended in my absence. They told me the minute they got the award and I was smiling all day," he said. "I look forward to this year's event."
The 2017 Wealth Professional Awards will be held on June 1st at the Liberty Grand. Click
HERE
to nominate now!
Related stories:
WP's discretionary/portfolio manager of the year 2016 speaks out
Spotlight: Sprott Asset Management Award for Best Advisor in Alternative Solutions