The Ontario securities regulator opens its case against the defendant, who has previously served jail time for fraud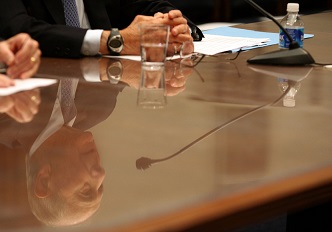 Ontario's securities regulator is scheduled to begin opening submissions today in the long-running case against Garth Drabinsky, one of the central figures in the Livent Entertainment financial fraud scandal.
Drabinsky declined comment on his way into the hearing room of the
Ontario Securities Commission
, which launched its regulatory cases against him and two others in 2001. Those cases were put on hold while criminal charges against the three worked their way through the courts.
Drabinsky was found guilty of fraud in 2009, sentenced to a four-year prison term and released on parole in 2012.
Gordon Eckstein, who was the vice-president of finance at Livent Entertainment, the former Toronto-based theatre production company, pleaded guilty in 2007 to fraud. He was given a conditional sentence of two years less a day, including a year of house arrest.
Myron Gottlieb, who co-founded Livent Entertainment along with Drabinsky, was convicted of fraud, sentenced to five years in prison and released on parole in 2012.
The OSC announced four years ago it was re-examining whether the trio contravened the Ontario Securities Act and the public interest when they manipulated the books at Livent Entertainment.
Both Eckstein and Gottlieb were banned from serving as a director or officer of a public company under settlements reached with the OSC. The commission's case against Drabinsky now resumes.
The 1998 demise of Livent Entertainment, which was behind such theatrical hits as ``Phantom of the Opera'' and ``Ragtime,'' cost investors an estimated $500 million.
The Canadian Press
Related stories:
Can the ASC's no-payout whistleblower program succeed?
Expect increased focus on cybersecurity in 2017