Fines have also exploded, but collections remain weak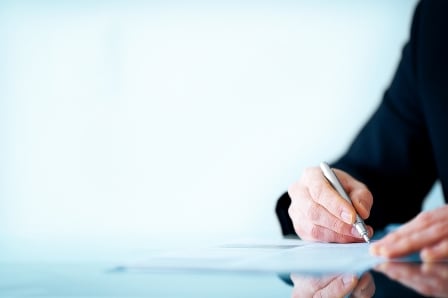 The
Mutual Fund Dealers Association
of Canada (MFDA) has released its latest Annual Enforcement Report, which indicates a surge in enforcement activity and fines mostly driven by allegations involving signature falsification.
The association's enforcement department opened 446 cases last year, relatively flat compared to 2015's record of 444 cases opened, according to reported top-line figures. The number of cautionary letters was also steady at 86 for both 2015 and 2016.
However, a surge in activity was observed on several other fronts. The number of cases closed, for example, went from 361 in 2015 to 450 in 2016. Warning letters issued went up from 85 to 120, while proceedings commenced spiked from 69 to 111.
The report also broke down the primary allegations made from 2014 to 2016 by type. The figure rose for only a handful of allegation types. The most notable increase was in the number and share of signature falsification allegations, which exploded from 61 out of 444 primary allegations in 2015 to 130 out of 446 in 2016.
In 2016, 217 allegations were entertained in formal proceedings, with only 18 allegations levied against member firms. Among the 111 proceedings commenced in 2016, 60 involved signature falsification allegations. The cases of signature falsification were broken down into several types of circumstances, including:
An approved person asking a client to sign a blank form so verbal instructions can be enacted in the future;
An approved person correcting errors on signed and completed forms without having the client initial the change;
Insertion of information by the approved person after the client has signed it;
Signing on behalf of the client or cutting and pasting a previous client signature to implement phone instructions; and
Use of falsified signatures for discretionary trading, unauthorised trading, misappropriation, and other rule violations.
"In many of the cases, the activity is done for purposes of client or advisor convenience," said the report. "Of the 60 formal proceedings for signature falsification that we commenced in 2016, five cases fell into [the] last category."
The total fines imposed by the MFDA also skyrocketed, going from $5,389,650 in its 2015 annual enforcement report to $21,104,750 in its latest one. However, only $627,753 (around 3%) has been collected. "Since the commencement of MFDA disciplinary activity in 2004, MFDA Hearing Panels have imposed total fines of $73,598,211 of which $7,299,267 (approximately 10%) has been collected," said the 2016 report.
The MFDA reportedly has powers to collect fines from approved persons, but not from former approved persons – except in Alberta and Prince Edward Island. Legislation enacted by Ontario earlier this year gives self-regulatory organizations (SROs) additional powers to collect fines.
Aside from signature falsification, the MFDA also said it is focused on reviewing fairness and timeliness of member complaint handling through a special function within its case assessment group.
For more of Wealth Professional's latest industry news, click here.
Related stories:
Advisor group slams OSC priorities
CSA chair speaks out on best-interest standard