Advisor shares how 'putting the oxygen mask on first' has helped him tend to clients better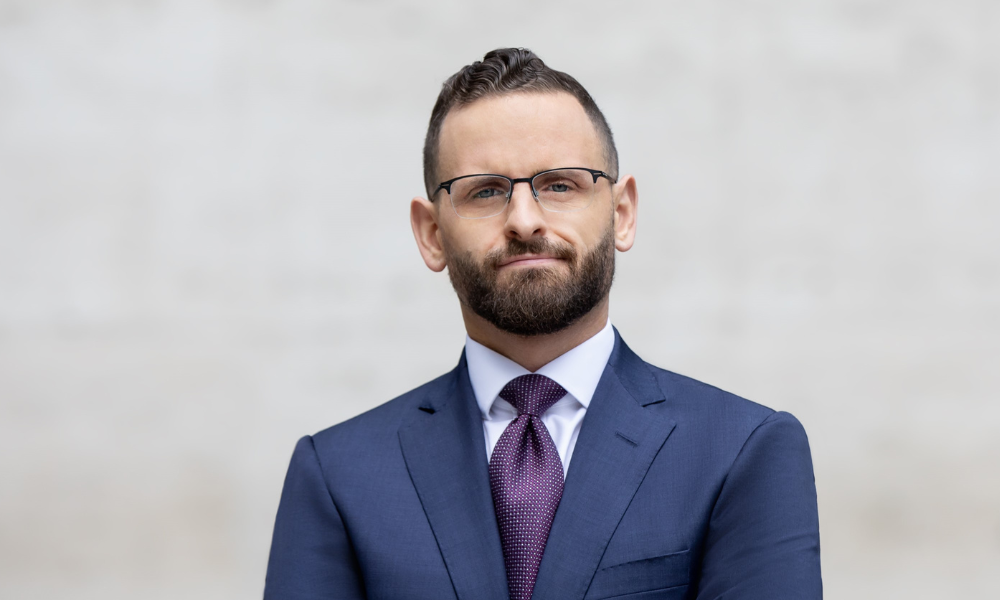 Jason Hunt has learned a lot of life lessons and he's found that sharing these can help his high- and ultra-hight-net-worth clients better navigate their financial and personal lives.
"I've learned I'm able to teach my clients that it's okay to take your foot off the gas a little and reduce that intensity or focus, and it's going to be okay, even if you're used to operating at 100% all the time," said Hunt, an advisor who is senior associate of First Avenue Investment Counsel, based in Ottawa and Toronto.
"Your 93% or 94% or 95% output oftentimes is just as good as your 100% output, so that affords you the time and space mentally or physically just to step back momentarily – and, ultimately, things are going to be okay. Often, when your clients or you are in that situation where you're feeling the crunch, it's hard to see that, but when you take that step back, you can take a beath."
Hunt has noticed that there's been a general increase in anxiety over the past three years, particularly with the pandemic lockdowns, market volatility, and now an impending recession, so clients appreciate the service that comes from having a full financial planning and portfolio service.
"When you step in as a professional to create that space for them sometimes it's as simple as saying, 'let me just take that off your plate for you', which offers them a nice mental or physical space to take that step back, gather themselves, and work through whatever it is that they need to do. People have done that for me, and I hope to create that sense of calm for them," he said.
Even though Hunt is still in an intensive job in a growing practice where the advisors provide around-the-clock support for their clients when they phone, email, or text, he noted that the lessons he's learned are just part of life's teaching that have gotten him to where he is right now.
"They give you the insights to pass on to others and, ultimately, be more helpful as an advisor, or friend, or coach, or human being," he said.
First Avenue Investment Counsel is a portfolio management firm with 65 high- and ultra-high-net worth families as part of its family office practice. Hunt joined from Alterna Wealth about 18 months ago after spending 15 years in the credit union system.
Now, he supports client and family relationships, coordinating his clients' financial lives and offering whatever other coaching they need. Hunt has noticed that being transparent with his clients and sharing his life lessons – from learning to make room for the people in his life and managing life, family, education, and work commitments – has helped him deepen his bond with, and support, his clients.
"You need to put the oxygen mask on first, and then you can tend to your clients," he said. "I'd be the first to tell you that I have not always put the oxygen mask on first. Our culture didn't always reward that, but maybe the tides have turned in the last few years where now there is more cultural acceptance of taking care of yourself before you take care of others. But, there's certainly been a trend toward more of that these days."
Still, he believes there's a lot of benefit in being vulnerable with clients.
"I've worked with advisors in the past who always had a barrier between their personal story and professional practice," said Hunt. "But, if you're going to do this business and going to be successful at it, you have to go all in and be your true transparent self with clients because that's ultimately what we're expecting of them – to be fully vulnerable and let us into their lives.
"If you're expecting that from a client, you need to be willing to do the same. I'm very open and transparent with my clients about the past experiences that I've had because it builds trust so much faster. I will never ask them for what I'm not willing to give them. That just make sense for any relationship."
Hunt added that he's noticed that those who were more resilient were able to make it through the pandemic a little easier because they could fall back on their previous life experiences and draw from that inner sense of calm to get them through the hard times.
"When you have that insight, or you have that ability to communicate it to others, you can help people get through those experiences if they haven't had those life experiences by communicating a little of your story in a helpful way," he said.
It's been a good learning curve for both him and his First Avenue clients for what he's doing now.
"I have my hands in pretty much every aspect of the family office practice," said Hunt. "We're truly the trusted advisor in their lives, which is very rewarding."