CFL champion and investment advisor Adam Bighill explains his core-and-explore model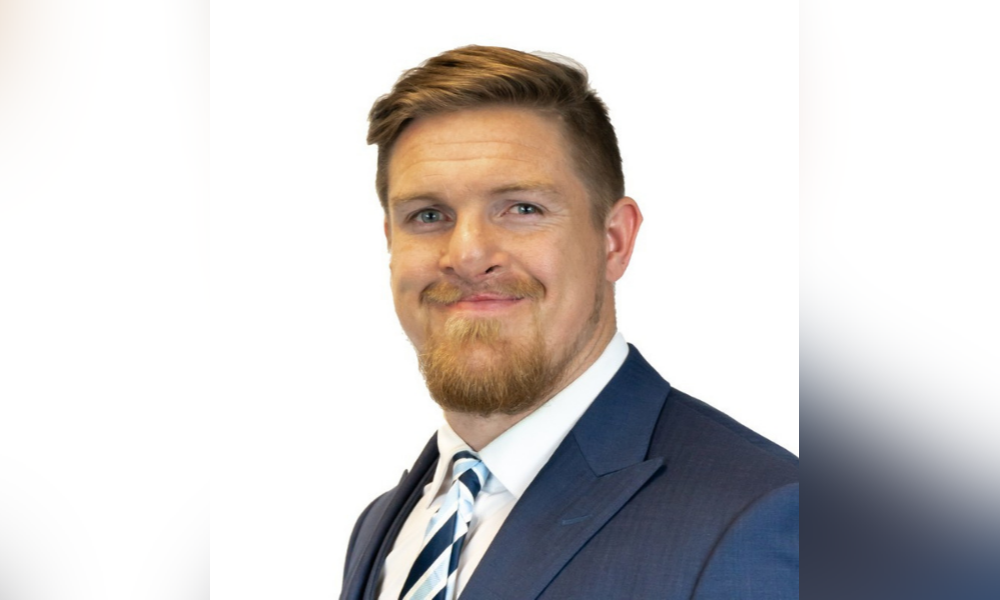 Whether he's playing on the gridiron or working on clients' portfolios, Adam Bighill knows a thing or two about defense.
When he helped the Winnipeg Blue Bombers win their second consecutive Grey Cup title last year, Bighill was named Most Outstanding Defensive Player in the Canadian Football League. It wasn't the first time he had receieved that distinction; that was in 2018, after which the Blue Bombers gave him a three-year contract extension that would also make him the highest-paid defensive player in the CFL.
"I know what it takes to be the best at my craft, and I bring that same mentality of trying to be the best to my advising world," says Bighill, who has also been an investment advisor at Wellington-Altus Private Wealth since 2020. "My advising business has grown, so there's just naturally more mental stress that comes with doing that and continuing my playing career. It's not easier, but it's not overwhelming."
Bighill's clientele includes a lot of athletes, which exposes him to a unique psychological demographic of investors. While the average advisor's clients might need a little convincing about how risk can be a friend in generating returns for their portfolio, professional athletes generally need the opposite conversation.
"Athletes are generally more on the side of being risk-takers. They've bet on themselves to become professional athletes; they put in a ton of work, without the guarantee that anything's going to show from it," he says. "So when it comes to financial markets, they're generally willing to accept a lot of risk. Whether they can tolerate that or not is another conversation, and that's where I come in."
When athletes officially make it into the high-income bracket, Bighill says, they tend to develop feelings of financial invincibility. Fuelled by the belief that their cash will keep coming, they may start throwing money at hot sectors or the investment theme of the season, like cryptocurrency or NFTs. That's not counting the pitches they tend to get for private investment opportunities.
"While the proposals sound good, a lot of these things don't actually come to fruition, and it can leave these guys empty-handed," he says.
For athletes, a never-give-up mentality is arguably their greatest asset; during their championship matchup against the Saskatchewan Roughriders last year, the Blue Bombers had to claw their way back from a 22-10 deficit late in the fourth quarter. But when they're going up against turbulence in the markets, it's not necessarily the best strategy.
"Compared to typical investors, athletes are often more likely to say, 'Let's let this ride.' And when the choices they make don't turn out great, they may want to double down," Bighill says. "But they don't realize how long it might take for the cycle to turn around in order to receive the benefits of a doubling-down decision on their investment. There are times when that makes sense, but it can't be the normal reaction."
To help his athlete clients, Bighill walks them through a core-and-explore model of investing. To accomplish their goals across near- to long-term time horizons – buying a house, for example – he encourages clients to set up a core portfolio that's diversified and stable, with not much exposure to market volatility. Depending on the athlete's current financial situation, he recommends an explore investment portfolio that can be used for individual stock positions, or funds with exposure to technology stocks, small-caps, alternative strategies, and other adventurous segments of the market.
"It helps them focus and remember some of the education I try to bring around. In one bucket, we have the investments for things we need to accomplish and protect," Bighill says. "Yes, we can have some fun, but we have to contain that to a certain percentage of assets that we're willing to do that work."
When it comes to other advisors helping athlete clients, Bighill says it's important to understand their higher-risk psychology. Perhaps the best way to bring them back from that bias, he says, is to appeal to their goal-oriented mindset; find out what specific goals they want to achieve, and build portfolios that speak to that.
And because athletes will receive more than their fair share of investment offerings, he says advisors should be ready to take on the responsibility of assessing those ideas and being sounding boards as their clients consider taking those kinds of chances.
"You've got to let your athlete know that sometimes, these are going to be tough discussions. You have to be able to make the hard calls by saying 'No, and here's why,'" Bighill adds. "You can't always worry about appeasing somebody as much as you need to be protecting them."