With a growth mindset and a network of support, Tammy Scuralli is proof it's never too late to thrive in the wealth space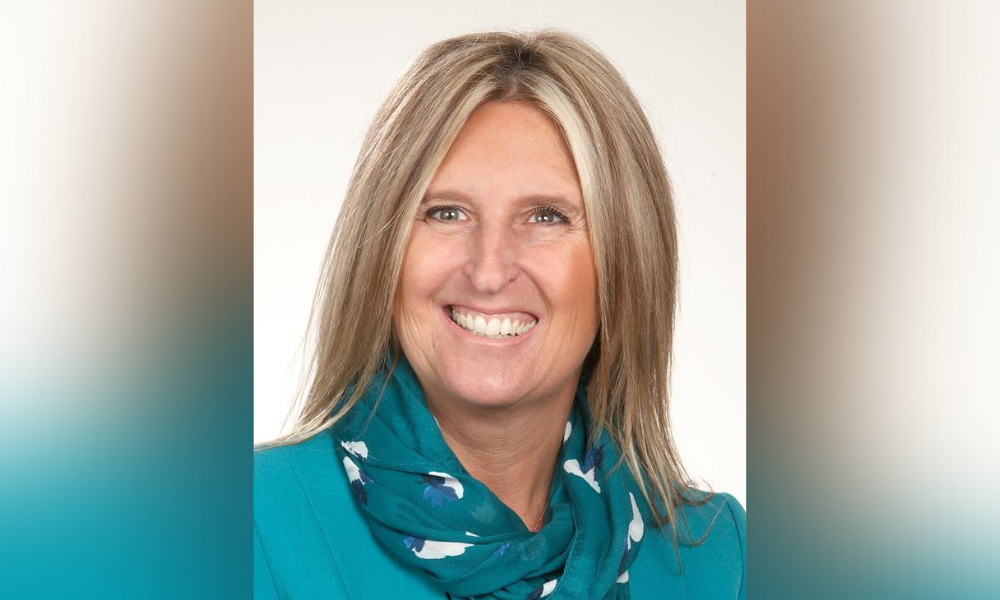 This article was produced in partnership with Edward Jones.
Tammy Scuralli was 50 years old when she decided to start over.
"I remember thinking 'how many more years do I have?'" recalls Scuralli, financial advisor at Edward Jones. "I knew that time was not on my side, and I did not want to waste it doing something I did not enjoy."
Starting in 1987, she had spent nearly 15 years of her early adulthood at two of Canada's largest financial institutions. From an administrative assistant position, she worked her way up to investment advisor and became fully licensed through the Canadian Securities Institute. Along the way, she discovered the joy of walking clients through investment options to help secure their future.
In 2000 Scuralli chose to leave the wealth management industry and stay home with her four children. "This was not an easy decision to make, but it was the right one for me at that time, and I wouldn't have changed that.
"During the time I spent away, I often thought about my career prior to staying home," she says. "One of the reasons I decided to make a fresh start was the opportunity to do it better this time. I wanted to make it meaningful to my family and to those that I partnered with."
Once she made that commitment, Scuralli was all in to take on the challenge. Still, it was a daunting decision: the industry had changed, and the educational requirements to be licensed were far more complex and demanding than before.
"I think the most challenging thing for me has been to balance priorities," Scuralli says. "My father-in-law was not well and in the hospital quite a bit during my licensing period. My husband needed to spend time with his dad. … I had to make tough decisions and sacrifices to stay focused on my goal.
"There were many times throughout the education requirements that I questioned what I was doing," she adds. "I relied on my family for support and also on colleagues that believed in me, and that helped get me through."
In mapping her return to the wealth space, Scuralli decided to build her own practice ... To achieve that, she chose to become a financial advisor at Edward Jones Canada.
"I knew in building my practice that I wanted to respect my values, I needed to make meaningful connections with my future clients. at Edward Jones, I found those same values," she says. "The cultural mindset was that everybody gets support. Having that support system with mentors who reach out to you is vital when you're building a business."
Scuralli remembers her life as a new business owner as many endless days, sometimes requiring her to work 12 hours a day, six days a week. That growth phase required her to get uncomfortable, and she was able to embrace that reality with the support of a coach at Edward Jones.
In one instance, Scuralli remembers wanting to work with a prospective client whom she felt might dismiss her abilities and resources. With the help of her coach, she was able to confidently approach that individual and explain how she could help with the client's goals, which ultimately led to her working with the client.
"My coach helped me overcome my fears and realize my potential," Scuralli says. "I was able to focus on the strategies that would grow my business."
Another important early step was building a professional inner circle of positive people. While her family was always there, she says it made a massive difference to have colleagues who wanted to see her succeed, and knew what it was like to build a business.
"In making my way through this business, one challenge has been finding allies. I've found that at Edward Jones, both men and women, did everything they could to support me, whether it's celebrating a very small win or being a listening ear after a setback."
Scuralli also attributes her success partly to her ability to connect with women clients. When women clients come to her office and see her family pictures, it often leads to them sharing similar stories about their own loved ones. She also works with women who have lost a partner; oftentimes, she immediately spends time doing deep discovery with them.
"Many times, we spend a small amount of time on the wealth and more time on how the wealth makes them feel," she says. "I find that I build trust with women as they can relate to me on a deeper level."
Drawing from a lifetime of professional experience, Scuralli offers some pearls of wisdom for other women advisors.
"Be proud of the work you do," she says. "I am proud to be a woman FA. I have a family, I have a career, I have a purpose and I am respected by my clients."
While she recognizes the importance of pride as motivation, she also emphasizes the importance of being open to learning from or through others. Beyond that, she encourages other women advisors to avoid dwelling on regrets, and instead take the time to celebrate their accomplishments.
"I am always reminding myself to concentrate on the success I have achieved," she says. "It is easy to only think of the one thing you would do different, instead of the 10 things you did right."