Advisor is taking cautious steps to stay ahead of the competition while protecting clients, staff, and his practice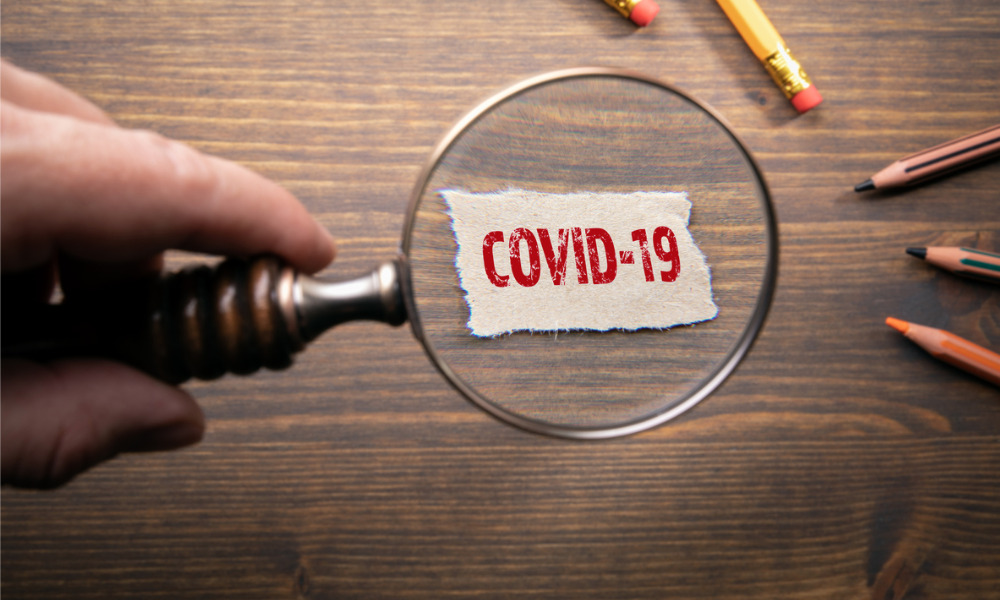 One top advisor weathered the storm of the COVID-19 downturn by pulling from past experience, communicating, and staying committed to investment fundamentals. He's taking a similar approach to prepare for a second wave.
Rob McClelland, founder of the McClelland financial group and a senior financial advisor with Assante Capital Management, is taking a steady approach to the possibility of a second wave. He's slowly reopening aspects of his Thornhill office, both to provide key in-person services and show the neighbourhood he's still in business. At the same time he's tweaking his practice's online operations to ensure they can keep firing at full capacity if a spike in cases forces a second shutdown. He's protecting his clients from a potential market downturn, using gains from the rapid bounce back to bring their portfolios back into solid, defensive positions.
"I always want to try and be a little bit ahead," McClelland says, "Which is why I started the experiment of putting three people in the office. If the experiment failed, I would have shut it down after a week. But, I talked to each of the people and they seemed okay… they understood why they were there and they were okay with it."
Putting those staff back in the office has been crucial for tax season, allowing clients to drop off physical documents needed to get their returns filed and finished ahead of time. Having even a few people in the office, too, sends a crucial message. McClelland says that a few months after going remote he drove by the office, a heritage home, and saw weeds in the garden, grass untrimmed, and a general sense that the operation was shuttered. Even though he'd gone virtual, McClelland says the outward appearance of the office had to be maintained, and keeping the place staffed even by a skeleton crew is key.
He's noticing a productivity improvement for his staff in the office, too, especially in groups. For a while McClelland had one person working in the office and heard from them that the experience was eerie. Now with three, even totally distanced from one another, McClelland says there's a semblance of a team atmosphere driving their productivity.
"I think by doing it this way I'm protecting my staff, my clients, and my practice," McClelland says. "If I brought my three-person client service team into the office and one of them gets it, then I could lose my whole service team for weeks or even months. I can't take that risk. I'm safer, being cautious leaving them at home."
Safety remains a top priority for McClelland. He's preparing for a second wave by doing his part to prevent it. He's installing plexiglass in meeting rooms for when face-to-face client meetings can begin again. Come July he may scale up to four people in the office, but doesn't plan to rush faster than that, noting that through Zoom his firm has been able to meet clients as regularly as they had before the outbreak.
In those meetings, McClelland is advocating for rebalancing, as he did through the initial downturn. Most of his clients are in balanced portfolios of a roughly 60 per cent equity, 10 per cent real estate, and 30 per cent bond allocation. Most of those portfolios automatically rebalance, though McClelland raised the thresholds for automatic rebalancing to cope with recent volatility.
Most of the rebalancing, manual and automatic, during the downturn was from fixed income into equities. McClelland says that after the significant bounce back in equities since April, he and his team have rebalanced client portfolios towards fixed income again. Not only has this been key in maintaining investment goals, but those rebalances are putting clients back into the diversified, defensive positions they'll need should a dramatic second wave prompt another selloff. McClelland is advocating this defensiveness because something about this recent recovery, in his words, "doesn't feel right." He's concerned that rebounds in indexes like the Nasdaq are driven by big firms like Amazon, hiding a weakness among smaller performers.
As a business owner, McClelland accepts that all these precautions can be frustrating, but he's maintaining perspective by remembering that we're all in this together and, relative to so many other entrepreneurs, he's in a pretty good place.
"I'm lucky that I've got a ton of reoccurring revenue and it even though my revenue did drop 20 per cent at one point, I still had 80 per cent whereas so many businesses went from 100 to zero or 100 to 10 or 20 per cent," McClelland says. "This could be the new normal for a while…so just adapt. Before you were focusing on your local market, now that you're having to use social media and online marketing, your marketplace is much bigger. Stop beating yourself up because you can't do what you used to do, figure out how to do it differently."