International Women's Day: company explains how it retains and promotes female employees who lead by example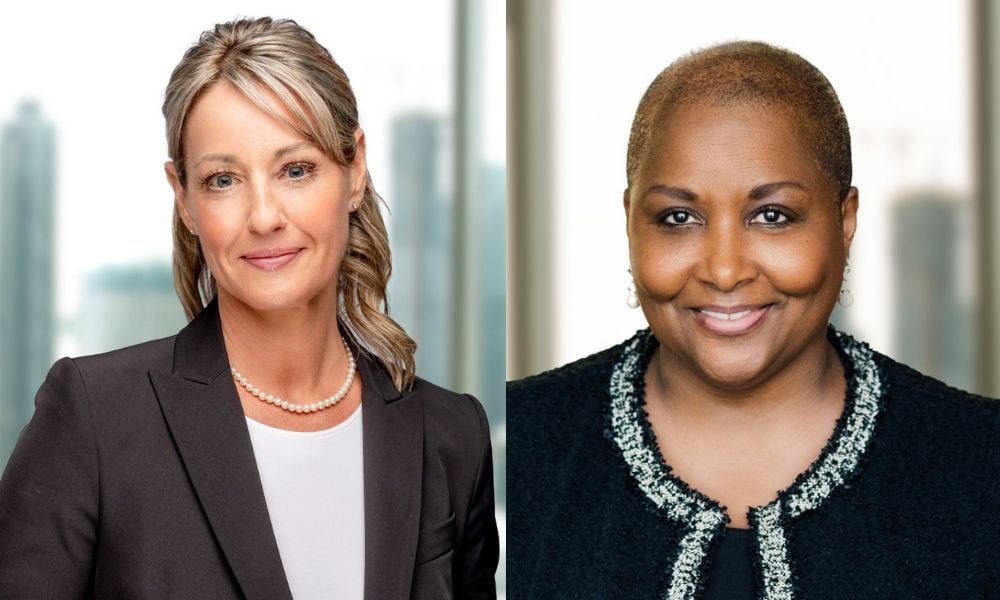 Many companies are currently talking about increasing support for women financial advisors so they can capitalize on their relationship skills and achieve more gender balance in the industry, but also retain the huge wealth transfer soon coming to women. While that's a focus for many companies right now, how can they actually ensure they make enough changes to achieve it?
In honour of International Women's Day, two Worldsource executives – one of whom supports advisors – addressed what's worked there, where women now form 70% of the senior leadership.
"We truly believe in the value of role modelling and mentorship," Trish Nielsen, Head of the advisor-facing Partnerships and Business Development, told Wealth Professional.
While Boston College's Center on Wealth and Philanthropy said women will soon control $93 trillion in wealth globally and almost 40% of all North American wealth by 2023, there will also be an unsurpassed wealth transfer of more than $59 trillion in the next 40 years – and women will inherit 70% of estates.
Women still only comprise 15% of North American – and 23% of Canadian – advisors and 25% of all Canadian vice-president positions, even though Nielsen said 37% of leaders in high-performing companies are women. Companies with the highest levels of diversity are also 15% to 35% more likely to have financial returns above the industry's national average, and 82% of professional women believe having networking with female leaders will help them advance in their careers.
Women now comprise 26% of Worldsource Wealth's independent advisor base and 20% of the new advisors who've joined it since 2019. Nielsen said, "that's not really a new trend at Worldsource, but the continuation of one that started over a decade ago as our organization has certainly been a very strong advocate for diversity as we've moved along in the decade."
She said the company's been working to remove barriers and make career opportunities more transparent across the firm, but it's also promoted the best people – male or female – to lead.
"As we go down into our advisor base and then the end clients who are female, it really starts from that role modelling at the top," she said, "That's in pretty stark contrast to the numbers out there that show women are 30% less likely than men to get promoted out of those entry level positions and 60% less likely to move from middle management into the executive ranks."
While Worldsource is trying to change the panorama by leading by example, it also recognizes 90% of women, at some point in their lives, will become the sole financial decision-maker. Many of those want to deal with women advisors, who can speak their language and bring their holistic, relational skills to their clients, which reinforces the direction that the financial advising industry now is taking.
"We retain and promote female employees who lead by example and offer strong mentorship, as well as offer the soft skills: applying empathy, humility, and self-awareness," Jacqueline Rodney, Vice President of Operations, said. "I refer to them as emotionally intelligent leaders since we, over the past ten years or so, have shifted from a repetitive thinking to a more holistic view."
She said the leadership team sets the tone by building stronger relationships with each other, clients, and industry partners. It also works to be more collaborative, and support and value others' contributions. It values professional development opportunities and networks for women in the financial planning industry, but also places women on its boards, all of which encourages women.
"When I was researching the importance of mentoring. I read that, in companies that have at least 30% women on their board, close to 40% of the female employees with just that exposure to senior mentors actually believe they're going to make it to the board themselves. In companies that don't have this female board representation, that number fell to almost half, to 21%," said Rodney, adding that Worldsource's staff and advisors just have to look around to see the advancements and "know this it is actually possible to achieve themselves."
Nielsen added, "we know we have to make continued efforts to turn up the dial and elevate the exposure possible to them". That means sponsoring women in wealth conferences, emphasizing mentorships, and elevating female advocacy. Worldsource has increased female representation on its advisory councils, focused on building diversity programs, and collaborated with female partners.
"We want to see more women enter the financial services industry, and it's truly part of our strategic direction," said Nielsen.
Given that many women that Nielsen is dealing with are independent advisors who must also be entrepreneurial and run their own business, it supports them with business optimization strategies, planning, internal financial programs, and other customization to support their continued success.
"It's about having the conversations and letting them know that it can be done, and it's not just sales. You have to look at this from a very holistic perspective and you have to be able to take a client along a wealth management journey in order to solve all their financial issues. It's not just about placing a trade," said Nielsen, noting 30% of their top 10% independent advisors are women and they're still growing their books, even as the pace of gender change is picking up
"It's mentoring. It's nurturing, and it's coaching," said Nielsen. "A culture of support is absolutely critical. You have to be able to see it to model it, then you can find the people you want to emulate."
Rodney said, even from her journey, she knows that support from mentors who "recognize your talents, your skills are critical, and then you're able to actually take it to a level where you're confident enough as a leader to be able to step forward and showcase what you're bringing to the table, too."