New initiative aims to break through stereotypes and open up much-needed conversations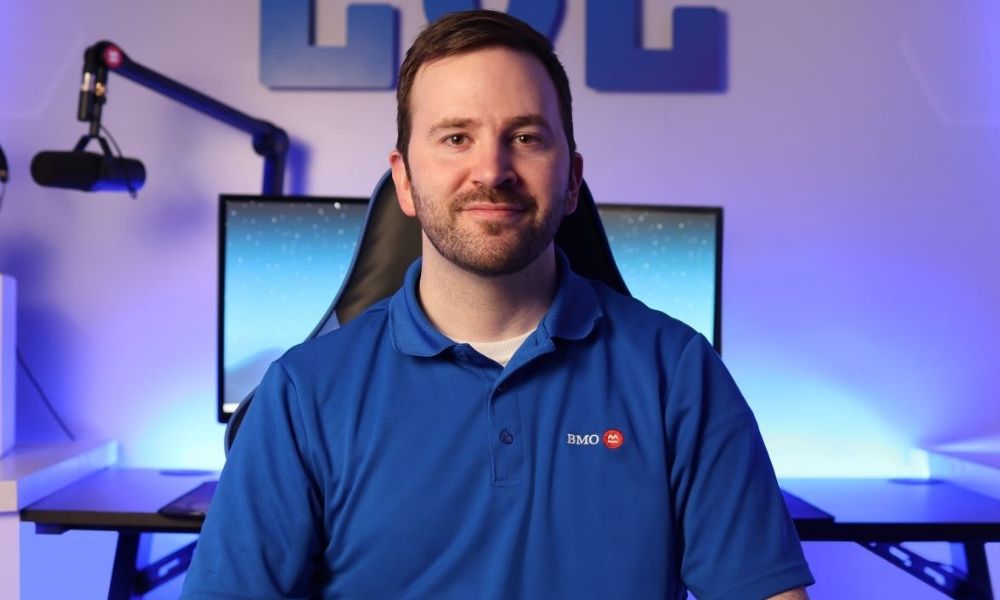 Recently, BMO took a world-leading step by officially announcing a program to engage directly with Canada's gaming community in order to level up their financial education.
Through its BMO NXT LVL initiative, the Big Six bank has launched a new channel on Twitch, a video streaming platform that lets people engage with a wide community of users in real time as they engage in various activities.
On Twitch, countless gamers have carved out a new niche of entertainment, sharing live feeds of their gameplay experiences with the world. For spectators on the platform, it's comparable to hanging out and playing video games at a friend's house, as they're able to send text messages and ask their favourite Twitch streamers questions in real time through a community chat.
Some streamers have built up a big-enough fanbase – typically consisting of people who are also fans of the video game they're playing, or people who like the same video game genre – to make a decent income from followers' voluntary financial contributions. A few have achieved heights of success that put them shoulder-to-shoulder with some of the most popular social media influencers and content creators.
Sean Frame, an Ontario-based personal banker who is BMO's first Gaming Relations Specialist, says gamers have come into their own as a community over the past few years as the COVID pandemic drove more people to pursue digital forms of work and entertainment.
"I think monetizing your gaming through Twitch streaming is a relatively new career choice. So traditional financial institutions maybe haven't had time to recognize that evolving landscape," Frame says. "What we hope to do with the BMO NXT LVL initiative is to adapt to this emerging segment of clients. We want this demographic of gamers to know that we understand their needs and are there to help."
A self-professed gamer, Frame says he has been playing video games since the tender age of three (his brother says he started at age one). A background in journalism has also given him a solid foundation as a communicator, making him uniquely suited to speak with gamers who may struggle to engage with traditional institutions.
"It can be hard when you feel like all banks are the same, and you've never spoken to a traditional bank before, certainly one that shows an authentic understanding of the gamer lifestyle," he says. "We want to break through that noise and set ourselves apart by meeting them where they are. That's why we chose Twitch, and we also have a presence on other social media hubs."
Among those alternative platforms is TikTok, which has increasingly become a way for young people to get bite-sized pieces of financial advice. But as Frame notes, there's no filter to separate out the good advice from the bad, which BMO sees as an opportunity to establish itself as an authority that's willing to be authentic and meet digital communities where they are.
While it can be too easy to lump gamers into one monolithic category of thrill-seeking, digitally immersed individuals, Frame says it's not that simple. Some gamers may be more financially savvy than others; gamers may also be differentiated based on a wide variety of behaviours. They could also come from different demographic and age groups, which means the financial needs of gamers could vary significantly as well.
"There can be this impression where gamers are these young millennials or Gen Zers who play cutting-edge games on advanced consoles or high-end PCs. But really, a single mom who plays games on her phone is also a gamer," Frame says. "It's about understanding their hobby and their passion, and understanding that everyone's situation isn't going to be the same."
As part of its new gamer-focused campaign, BMO is holding a weekly series of streams on its Twitch channel. During those broadcasts, Frame will play games with special guest streamers as they discuss and address questions on topical personal finance issues including homeownership, investments, and more.
"More than anyone, gamers know what it means to grind. They know what it means to spend hours upon hours, grinding towards a goal or an objective, so we want to help them apply that same attitude towards their banking and their financial needs," Frame says. "We're just starting to break into this space, so who knows what the future will hold?"