Vertical integration, service culture, and focus on feedback are foundational elements of firm's focus on the everyday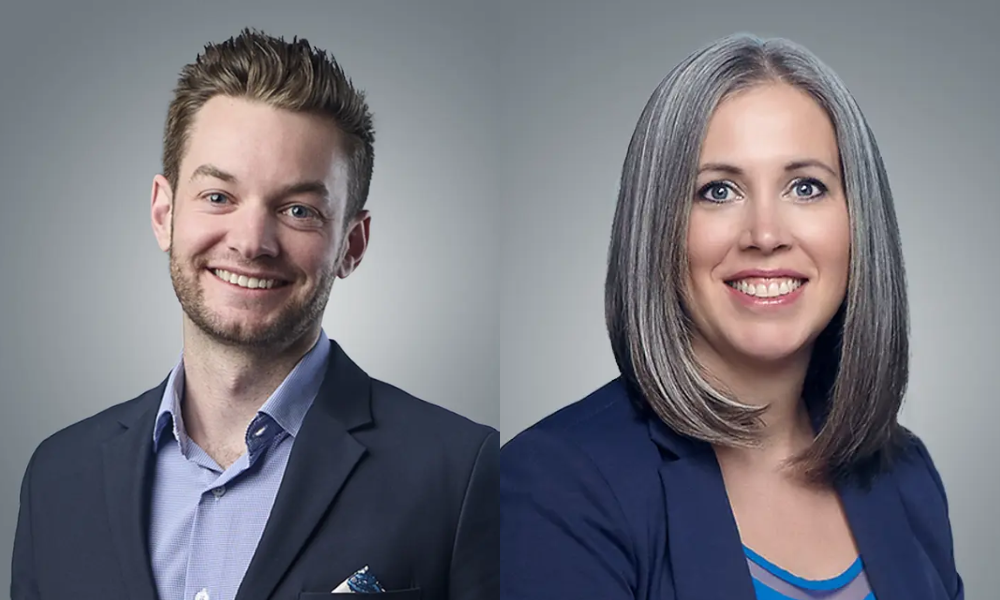 This article was produced in partnership with Avenue Living.
Avenue Living's foundational credo of "Investing in the Everyday" has been in place from the very beginning. But its resident-centric operating ethos has evolved as the organization has expanded and matured. What began as a focus on filling a need in the multi-family market has become a sophisticated, innovative operational system.
"Our founders didn't initially set out to create a vertically integrated property management platform," says Gabriel Millard, senior vice president, Capital Markets – Equity & Research (pictured above, left). "It was a secondary effect of the type of assets and investing they wanted to do as they built out the business."
A living commitment to service
Avenue Living's growth trajectory has been remarkable. After buying their first property in Brooks, Alberta, they strategically expanded their low-density multi-family portfolio in secondary markets across the Prairies, but it wasn't long before the company ran into one of the most challenging facets of the multi-residential real estate business.
"It can be very expensive to have third-party management within Canada, especially for low-density assets. If you are outsourcing all management, you can quickly get margined out of business," Millard says. "That's when our founders started to grow and develop our vertically integrated property management platform."
With in-house property management, Avenue Living was able to contain its various operating expenses including maintenance, supply chain, marketing, financial reporting, and resident services. More importantly, it developed finer control and specialization across its employee base, giving it an edge over the caretaker-type model that's prevalent among many legacy owners.
"The downfall of that [caretaker model] is that you're tasking someone to be a jack-of-all-trades, and a master of none," says Louise Elsey, COO of Avenue Living Communities (pictured above, right). "We have individuals who are skilled at the work they do, whether it's maintenance, administration, or leasing, which elevates the consistent service we're able to deliver."
Avenue Living's property management philosophy is built upon four pillars of service: being safe, being welcoming, being responsive, and being efficient. Those commitments span across the organization and are emulated in their internal communications, meetings, and behaviours toward all stakeholders.
"We're really deliberate about making sure our internal teams understand what good service looks like, so we recognize and celebrate quality service moments on a monthly basis internally," Elsey says. "It creates a culture of engagement within the team, and it helps cross-pollinate expertise across the enterprise. If a team member is struggling with something, and they know a particular person is competent at it, they can easily reach out."
Capturing the value of a customer-centric approach
Early on, Avenue Living identified workforce housing residents as the core customer demographic for its residential rental property investments. This established a north star not just for its acquisition and expansion strategies, but also its service strategy.
The workforce housing segment is typically defined as households that earn approximately 60 to 120 per cent of an area's median income. These households include people who work in essential services, such as education, health care, law enforcement, construction, and retail.
"Anywhere in Canada, and even in the U.S., you'll find a workforce housing resident is still a workforce housing resident in terms of a sociodemographic profile, and the type of employment they have," Millard says. "We've also found through our research and experience they have largely similar needs when it comes to housing."
Aside from focusing on three key priorities in its acquisitions and capital investments – safety, cleanliness, and affordability — having a resident persona in mind allows Avenue Living to develop specific operational techniques and expertise tailored to its customers. And as it turns out, having a customer-focused approach has a tangible impact on performance in the real estate world.
In a joint white paper with Professor Grant A. Wilson from the University of Regina, Avenue Living conducted a survey of individual renters across Canada, the U.K. and the U.S. to examine the relationship between residential property managers' market orientation — defined as "an organizational commitment to understanding and serving the target market in a way that strategically differs from the competition" — and their performance. Across all three markets, the research found market orientation enhances residential residents' loyalty toward and trust in the property manager, as well as pride in their rental accommodation and commitment to timely rent payments.
"Fundamentally, what we were trying to find out was if you do right by your resident, will they do right by you?" Millard says. "We've seen that anecdotally in our business, and now we can see it empirically in the data as well."
Creating consistently positive experiences for customers requires a host of tools. From an online standpoint, Avenue Living uses a third-party website ranking service, SimilarWeb, to collect data on how it is performing relative to peers. And by using customer journey mapping, it pinpoints key interactions with residents and identifies opportunities to fine-tune them over time.
"We're really deliberate about feedback as well," Elsey says. "We use a real design loop; we test and validate each new process, technology, tool, or customer touchpoint we introduce, and proactively get feedback from our customers. … We're always looking for opportunities to make the business better from a service lens."
With an internally operated customer experience centre, Avenue Living ensures it has people available to quickly address resident concerns. And while many companies were forced to implement electronic leasing during COVID, with varying levels of success, the organization demonstrated a keen ability to get ahead of the curve as it already had that system in place.
"We talk about real estate in terms of bricks and mortar, but it's more than that. People have such an emotional connection to it. … It's where they live and build memories," Elsey says. "The customer value goes far beyond just the physical asset. It's about the overall experience, and that's really what we centre our business model around."
This commentary and the information contained herein are for educational and informational purposes only and do not constitute an offer to sell, or a solicitation of an offer to buy, any securities or related financial instruments. This article may contain forward-looking statements. Readers should refer to information contained on our website at https://www.avenuelivingam.com/forward-looking-statements for additional information regarding forward-looking statements and certain risks associated with them.