Lifetime achievements of inspiring leaders are honoured in special ceremony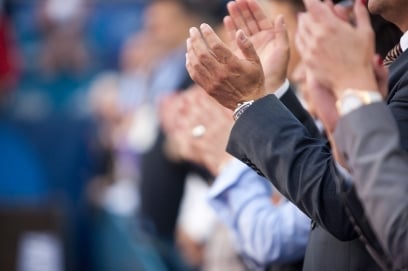 Five outstanding business leaders have had their careers recognized as they were inducted into the Canadian Business Hall of Fame last night (May 12).
At the Metro Toronto Convention Centre, the new inductees were honoured by chancellor LR Wilson as part of the 38
th
annual gala dinner and induction ceremony.
The new names entering the Hall of Fame this year were:
W. Edmund Clark, Former President and Chief Executive Officer, TD Bank Group
Rick George, Partner, Novo Investment Group and Former President and CEO, Suncor Energy Inc.
Frank Hasenfratz, Chairman, Linamar
Linda Hasenfratz, CEO, Linamar
Gordon M. Nixon, Former President, CEO and Director, RBC
Speaking about the induction, Wilson noted that all five had left a legacy for future generations.
"Their everlasting contributions to our society merit the full honour of being awarded Canada's most distinguished business order," he said.
Each year, business leaders are nominated by their peers and chosen by an independent selection committee representing Canada's foremost business and academic institutions. The process is managed in its entirety by Lee Hecht Harrison Knightsbridge, the National Partner of the Canadian Business Hall of Fame.