BMO chief investment strategist believes money will return to country is search of stability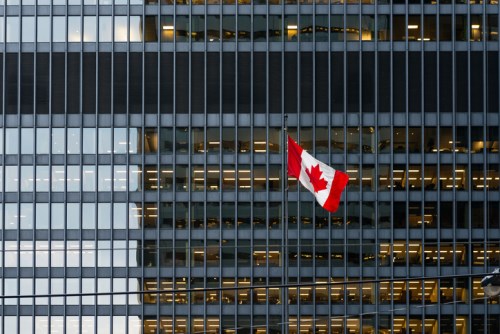 Brian Belski is a bull on the charge – and any bearish beings in his way are subject to the full force of his withering put-downs.
They aren't the only ones, though. The media is mocked for scaring the hell out of everyone, Americans for their love of guns and Canadians for their perennial sense of doom about the oil differential and the housing crisis.
The chief investment strategist at BMO Capital Markets was an entertaining speaker at the Portfolio Management Association of Canada's national conference on Thursday. His address was peppered with one-liners about anything from Canada's Big Five banks – or "cartel" as he calls them – to the demise of Campbell's soup.
Sift through the gags, though, and it doesn't take Warren Buffett to see there's a sharp mind at work, one that's prepared to hammer home opinions with the subtlety of a Questrade ad. But that's his "shtick", it works and he has the floor in the palm of his hand.
He believes the money will return to Canada in a big way once emerging markets and Europe prove too scary for investors.
He said: "I believe that money will come back to Canada as sign of stability because a lot of Canadian clients on the retail side went to Europe to invest, and to delineate and diversify their equity holdings when President Trump won the election. How's that worked out? Not very well.
"I think they're coming back to America and they are going to come back to Canada when there's even worse volatility in emerging markets and Europe. What are they going to buy when they come back? They are going to buy big, liquid companies."
Belski compared Canada – unflatteringly – to Eeyore in Winnie the Poor and said he had never seen the country this bearish. He called on investors both sides of the border to ignore the fearful rhetoric and make the most of what he beleives are the best market conditions since 1950.
In terms of Canada, he thinks it's positioned for a huge recovery.
"Materials have excessively underperformed," he said. "At some point we are going to have a massive pullback and bounce in materials next year. I think the bounce will be strongest in energy. Industrial companies are tied to US, we know that, and we love the great rail companies in Canada [because] they are much better managed than they are in the States."
He mockingly assured Canada that life was ok despite their oil price obsession, question marks over Ottawa's corporate tax policy and fears over consumer debt. And he urged people to make the most of a "generational opportunity" to buy financials, scalable businesses that he believes will benefit from choppy market waters.
He also questioned why anybody would want to invest outside of the US and Canada.
He said: "I believe that we have entered a stock picking realm where fundamentals matter. I believe we have entered into a Warren Buffett, Peter Lynch era of investing. If you can't reach out and touch it and understand it, don't buy it.
"America and Canada have some of the best companies in the world and I have no clue why we continue to want to be in emerging markets or Europe. We have awesome companies here and I just don't understand why we are not staying at home. I just don't get it."
A regular theme in his speech was his dislike for the scaremongering in the media. Coverage and rhetoric, he said, had rendered this the "most hated, dreaded, dour bull market in the history of bull markets".
He said a recession is not imminent and we all know volatility is increasing and the yield curve is flattening. But, he argued, "did you know that during periods of yield curve flattening, the market is up an average 15% on an annually basis?"
This and stable stocks are key for investors and Belski pointed to the tech sector as producing the most stable earnings in the S&P 500 for the past 25 years.
He said: "Apple and Microsoft are amongst the strongest dividend growers in the world. Apple has more cash on its balance sheet than certain states in America and provinces in this country. Follow the cash.
"So guess what, if tech stocks are on sale, I buy them. Communication stocks are on sale, I buy them. Why? How many people have an Apple device in their back pocket? How many people have already grabbed their iPhone out their pocket and thought, when is this guy going to stop talking so I can eat lunch? They have become the new consumer staple stocks: AT&T, Microsoft, Horizon, Comcast, Apple, Facebook, Google, Netflix."
Follow WP on Facebook, LinkedIn and Twitter