Michael Lee-Chin reflects on what drove him early in his career and reveals the three conditions for outsized wealth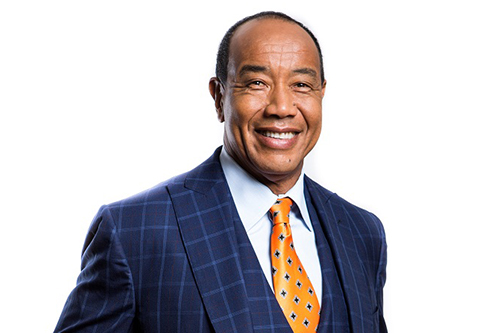 Michael Lee-Chin transitioned from a jobbing mutual fund salesperson into the only advisor on the Forbes billionaire list because of a "moment of crisis".
The CEO of financial planning firm Mandeville talked to WP about his early life in Jamaica and his start in the financial industry selling mutual funds for Investors Group in the final podcast of our series, which you can listen to by clicking here.
As a sales rep, a young Lee-Chin was an ardent seller of Mackenzie products … but then the recession of 1982 hit Canada and his business was reduced to a trickle. He recalled how interest rates went up to 23.7% prime rate and some mutual funds had a one-year track record of -60%. Canada saving bonds were paying 19% and in demand; no one wanted to buy a mutual fund.
However, one day he went into the Mackenzie Financial Corporation office and discovered they were expanding. Lee-Chin realized he was "on the wrong side of the table".
He said: "I thought, 'I'm the one every day fighting to keep the clients from redeeming yet they're thriving and I'm starving!' I realised I needed to convert from AUA to AUM, so that was the driving force."
Back then there were no trail commissions – something Lee-Chin warned will be the case again soon enough – so it forced him to find a solution. The answer: he bought a small management company in 1987 called Advantage Investment Council, which had one portfolio with $800,000 in AUM. In contrast to a typical mutual fund, it had only 15 securities. The rest, as they say, is history.
Lee-Chin said: "I wouldn't be here if I didn't figure out a way to go from AUA to AUM. We have a program today at Mandeville whereby an advisor can build their own fund and start developing an AUM track record. It's no different from what I did and if your track record is good, you can sell it to the rest of the world."
The rags-to-riches story is a cliché but Lee-Chin is a real-life example of someone who has emerged from an ordinary upbringing to huge wealth. Both parents were clerks in a grocery store before getting into business, while Lee-Chin got a scholarship to study civil engineering in Canada only to struggle to get a job after graduating.
He fell into selling funds before the switch into the advisory side. It sparked a passion and tapped in an unashamed desire to get rich.
He told WP: "I've always aspired to be wealthy; I wanted to be wealthy, I didn't want to work the rest of my life and end up with nothing. I want to have money working for me. Not that I could retire but I just wanted to have that security.
'Creating wealth has always been a curiosity of mine. Hence, when I first got into the business, it focused me on the question: how is wealth created? Is there a formula that if you practice consistently, the only outcome is wealth? That was my focus as a young man entering the business and it came to me a year later in 1978. Yes, there's a formula. It's a matter of doing something consistently over the long run and the magic of compounding will take care of you."
From that lightbulb moment, Lee-Chin has had an incredible career. He is also now chairman and controlling shareholder of the parent companies of Mandeville Private Client and NCB Financial Group Ltd, which is the largest bank in Jamaica.
His rise to prominence and billionaire status is driven by one of his frameworks: that outsized wealth is created when three conditions are met.
He explained: "First, there must be a difference between perception and reality because only when there's a difference between perception and reality will you have the knowledge arbitrage, and you can't create wealth unless there is knowledge arbitrage.
"Secondly, there must be inefficiencies. And thirdly, you can only create outsized wealth when there is a lack of equity capital in the region, in the sector, or going towards the business.
"When those three preconditions are all met, bingo! When the National Commercial Bank was for sale in early 2000, no one wanted it. But driven by those three preconditions, the bank met those three tick boxes and hence, I took the investment."
To listen to part three, and catch up with parts one and two of our podcast with Michael Lee-Chin, click on this link.