Partners explain how they plan to outwork rivals and consolidate assets, and why cost and compliance pressures simply highlight their value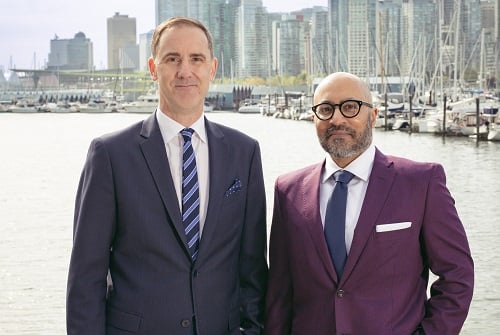 You won't find the two self-confessed "process nerds" at JSK Partners blaming cost pressures and compliance for holding their practice back. Instead, they embrace them as opportunities for growth.
Tyler Steele, Director, Wealth Management, Portfolio Manager, Investment Advisor, and Neil Kumar, Director, Wealth Management, Portfolio Manager, Investment Advisor, have steered their Vancouver business, part of independent firm Richardson GMP's network of advisors, to $575 million AUM with about 225 clients from $390m and 420 clients in only four years.
While against growth for growth's sake, JSK wants to hit the $1 billion mark in the next five years and intends to do this by maintaining its high-touch, client-first service and by working harder than the next practice.
More stringent transparency requirements and pressure on fees, they believe, will simply illuminate the value JSK provides.
Steele said: "The reality is [the likes of] Questrade do exist and they serve a purpose, and more and more fund companies are reducing their MERs, which shows there are cost pressures. You had better be able to tell your client why they are paying that fee.
"I think it's great for our clients. The focus on cost pressures and CRM2 in our industry is exposing what advisors are charging. It has been a very good thing for teams like us and, more importantly, for our clients. You have to earn the money you charge; you have to. I want to make sure our clients know they are getting a good deal."
Kumar added that JSK has been successfully increasing the size of their average client. He said: "We have a declining scale on assets under management, and our clients feel that they receive more value from us than their other advisor. It's compelling to clients to consolidate their assets with a team that intimately knows their financial situation while saving them money."
Getting the number of households on their book down was crucial to their success in growing their assets under management, while maintaining the high-touch service the two partners are known for in the Vancouver area. Kumar explained they do financial plans for all their clients and with capital planning and tax planning, meaning strong relationships are built.
Steele said: "My favourite clients are those who used to be DIYers and realise that, despite what they might read in the business section of the newspapers, doing this job correctly is time-consuming and difficult.
"The DIYers could do it if they wanted to but they don't enjoy it as much as they used to. They would rather golf or travel. They are great clients because they realise the value of what you are providing.
"Generally speaking, the clients who are attracted to us are the people who are just not interested in how it all works; they just want to enjoy their life."
Most of the partners' new business comes from referrals from existing clients, and from having a network and reputation in the city. Steele is adamant, though, that the AUM growth is primarily down to hard work.
He said: "Clients often will have money with us and with someone else. We work hard to provide a lot of added services, like tax planning, and the client then comes to the conclusion they get more value from our team."
Kumar added: "From a cost perspective, not only does it save the client time but also the overall cost of the service. Consolidation of assets is our biggest driver."
Both men were raised in Vancouver and have a close relationship with the city. They pride themselves on giving back to the community and have been a major sponsor of the Potluck Café Society, which helps the underserved in the Downtown Eastside.
The practice's motto is "small promises made and kept" and in what is essentially a small town, people know who they are.
"Our integrity is important to us," Steele said. "If people ask around, they have probably run into someone who knows us and we want to make sure the feedback is positive and says 'that if these guys say they are going to do something, they do it'."
High-touch service is the client-facing approach for JSK, however they are process driven in their methodology, with 95% of their assets managed in their discretionary portfolios. The pair joke that they are boring people, wear standard blue suits and run a mile from pot stocks. The point is serious, however: JSK are conservative people with a conservative investment style designed to protect clients' wealth.
Kumar said: "There's this image of people in Vancouver or Calgary like it's the Wild West but the reality is we're pretty boring in terms of our investment management style.
"Our clients are not looking for home runs – they have made their wealth. Now they are looking to enjoy that wealth or make sure it's preserved for future generations. We really see ourselves as either the pension for the client or being the steward of wealth for future generations."
Follow WP on Facebook, LinkedIn and Twitter