A calculated individual with a curious nature, advisor Kate Murdoch has never shied away from facing challenges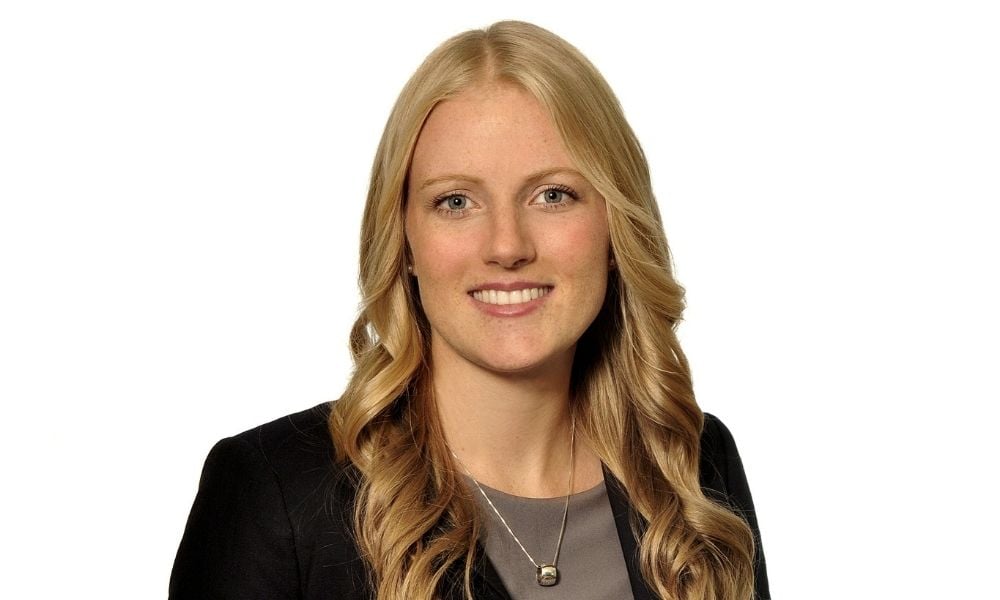 When Kate Murdoch joined the financial services industry, it was a calculated decision. As a student at Dalhousie University, Murdoch won Scotiabank's Atlantic Canadian university interview competition. That led to her placement in a rotational leadership program with the bank in Vancouver.
"I took full advantage of that opportunity to explore all the different areas in finance," says Murdoch, who's now an investment advisor and financial planner with Ridd & Associates Wealth Advisory Group at BMO Nesbitt Burns. "I always saw it as putting the pieces of the puzzle together. And the more I discovered, the more I was sure that wealth management was the right fit for me."
Always mathematically adept, Murdoch was drawn by the opportunity to engage with the broader global economy and market. As she dove deeper into the industry, she found that it fit perfectly with her ethos of continuous learning. In strategic wealth planning, she saw that there were inter-connected spheres of specialization – tax planning, business succession, philanthropy, family planning, insurance and more – each of which were constantly changing.

"The never-ending opportunities to challenge myself, and seeing how that hard work can meaningfully improve clients' lives, is what got me hooked on the profession," she says.
In her life and career, Murdoch has faced various challenges, and from a young age, she learned the importance of resilience – never shying away from hurdles and approaching them with a spirit of curiosity. She's also been able to grow by seeking out opportunities to learn from others in the industry. As she sees it, there's much benefit to be had from lifting one's head up, taking the blinders off and welcoming other people's perspectives – a strategy that paid off when she received unexpected interest and generosity from some key individuals.
"One person in particular has been a significant mentor and inspiration to me," Murdoch says. "This person is well respected by their clients and in the different industries we impact. Even though they prefer to keep a low profile, they take care to do things right, supporting all their actions with in-depth knowledge and experience."
That's the philosophy Murdoch strives to apply, too. Aligned with her calculated approach, she takes care to keep her practice's client numbers at a level that allows for a high standard of service and attention. They focus on high-net-worth clients – including many business owners, multi-generational families and single individuals – who typically have complex wealth planning needs and opportunities.
For her own clients, Murdoch takes a very customized and detailed approach. Looking at every individual's situation and needs, she draws on her extensive knowledge and experience to formulate recommendations, which she strengthens by consulting with other specialized experts.
"We believe our clients are busy and are looking for a professional to handle all the details and advocate for them," she says. "We are also fortunate to be able to choose to work with like-minded individuals who value premium advice and are a pleasure to work with."
As far as she's come, Murdoch expects more milestones ahead on her career journey. She's currently furthering her expertise and ability to support clients by pursuing the Trust and Estate Practitioner (TEP) designation, which was recommended by both her mentor and an estate lawyer whom she highly respects.
More broadly, Murdoch says she's driven by the pursuit of perfection – a lofty and abstract goal, but one she's committed to chasing. As her own toughest critic, she recognizes that her enduring drive to excel has been instrumental in her ability to bring value to her clients and team.
"I also aspire to be a leader in the industry and to inspire other professionals to continually elevate themselves," she says. "To be a role model for others is an incredible honour and responsibility."