Former wealth manager turned film producer and screenwriter says new book can give advisors insight into dealing with the top 1%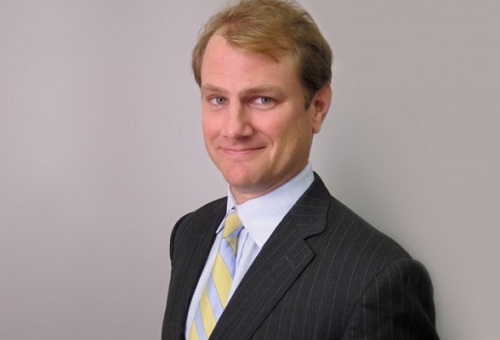 A man of many interests, Frazer Rice admits "moss does not grow under his feet".
After an early foray in politics and the US civil service, he worked with R&B star Usher and then the Federal Reserve as a law student before having an extensive career in wealth management at Wilmington Trust's New York office.
Ultimately, though, there was no denying Rice's creative juices and this week he launched his debut book Wealth, Actually; an examination of how the most prosperous 1% can determine what they want their wealth to do, communicate with loved ones about their fortune, avoid overspending, handle wealth threats, and grow and protect their investments.
It's far from a staid textbook, which was always unlikely from a man who is also on the board of a podcast company, has just produced a horror film called The Restaurant and counts writing screenplays and graphic novels among his hobbies.
Rice believes that his debut book and the plethora of wealth-based scenarios he explores can be a rich source of information and inspiration for advisors when dealing with clients.
He said: "The book was not intended to be some sort of takedown of the financial service industry or a criticism of new things or not new things.
"The brunt of it was to talk to the 1% and try to get them to think about things as it relates to where they are in their wealth standing. What issues do they currently face? What issues might they face so they can be better clients for the advisors?
"I think advisors will find it useful as a cheat sheet to find a set of questions or issues to bring up to their clients in order to further and deepen their relationship or establish them with new people beyond a product push and the cacophony of general advice."
It's fair to say Usher is in the 1% - and Rice admitted to be culturally being a fish out of water during his time working at an Atlanta company that also had a number of hip hop artists on its book. The experience was an eary introduction into how to manage wealth and some of the challenges clients face.
He said: "It was really cool, he was a nice guy and his family was good. It was really neat seeing someone at the beginning of their career just starting to take off a little but you could see the gears turning as they were thinking about forming businesses and diversifying income.
"The music industry at that point was just starting to get a taste of what was happening vis-à-vis Napster and things like that."
Rice's book contains chapters like Infighting (Communication Breakdown), What If the Children Aren't Interested? and Disaster Recovery Plans. He believes that one of the biggest threats to wealth is a lack of communication within families, which can lead to painful situations when an estate is being distribution.
He said: "The book is meant to be educational and entertaining, and hopefully it will inspire people to think about their situation and take action.
"It relates to things I'm passionate about like financial literacy being taught early on; the idea of really instilling in your kids the power of compounding; and the idea of getting philanthropy involved early on.
"I also deal with the components of trying to teach family communication in the book because, ultimately, as I go through and catalogue some of the threats to wealth that I identified, the lack of communication within the family structure is the biggest one.
"You can do all the planning and structuring and guidance that you like but if you don't communicate and get buy-in, and have some idea of how people make decisions together, you can create some real issues for yourself.
"The last thing you want to do is have family members try to figure out what the estate plan is and what the distribution of wealth is when the patriarch or matriarch dies and you are settling the estate."