With complementary missions and customer bases, the two firms are building a hyper-personalized experience for advisors and their clients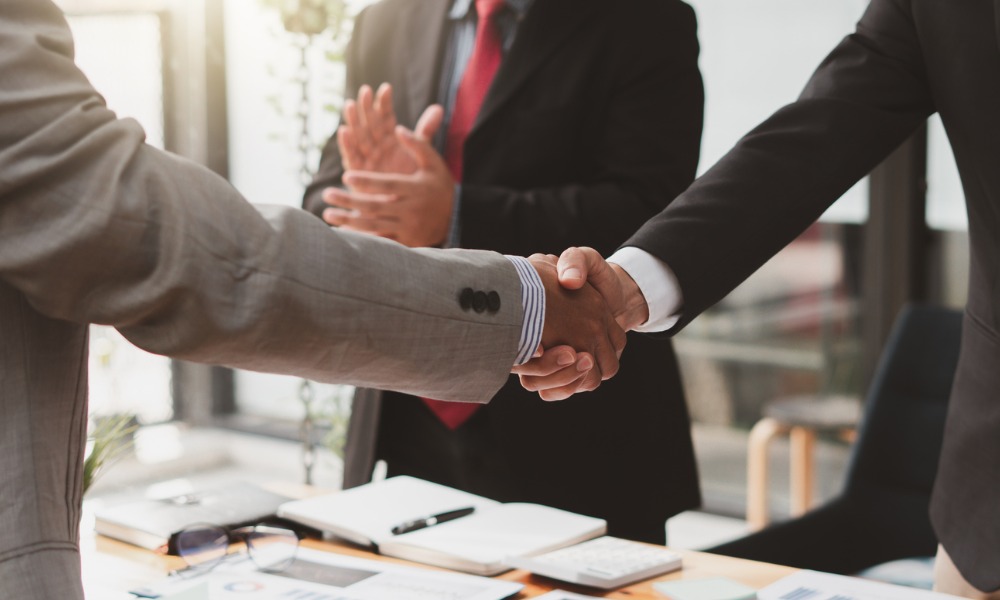 Earlier this month, leading Canadian wealth tech providers Conquest Planning and CapIntel took a major step forward on their shared commitment to helping advisors guide clients toward their financial goals.
Under a new partnership between the two fintech firms, Conquest's financial planning software is now available on CapIntel's B2B investment recommendations platform across North America, which includes a user base of 12,000 advisors.
At the same time, users of the Conquest platform – representing approximately half of the Canadian advisor population – will have access to CapIntel's personalized investment product comparison and data visualization solutions.
"It's really a true integration partnership," Brad Joudrie, chief revenue officer at Conquest (pictured above, left), told Wealth Professional. "We're working together to enable advisors and help them drive cleaner and more educated investment management decisions."
Stronger together
Over the past four years, Conquest and CapIntel have achieved considerable success in their respective markets. Since its inception in 2018, Conquest has implemented its solution with a myriad of Canadian firms, including a partnership with Aviso announced just last week.
The financial-planning tech juggernaut also has international ambitions, with ongoing plans to penetrate the UK and US markets supported by a $24-million series A raise announced early this year.
With a mission to support advisors' ability to educate and bolster clients' confidence in their investment recommendations, CapIntel has also been steadily weaving a network of partnerships with firms in the Canadian and US space. Last week, the firm took that mission to the next level as it introduced OMNI, a "holistic, fully digital wealth management platform" through which advisors can give clients a 360-degree view of their investments.
"We've been working hard in our respective lanes, and we've engaged a number of different financial institutions," Joudrie says. "We have very similar customer bases … we thought to create something quite unique to better service those firms that adopted our technology early in our lifecycle."
James Rockwood, founder and CEO of CapIntel, says the marriage of the two platforms make total sense as they pursue ambitions of expansion into the US. At an operational level, he says the advisor roles supported by the two platforms – financial planning on one hand, and investment education and presentations on the other – are "incredibly complementary."
"By integrating our platforms, we thought it would be a great way to combine different advisor workflows into one better workflow," Rockwood (pictured above, right) says. "We believe these integrations will help make advisors' conversations with clients more holistic."
Closing the loop
Aside from its trademark AI-powered Strategic Advice Manager (SAM), Conquest's financial-planning software platform stands apart by creating plans that include specific action items and to-do lists. Through the new partnership and integration, Joudrie says action items that involve identifying a specific investment need can be shipped directly into the CapIntel system.
"This partnership really helps close the loop from identifying the investment need and specifying those action items, to putting that information in advisors' hands so they can help drive the completion of that action," he says.
"When you're coming from that financial plan, you have the context for advisors to really easily speak to why they're providing a specific set of investment recommendations – why you're making a change, or where you might be investing extra money clients bring in to help meet their goal," Rockwood says. "Advisors will have the capability to help clients understand not just what they're investing in, but also why they're doing it, all in one place."
According to Rockwood, both CapIntel and Conquest will be making ongoing investments in the partnership. He says each side has dedicated resources to the relationship, including people to consider changes to their respective platforms that can improve their connection over time.
"At Conquest, our focus is to deliver more financial plans to end-clients and have those financial plans as lifelong experiences for those that are leveraging it," Joudrie says. "This connection with CapIntel, we believe, will result in better-educated investors, better-armed advisors, and ultimately, a more fulsome solution."
"By giving the context of the financial plan, on top of educating them about their investments, advisors can show they understand their clients' situation," Rockwood says. "It's an awesome opportunity to bolster clients' confidence, and show them a path forward to achieving their financial goals."