From exploring unique strategies to arming advisors with tech tools, leaders at dealer firms are taking action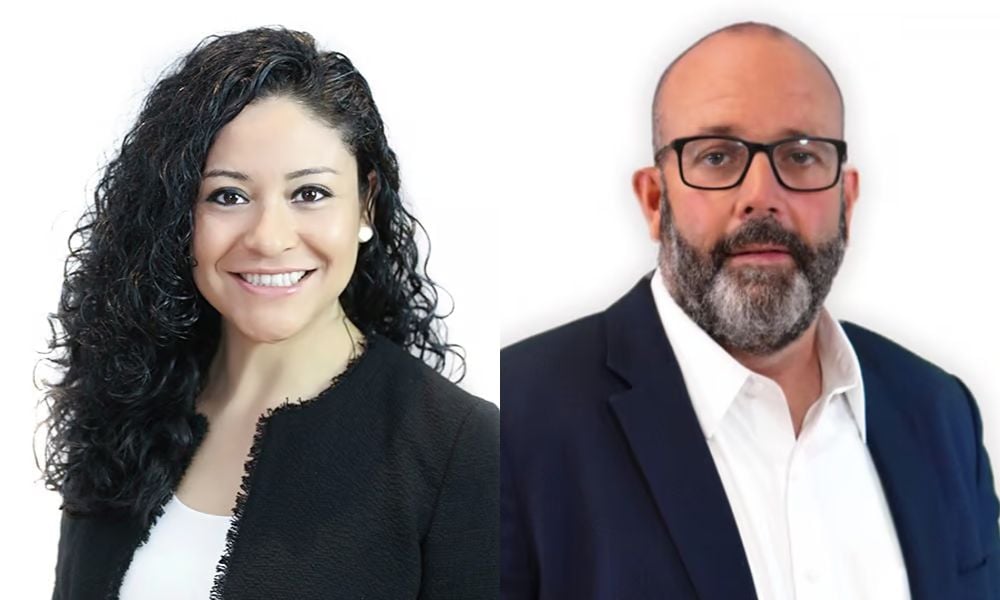 With the passage of the Online News Act in Canada, industries that engage clients and customers with up-to-the-minute journalism online – including on Facebook – will have to be more mindful of how they do it. But for wealth firms and the advisors they support, the answer to "why" it's needed is as clear as ever.
"Social media is becoming more impactful for people – not just advisors, but also their clients," Maria Flores, president at Carte Wealth Management (pictured above, left). "It doesn't matter what sector you are. We get a lot of the news by just browsing online, including on social media."
Kirk McMillan, president at The Gryphin Advantage, says the Ontario-based MGA delivers value to advisors through a collaboration with a social media consultant. That has been pivotal in shaping the firm's messaging strategy that incorporates practice management insights for advisors, as well as relevant topics for their end-clients.
"We believe that knowledge is a powerful tool, and commitment lies in empowering our advisors with the accurate and timely information they need," McMillan (above, right) says. "We leverage online news resources that are specifically targeted to the financial advisor community."
News access: needed no matter what
The Online News Act was introduced by the federal government as a way to help sustain the activities of Canadian news providers, ostensibly by compelling tech companies to pay news publishers for any stories that appear or get shared on their platforms. But in the wake of the new legislation, Alphabet and Meta – the parent companies of Google and Facebook, respectively – pushed back with moves to block Canadian users from viewing news stories on their platforms.
"We acknowledge the complexity of the decisions faced by organizations, and we understand both sides of the argument surrounding the Online News Act," McMillan says. "However, we firmly believe that a better-educated investor or insurance client benefits all parties involved, making it valuable to continue providing access to relevant news content."
While it remains to be seen where things go from here, Flores believes Meta could eventually come out with a Netflix-like subscription model for Facebook, where users who want to share news on the platform would have to pay a premium for the privilege.
"There would still be free Facebook accounts. But if someone wanted to share news with their network, they'd have to pay a monthly subscription fee," she says. "I think that's going to happen. If it does, and advisors go for it, we're not going to stop them.
"As a dealer regulated by CIRO, our job is to make sure any information our advisors publish through social media is fully compliant and meets regulatory standards," Flores says. "We have to provide advisors with the proper tools and guidance to remain compliant. And whatever they wish to do, they have to let us know, so we're sure they're protected."
Equipping advisors for change
With the Online News Act now enshrined in law, Flores says wealth firms must equip advisors to share news in a digitally compliant way. At Carte, the focus is on making advisors aware of the change, how it will impact them, and providing a solution – which is how the firm has always approached regulatory reforms.
"We have been doing this [communicating regulatory challenges and providing solutions] for the past four to five years with the client-focused reforms, the ban on DSC charges, and other changes," she says.
At Gryphin, McMillan says the firm is exploring unique strategies to ensure its advisors continue to have access to relevant news content that can be shared online with their client network.
"We understand that sharing some news articles may be restricted due to the legislation, and we are leveraging other mediums to 'translate' this valuable information into pieces that advisors can still share with their clients," he says.
Flores also highlights Carte's partnership with AdvisorStream, a wealthtech platform that lets advisors share licensed news online with their clients. She says the fintech company has been very vocal about the Online News Act and its potential implications and have worked hand-in-hand with Carte to ensure advisors are sharing news properly.
"We've been preparing for this for about a year and a half. We've made it more affordable for our advisors to access the AdvisorStream service," Flores says. "As a dealer, we're able to negotiate large contracts with our vendors, including AdvisorStream, so we can pass that reduced cost of licensed news stories along to our partner advisors."