Intuitive sales platform for advisors set to play a cornerstone role in The Gryphin Advantage's continued growth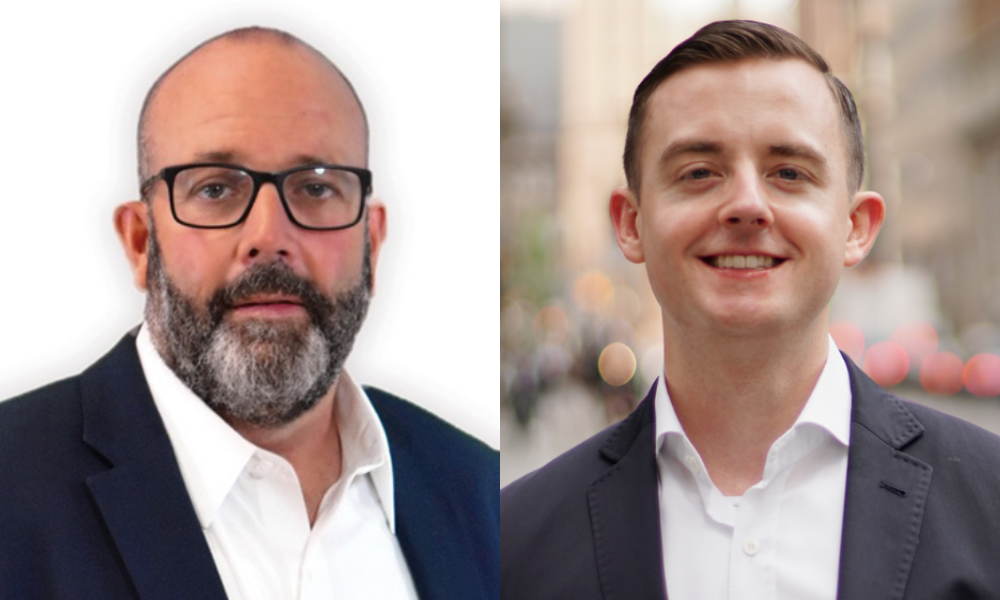 After cementing key relationships with several wealth firms including IG Wealth Management, Canada Life, and Equitable Life in the past several months, CapIntel has inked yet another partnership, this time with a national managing general agency (MGA) that's pursuing an ambitious growth strategy.
Building on its commitment to help financial advisors meet clients' evolving expectations with effective digital capabilities, The Gryphin Advantage has entered into a partnership with CapIntel. The company is using CapIntel's intuitive sales platform for investment products as the cornerstone of its aggressive growth plan to increase revenue by 20% this year.
According to Kirk McMillan (pictured above, left), President of The Gryphin Advantage, the decision to work with CapIntel came directly in response to feedback from advisors.
"We were introduced to the platform by a few of our advisors that had been looking at the platform," he said in an email to Wealth Professional. "We very quickly created a pilot advisor group, and their feedback was overwhelmingly positive."
The platform solved a long-standing challenge for one of the MGA's top advisor teams. Until then, they had been searching for a tool to handle analyses on their entire book of business – segregated funds, mutual funds, individual funds, and portfolios. With CapIntel's solution, they were able to quickly and efficiently analyze the short-, mid-, and long-term performance on that whole spectrum of investment products.
Another advisor, McMillan says, was also able to fill a gap in her practice. With the ability to put together model portfolios based on clients' risk tolerance, as well as continue to monitor them going forward, he said the platform has made delivering on commitments much easier for her.
"The flexibility and versatility of the platform made it a great fit," McMillan adds. "Each of the advisors within Gryphin runs a unique practice. We are not a one-size-fits-all organization and the ability to customize proposals for the independent advisor was important."
James Rockwood (pictured above, right), founder and CEO of CapIntel, says Gryphin is the second MGA he's worked with. While MGAs have traditionally been independent backers that let advisors implement tech stacks at their practices on their own, Rockwood says that has changed.
"The MGA space is so competitive. Companies are vying to attract new advisors as well as retain their existing ones," he says. "We've seen a tremendous push from them to provide tech to their advisor base as a value-add … I think now the MGAs are understanding the impact that a solid tech stack can have on advisors."
Rockwood cited a statistic from a recent webinar held by the other MGA CapIntel has partnered with, which said advisors that adopted the CapIntel solution saw a 30% increase in sales in six months. With the ability to access millions of products including mutual funds, guaranteed investment funds, funds-of-funds, equities, and bonds, the platform gives independent advisors the ability to compare different investments or combine them into portfolios and make direct recommendations to clients.
By offering a way to enhance advisor-client interactions, elevating the customer experience, as well as create efficiencies from time saved in creating custom reports, Rockwood says MGAs can take more than their fair share of advisors and clients.
"We're driven by our customers' success. That's so fundamental to us," he says. "We're really excited to see Kirk and the Gryphin team be able to leverage this platform and work with some of the best advisors around, attract more talent, and serve customers in a meaningful way that really impacts that advisor-customer relationship."