From defining 'squishy' areas, championing diversity, and getting a kick out of her daughter Googling her, Ula Ubani reflects on honour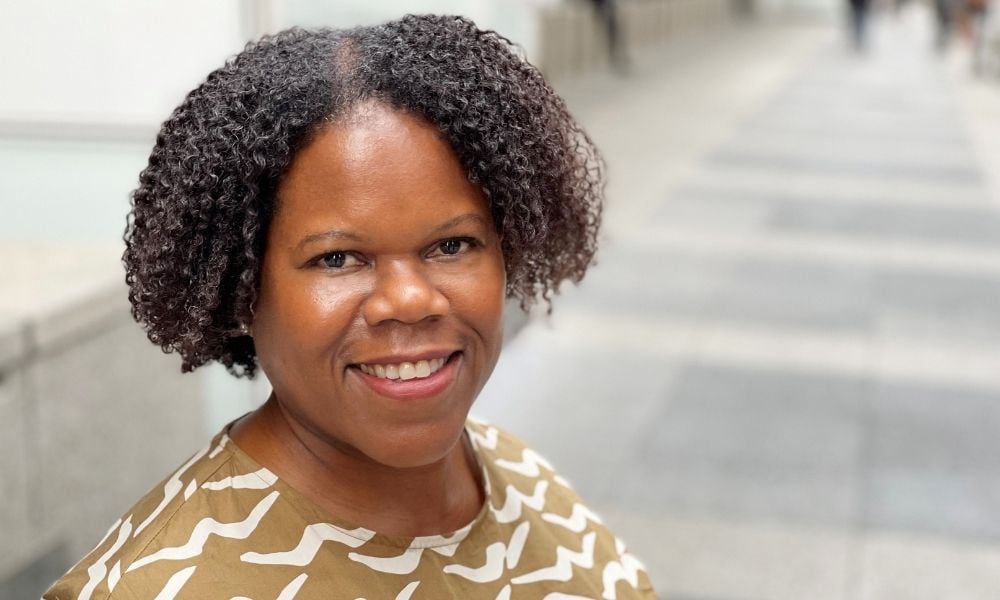 Ula Ubani is deeply grateful to be named one of the Women's Executive Network's (WXN) Canada's Most Powerful Women: Top 100 to honour how she advocates for diversity, but she said the best part was when her daughter Googled her.
BMO Financial Group's Vice-President, Ombudsperson, and Chief Ethics and Conduct Officer, told WP: "It's really quite amazing because I don't do things for awards. I don't do things to be recognized. Some people need a lot of external reinforcement, and I don't. I can reinforce myself to keep moving. But, this isn't just satisfying, it makes me feel really good."
"What made me feel even better was when my daughter came home last night. She's in Grade 11. She'd been at a friend's house and they Googled my name and read all the press, and she said, 'that's really amazing, mom'. That, to me, is the best part, to be a good role model for others and, from a diversity point of view, to be a role model for people of color, and women of color specifically, to show that good things can happen. There is a path for you.
"Those of us who have been around for a long time, and those who grew up here, we have a different mindset: just put your head down and keep on working and don't expect any reward. Now, this generation, it's different, so the focus is on making sure there's representation to ensure that people have opportunities. So, for somebody like me to be named on this list of really accomplished women is really huge. It shows others that it can be done."
WXN annually recognizes outstanding women across Canada who advocate for workforce diversity and inspire tomorrow's leaders. It looks for women who personify what it means to powerful through the way they empower and champion others, influence change, and stand up for others. It will celebrate its honorees on November 25.
Ubani, who's been BMO's Ombudsperson for a year, isn't accountable for its diversity, but she is a champion and supporter who sits on BMO's diversity advisory councils. She said she can speak up as a senior person of colour, and freely give her opinion, and she's comfortable doing so. She can also advocate, from within, for change and support it because she's senior enough, and then encourage people, especially of color, and provide concrete examples of what they can do. "I have a seat at the senior table, but I can also empathize with people more junior," she said.
Ubani began working with BMO in 1997 and has spent all but eight months of her career there and she describes much of the work that she's done there as "squishy" and undefined.
In 2005, she began focusing on corporate social responsibility, working to advance BMO's sustainability.
"My role was trying to understand the bigger role outside BMO, translating it, and figuring out where the applicability lay for the organization, and then doing the heavy lifting internally to influence people to actually understand this was something we had to focus on," she said. It took awhile, but she said BMO was the first bank to be carbon neutral for its operations and energy purchases. It now has a climate institute.
In 2015, Ubani became the chief ethics officer, refreshing its code of conduct and training to embed its values in its organization. "Things can be lawful, but awful," she said. "You have to go above and do what you think is right."
The Ombudsman function was added to her role last year so Canadian customers could escalate their complaints.
"If you've had a complaint and tried to get it solved, but that hasn't happened to your satisfaction, you have a place to go," she said. "We get the angriest of the angry customers. But customers that go that far – taking the issue to the top – are the most loyal. They want us to fix it. They haven't abandoned us."
Ubani said she enjoys working on undefined areas that need improving. She now has a team of 19, which will grow more as her office addresses the new consumer protection framework that is coming into effect in 2022.
"We have to look at how we handle complaints, and we have to do things differently," she said, noting she's incorporating more behavioural science. "We're probably already doing it in a somewhat rudimentary way, but we need to deepen it and get to the point where we can predict what's going to happen.
"There's a ton of work to do on the customer side. The regulatory framework will change the way we operate," she said. "What I bring is how I look at the problem. The way we solve problems tends to be very human. Even if we follow all the rules, but have unhappy customers, we have to figure it out in a way that makes everybody feel better, while also making sure that we don't have this similar problem again."
If there's one lesson she can pass on to advisors from her role is that they need to check how their clients are hearing what they say because people hear different things – and forget what they're told. They're also often afraid to ask questions, so it's up to the advisor to probe what's been heard.
"It's exciting. I like this job because it's not clear. There is no road map," said Ubani. "Something I say often here is 'I'm not there yet.' I don't spend a lot of time worrying about what's around the corner because I'm confident that I can figure it out when I get there. I'm totally comfortable just going down the path and seeing what comes next."