Mobile product for self-directed investors to allow client to share data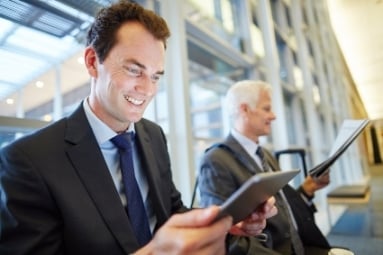 Hardbacon, an app for self-directed investors, is planning to add an advisor feature at the beginning of 2019.
The B2C mobile product firm recently entered into a partnership with Desjardins Online Brokerage, which opened up the app to the bank's 105,000 clients and allowed Hardbacon subscribers who hadn't yet started an investment account to trade with Desjardins.
Hardbacon syncs customers' accounts, analyses their portfolios and aims to help Canadians pick robo-advisors and brokerages through comparators. Its deal with Desjardins gives users: a free three-month subscription to the app; access to the app's online course about investment; and the chance to invest in the stock market for free with Desjardins Online Brokerage for up to one year.
Founder Julien Brault, who is based in Montreal, said the deal took about seven months to conclude and has already had a big impact on downloads and engagement for both sides. He said: "The really cool thing about it is we are creating new investors, so I'm really proud about that."
While stressing that Hardbacon is not an advisor-facing service, Brault said the company is in talks with a wealth management firm and an advisor software team with the plan to apply the app to human money managers next year.
He explained how wealth management firms will be able to "gift" the product to advisors, allowing them to understand portfolios and see real-life returns.
He said: "There are definitely benefits for the end user and it shows that the advisor is connected and tech savvy. Once the advisor can access a client's data it will be disclosed - I don't want it to be like Big Brother.
"For this particular model, [the client] will be able to use this app for free and in return we will share your financial data with the advisor and your advisor only, and they would accept or not accept. If they accept, the cool thing is the advisor has access to all the accounts for the client."
Brault said this digital tie-up between a client and their advisor can also help protect the former from making knee-jerk decisions when the market takes a turn for the worse.
He said: "The users that don't understand their portfolio tend to be less exposed to equity and withdraw funds when the market is not going well, which is the true cause of investors not getting good returns.
"So it's a good tool for the advisor and when the client is asking questions, rather than just calling the advisor, the client can just check the app and get an answer.
"So that is a benefit from the advisor side but we are not building an advisor-facing software – it's for an advisor to give their client and access their information."