The policies offer pet owners peace of mind, but cost and coverage differ based on key factors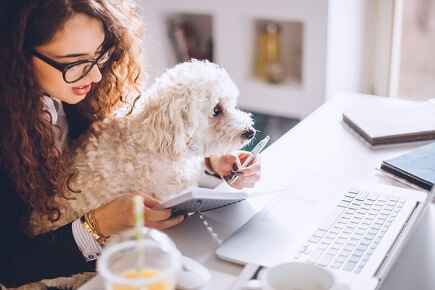 Pet insurance coverage may seem like a niche product, but it's certainly nothing to sneeze at: it's among the fastest-growing types of plans in the US, with more employers starting to offer it. Pet owners may get thousands of dollars in veterinary costs covered — depending on the plan they get.
As the Huffington Post reported recently, there are generally three types of pet insurance plans:
Accident-only policies;
Policies covering both accidents and illnesses, which are more popular; and
Plans covering routine care, like annual exams, flea treatments, and vaccinations
The North American Pet Health Insurance Association (NAPHIA) estimates that accident-only and wellness coverage plans make up only around 4% of the market. In the US and Canada, 81% of pet insurance policies written are accident and illness plans for dogs, while 14.6% provide the same coverage for cats and other animals.
An upcoming report from NAPHIA says accident and illness coverage averaged US$535 annually for dogs and US$335 annually for cats in 2017. In many cases, pet insurance policyholders will never have to file a claim; the premiums they pay will go toward peace of mind and security to cover catastrophic health bills.
Policy costs are affected by a host of factors. Aside from the type of policy an owner gets, a pet's age must also be considered; older animals are more likely to develop serious illnesses. In addition, certain breeds are more at risk for cancers and other congenital conditions; larger canine breeds, for instance, have a higher probability of needing care for hip dysplasia. Certain breed-specific conditions may also be considered and lead to higher costs.
While pet insurance policies are designed with different deductibles, co-payments, and premiums, they usually don't provide coverage right away. That means pet owners should expect to pay their veterinary bills out of pocket and in full and wait to be reimbursed — though they may ask their veterinarians if they could wait for the insurer to pay the claim.
Terms of payout and coverage also differ across plans. Some pay a flat percentage of covered costs after a certain deductible is met, while others base their coverage on the "usual and customary costs of vet care" in the pet owner's area of residence. Certain plans have an annual coverage cap — which could be anywhere from US$5,000 to US$15,000 — while other may have no annual limit. Owners will also have to look out for specific illnesses and treatments that may be excluded from their policies.