Prime minster says tax was never under consideration by his government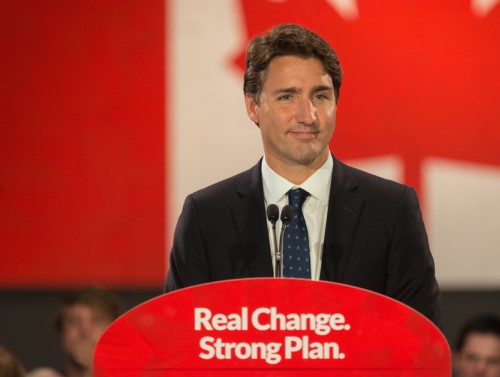 Prime Minister Justin Trudeau has ruled out a tax on health and dental benefits in the upcoming federal budget.
Addressing interim Conservative Leader Rona Ambrose at Question Period on Wednesday, the prime minister refuted that such a levy would be introduced.
"We are committed to protecting the middle class from increased taxes and that is why we will not be raising the taxes the member opposite proposes we will do," he said.
In addition, and contrary to months of speculation regarding the proposed benefits tax, Trudeau stated this was never under consideration by his government.
Responding to Conservative MP Denis Lebel, who asked would there be a "new tax on dental and health care?" the prime minister countered that: "It was never in our plan to increase taxes as suggested by the member."
The denial came just hours after Minister of Finance Bill Morneau had told reporters: "We are not going to talk about budget measures in advance of the budget."
The prime minister's comments will come as welcome news to Canada's 13.5 million workers that have health or dental coverage, as well as the "Don't Tax my Health Benefits!" campaign.
Part of that group is the Canadian Life and Health Insurance Association (CLHIA), which responded to the government's apparent volte-face.
"We fully support the decision to maintain the current tax treatment of employer health benefits that over 22 million Canadians rely on for their healthcare needs," said Stephen Frank, SVP, Policy, CLHIA.
Others were more cautious regarding the government's announcement, including Dave Patriarche of Canadian Group Insurance Brokers (CGIB).
"It is not 100% that they are out on this," he says. "I'm a little bit suspicious of the words used, but time will tell. This could still come back down the road, just like in Quebec."
Patriarche has been a strong supporter of Don't Tax my Health Benefits!, which encouraged workers to contact their local MP to protest any tax on health or dental benefits.
Looking at the issue from the government's position, he does understand how this tax was floated as a way to raise money.
"If you step back from it, you are giving someone a compensation benefit that is non-taxable and unbalances the equation," says Patriarche "If you work for a company that has great benefits then you are getting tax-free income. From an equalization standpoint, it makes some sense."
Where he and the Trudeau administration differ, at least until yesterday, is how to make the system fairer for all Canadians.
"I'm ok with equalizing if you are moving everyone up to the same point or meeting in the middle, but this was moving everyone down, harming middle to low-income people much, much worse than those on higher income," says Patriarche.
It appears that won't be the case, at least for now, but Patriarche is still hoping for greater clarification from Ottawa.
"It was a little oblique what they said," he says. "I'm not saying there is anything nefarious going on, but I would really like to see a clear statement that everyone is on the same page. They had the discussion, they floated the trial balloon, is it now just a question of we will do it but at a different time? I would rather they said it is not on the agenda at all."
Related stories:
Campaign aims to fight Ottawa's proposed tax on health benefits
Taxing health and dental plans may cost Canadians at least $1,000 more per year