One of Canada's oldest companies recently created this country's newest, largest mutual fund manager. But how the heck did Rick Headrick end up in the top spot? By Jeff Sanford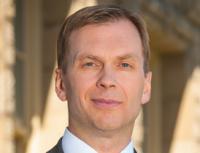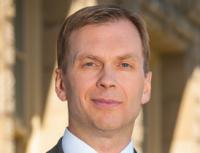 One of Canada's oldest companies recently created this country's newest, largest mutual fund manager. But how the heck did Rick Headrick end up in the top spot? By Jeff Sanford

It is, as the saying goes, a long way to the top. But the speed of ascension for this country's top mutual fund manager has been nothing short of break-neck. In the wake of the Great Recession of 2008, mighty global insurance organization Sun Life Financial reorganized its disperate, scattered mutual fund business, creating Sun Life Global Investments. Today, SLGI, as it is known, launched a private client division that the new company hopes will help its massive network of Sun Life advisors better compete in today's tougher industry. Taking on the top job at SLGI, is Rick Headrick, a prodigal son of Saskatchewan, and another one of the many Canadian financial executives born far from the pit of Bay Street. It was long ago he heard and answered the siren call of the Big Smoke.

Over coffee in downtown Toronto, Headrick tells WP the story of how an ambitious kid picked himself up out of the canola fields of rural Saskatchewan to journey east and, ultimately, to the top spot of Canada's largest, newest mutual fund company. The conversation comes on the eve of a major crosscountry road trip to explain to thousands of Sun Life advisors how it is SLGI is going to help make life easier for them in this period of nervous anticipation. Today, IAs deal with everything from ultra-low interest rates to stifling new regulations. Headrick's long journey to the C-suite of SLGI will be comforting to advisors; as it turns out, the boss knows a thing or two about long-term toil and struggle.

It was way back in 1977 that the young Headrick was living in a town of just 700 people, 13 miles west of Saskatoon. The first time he saw the Toronto Blue Jays on television he knew the Big Smoke was for him. "Toronto might as well have been Paris. But I wanted to challenge myself," he says.

His dad was the classic serial entrepreneur, opening and closing business after business. Early on Headrick pumped gas at his parents' retail operation to pay for university, a customer-oriented occupation that taught him the value of building relationships in a competitive environment. He once sold his textbooks before his exams to cover his rent. Eventually, working his way east, he followed up a B comm. with a law degree, making it to Toronto just in time to see the Blue Jays clinch the 1992 World Series.

They were heady, but tiring days. Working as a corporate litigator, Headrick was spending day after day in court on behalf of corporate clients. When "partner conversations" began to crop up, he looked within, realized he didn't have it in him to stay with the law. Falling back on his entrepreneurial roots, Headrick pulled up stakes and moved on to new territory. "It's in the blood," he says.

Headrick had previously achieved a CFP on his own time, worried as he was about what his advisor was or wasn't telling him. But the grounding in financial planning opened up a new career direction. With the blessing of an obliging wife, he left law, took a pay cut, began climbing the ladder in the investment industry. By 2004, Sun Life asked him to join their group retirement team. He hesitated, but "Sun Life can be persistent"; Headrick joined the massive North American insurer, working toward his true potential at a company that demands excellence.

There are few corporations in Canada older than Sun Life. The organization is almost a century and a half into a history that is epic in terms of success and longevity. Today, it ranks 236 on the Forbes Global 2000 and offers insurance, retirement and investment solutions for individuals and businesses the world over. There are offices across the globe, an astounding $494 billion in assets under management, 28,000 employees and a network of 147,590 advisors in 22 countries serving more than 25 million customers. On home turf, Sun Life is the leader in Canada of defined-contribution pension plans, group RRSPs and deferred profit-sharing plans.

But the latest chapter in the corporate history is Sun Life Global Investments.

For years, Sun Life contracted the many various mutual fund managers that steer its funds through each different division in the company. That is, the process of contracting fund managers was chaotic, uncoordinated. The overlap resulted in a scattershot approach to fund management. A plan began to come together. When Sun Life unloaded a 37 per cent stake in CI Financial to Scotiabank in 2008, then-CEO Donald Stewart floated an intriguing idea: "Why don't we start our own mutual fund company?" he asked.

The new company reorganized its mutual fund business over the last couple of years, giving birth to Sun Life Global Investments (SLGI), a mutual fund company that wraps up Sun Life's formerly uncoordinated mutual fund business into a massive new firm that is a dominant force in the Canadian DC industry. Headrick was heavily involved in the genesis of the company.

Putting together a comprehensive business plan, he sent a detailed email off to the higher-ups. His plan: Create an in-house mutual fund company that would be the "single window" through which Sun Life would contract with many different fund managers, a way of facilitating the massive mutual fund business the company does. The idea turned out to be a homerun for Headrick. He was tagged for the top spot. But getting the company to home plate was a scramble.

In 2009, then-new Sun Life Canada President Kevin Dougherty went on BNN to say that the new company would be ready to go in just months. To Headrick the comment felt like a line-drive to the gut. The Great Recession was still working through the system. Investors were spooked. But here he was tasked with creating a new and massive investment company. "It was an exciting time," says Headrick.

In October 2010, with just 40 employees and zero assets under administration, Sun Life Global Investments was launched. Since then it has grown rapidly.

Today, the organization employs 200 people who manage over $8.7 billion in assets. The company's Toronto-based portfolio management team designs funds, then draws on the expertise of key global fund managers like Beutel Goodman, Blackrock, MFS, Dynamic, Schroders and Sentry to manage the funds. The fund catalog now features 87 funds in any kind of style. Fifty three of those, series E and O, focus on the retail market for advisors. the first of April this year, SLGI announced the launch of a private client division for those with higher investable assets. (Cindy Crean is managing director of that.) Sadiq Adatia, the chief investment officer, has emerged as a regular voice in the Canadian media and has been decidedly non-reticent about speaking out on controversial topics. That is the company managed to shrug off the Great Recession and is settling into a new routine as a major component of the modern Canadian mutual fund industry. "In the midst of the economic recovery and a competitive market ... 2010 was tough, 2011 was a challenge," says Headrick. But the company made it, has since prospered. "It goes back to entrepreneurial roots. It's been busy, but it's been fun," says Headrick. "It's been an amazing journey."

But even as SLGI gets up to speed, the firm arrives on the scene at a time when Canadian advisors find themselves working harder than ever to maintain profitable practices. Increasing regulation, historically low interest rates and the challenges that seem to come from every side are conspiring to challenge the sustainability of current business models. Headrick recognizes there are real headwinds in the industry. "I think advisors are in a strange position. I think that many advisors are having these tough conversations," says Headrick. But he is confident the firm will protect the advisor network. After all, this is a company that has survived almost a century and a half of business ups and downs. It was way back in 1918 that the global influenza pandemic saw Sun Life flirt with bankruptcy as an unexpected number of insurance claims flooded the company. Headrick is confident the business will survive whatever challenges come up today.

A roadshow in the early summer of 2014 saw Headrick travel across Canada. Talking to advisors he explained to thousands how it is Sun Life was the only North American insurer that didn't take government money in the Great Recession, didn't have to go to market to raise capital while continuing to pay dividends. "I think the market recognizes we were the only North American insurer to do that," says Headrick. That is, the company is a survivor over the long-term, always has been. Those at the top are acutely aware of the need to maintain the company's good reputation. The historical legacy of the company is never far from mind for those working in the executive suite. There is a heritage and reputation to uphold. "No one wants to be the one to mess that up," says Headrick. "We are very lucky to have these opportunities." That is, he understands a long and tough journey. He understands that even if the way forward is cloudy, hard work and perseverance can cut through that uncertainty. All of which is a good way of getting back to that Headrick's beloved Blue Jays baseball team. For the first time since 1992 the team has an outstanding line-up of players and could challenge for top spot. The team had faltered a bit through the summer. But Headrick had not lost hope. When asked about the chances of the team he replies with the cautious optimism befitting a top exec at a century-and-a-halfold insurance company: "I don't want to jinx anything ... but I'm hopeful," he says.

This article is from Wealth Professional Issue #2.4. Download the issue to read more.