Insurer has launched new platforms to address treatment for mental health and musculoskeletal disorders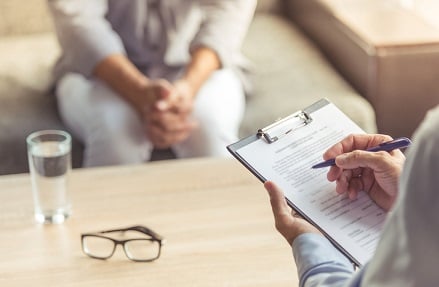 Manulife plan members suffering from a mental illness will now be able to access digital therapy from their own home. The insurance giant has launched five pilot programs tasked with delivering faster treatment in mental health and musculoskeletal disorders. Those two areas make up more than half of total disability claims for Manulife in Canada (30% mental health – 28% musculoskeletal) and are a major drain on workplace productivity.
The five pilot programs will run for twelve months and are as follows:
Mental Health Conditions
Direct access to virtual cognitive behavioural therapy to help make it easier for plan members to cope with their mental health struggles – pilot start date: winter 2018
In-person and digitally‑delivered therapy to help plan members dealing with mental health issues – pilot start date: winter 2018
Earlier, specialized and collaborative care to help plan members suffering from major depression – pilot start date: August 2017
Pharmacogenetic testing to help speed up plan member treatment – pilot start date: winter 2018
Musculoskeletal Disorders:
Earlier, intensive treatment to help plan members with recovery – pilot start date: April 2017
Commenting on the launch, Cori Lawson-Roberts, assistant vice-president, National Disability Services at Manulife explained how important it was to act proactively on these illnesses.
"When people are either struggling at work or off work, our goal has always been to get them the right care," she says. "What's different about these pilots is that we are allowing employees to receive treatment that is flexible and works for them, like virtual therapy. If they have a smart phone they can receive therapy from the comfort of their own home."
According to data from the insurer, 70% of disability absence costs are mental health-related, while around one in four Canadians experience depression serious enough to need treatment at some time in their life. It's a societal issue, and one that needs serious attention, explains Lawson-Roberts.
"Stigma has receded, but where it is still a concern is with the people that are suffering," she says. "If you are someone with a mental health condition, you are going to be concerned about how your co-workers perceive you and how your mental health will impact your career progression."
Another issue is Canada's notoriously long waiting times for certain illnesses, depression being one. Manulife says typical wait times for mental health counselling and therapy is six months to one year, making the digital option look pretty appealing in comparison.
"Digital therapy is new to Canada and this platform is one of a kind," Lawson-Roberts. "It is very much return-to-work based; that may sound basic, but it is powerful when you are receiving therapy to have a goal. That goal is getting your life back on track and returning to work."
Such an outcome benefits all those concerned, but won't be easily achieved without the right clinical diagnoses, which is where the pharmacogenetic testing pilot comes in.
"It is a saliva test given to someone and allows a lab to determine what is the best anti-depressant for a person," she says. "We know that 50% of psychiatric medications are ineffective, where people get on a rollercoaster of one medication after another. Pharmacogenetics stops that rollercoaster in its tracks and determines what is the best anti-depressant for you."
Related stories:
Manulife reveals Amazon collaboration as Alexa reaches Canada
Advocate calls for public coverage for mental-health treatment