As questions about the risks of e-cigarettes arise, it may be time to review the impact their use may have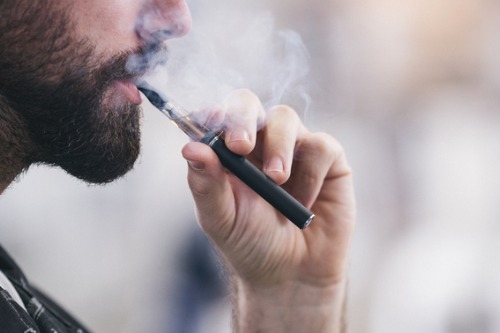 Just as concerns on e-cigarette usage have mounted south of the border, there's an increasing level of domestic discourse about the potential negative impacts of the practice.
Citing the increased incidence of acute vaping-linked illnesses in recent months — and a particularly concerning impact on young people — the Heart and Stroke Foundation has called for a political commitment to immediate and comprehensive measures for e-cigarettes to be regulated in the same way as tobacco.
"The youth vaping crisis has been allowed to escalate because of inadequate regulation and irresponsible marketing practices," said Dr. Andrew Pipe, chair of the Heart & Stroke Board of Directors, in a statement earlier this month. "There is no question that vaping is linked to serious short- and long-term health risks."
In the statement, Pipe asserted a need to regulate marketing, as well as a comprehensive ban on flavours and limits on nicotine content.
For its part, the Canadian Vaping Association (CVA) has also issued statements expressing concerns about youth access to nicotine e-liquid vape products. But the association also encouraged authorities to focus on the primary source of the outbreak.
"[C]ontaminated cannabis (THC) products sourced on the black market have been implicated in many cases," said Darryl Tempest, executive director of the CVA, in a release dated October 17. "We have to prevent consumers who are misinformed about the facts around vaping from turning to combustible tobacco or the black market."
With those concerns swirling around the space, one may ask how life insurance carriers in Canada regard vaping.
When asked how e-cigarette use can affect their life insurance policyholders, Canada Protection Plan Co-president Michael Aziz commented:
"As a provider of no-medical life insurance, Canada Protection Plan considers clients who have used a substance or product containing tobacco or nicotine (excluding cigars) or have smoked (including vaping) cannabis less than five times a week as nonsmokers. This can mean lower rates compared to those of an identified smoker."
Meanwhile, an online guide from BMO Insurance states: "As the nicotine content of e-cigarettes is highly variable, vapers are treated like smokers by many insurers, such as BMO Insurance.
"It's believed that people who smoke or vape are more likely to develop health issues and, potentially, pass away at a younger age than non-smokers and non-vapers," it continued, explaining that vapers or smokers are likely to face higher life insurance premiums.
Yet another explainer published by Sun Life notes that life insurance applications might not ask about vaping, but many require medical tests that detect the nicotine in an applicant's blood or urine irrespective of how it is consumed. As a consequence, people who vape might still be listed as a smoker — and face potentially much steeper premiums than if they were non-smokers or non-vapers.