The lifesaving medical device is becoming harder and harder to afford as prices rise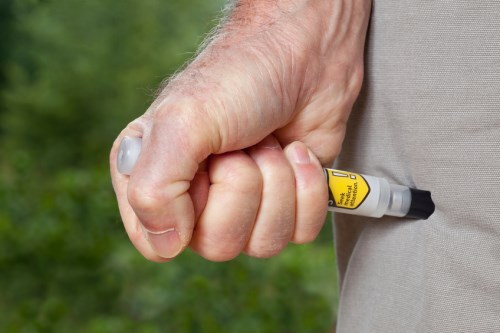 The EpiPen, a lifesaving device used by millions to treat severe allergic reactions, has seen its proce spike by 450% in the United States since 2004.
A two-pack of EpiPens cost about $100 in the U.S. in 2004, adjusting for inflation, according to
a report
by World Socialist Website. Today, it costs more than $600 – and some emergency medical services can pay $900 or more to get the device from medical supply companies. The soaring price has led many to keep expired EpiPens or try to administer epinephrine through manual syringes.
The device, marketed by pharmaceutical company Mylan, is used to treat anaphylaxis, a severe allergic reaction. The EpiPen uses a spring-loaded needle to deliver a measured dose of epinephrine, the recommended treatment for anaphylaxis – which can be deadly if not treated with alacrity. It's recommended that people with a history of severe allergic reactions carry an EpiPen at all times. When deaths due to anaphylaxis occur, they are almost always associated with not having quick access to epinephrine, WSWS reported.
Affordability issues
But the huge price surge on EpiPens in recent years has made it harder for working-class families to afford the devices.
"I am hearing some of the families are opting to carry expired auto-injectors," Dr. Michael Pistiner, a Wisconson allergist, told Milwaukee Public Radio. "Or, if they have a high deductible, sometimes they say, do they really want their auto-injector, and do they really need it?"
At least 10 states are pushing for EMTs to be trained to give epinephrine injections with regular hypodermic needles – a much more difficult procedure – to cut down on EpiPen costs, WSWS reported.
Driving up the cost
The EpiPen's price surge began in earnest after Mylan acquired the device through its 2007 purchase of Merck's generic division, WSWS reported. New federal guidelines were established recommending patients with severe allergic reactions be prescribed two doses. The passage of those guidelines was supported by Sen. Joe Manchin (D-W. Va.) – the father of Mylan CEO Heather Bresch, WSWS reported. At the same time, Mylan launched a massive public awareness campaign aimed at getting EpiPens stocked in schools. Forty-seven states now require epinephrine devices to be stocked in public schools, WSWS reported.
EpiPen use has risen by 67% since 2008, according to WSWS. With usage on the rise and Mylan cornering more and more of the epinephrine market, it drove the price of a two-pack of EpiPens up to more than $600, WSWS reported.
Mylan told Virginia's Stat News that the price increases "reflect the multiple, important product features and the value the product provides." The company declined to tell the news outlet what those "product features" were, however.