Sun Life Financial has pledged to donate $1,000 for each slam dunk by a Raptors player at the ACC this season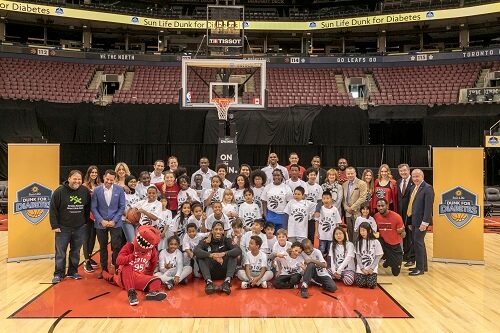 Eagle-eyed viewers may have noticed something different about the Toronto Raptors jersey in their thrilling contest against the Golden State Warriors on Wednesday night.
This season, for the first time in NBA history, teams now have jersey sponsors.
In the Raptors' case, it is
Sun Life Financial
making history, but the partnership doesn't end there. Earlier this month, the life insurer launched its Sun Life Dunk for Diabetes program, in collaboration with the NBA franchise.
The initiative aims to educate young people on the importance of living a healthy lifestyle, with Raptors head coach Dwayne Casey, three-time NBA All-Star DeMar DeRozan and Raptors 905 head coach Jerry Stackhouse serving as ambassadors.
According to Lisa Ritchie, chief marketing officer at Sun Life Financial, having such recognizable figures involved makes a big difference.
"Our three ambassadors, all of them have diabetes in their families, so they know the stories and have lived it," she says. "They really see the downside of not reaching kids early in terms of prevention."
She continues: "It's important to reinforce the point that type-2 diabetes can be prevented. It's all about being active and having a healthy lifestyle. I can say as much as I want, but when you have someone out there that kids look up to, it reinforces the message."
Another important part of the Dunk for Diabetes program is the involvement of the Boys and Girls Clubs of Canada. Participants in a six-week program will contest weekly, basketball-based fitness and nutrition challenges, with the chance to win prizes after each challenge is completed.
The top 10 kids from each club will then celebrate their achievements with the Toronto Raptors and NBA legends at the end of the program.
Another facet of the initiative is the Healthy Me, Healthy Community diabetes prevention program, which sees the launch of the Sun Life Financial Nutrition Hub, in conjunction with the MLSE Foundation. The Nutrition Hub will teach healthy eating habits to kids in an after-school program, as well as explaining how a well-balanced diet can prevent type-2 diabetes.
"It is reaching epidemic proportions, one in three Canadians will be diagnosed with diabetes or pre-diabetes, so it is a cause we are quite passionate about," says Richie.
To that end, Sun Life has raised $22 million in promoting awareness, prevention, care and research on type-2 diabetes over the past five years. That number will increase in the months ahead, and the Raptors' fortunes on the court will be central to how much is ultimately donated by the insurance giant.
For every slam dunk made by a Raptor at home games during the regular 2017-18 season, Sun Life Financial will donate $1,000, with a maximum donation of $200,000.
Extra incentive then for DeRozan and his teammates as they attempt to reach the playoffs for the fourth consecutive time.
Related stories:
Raptors and Sun Life team up to fight diabetes
Digital platforms an 'amazing opportunity' for advisors, says Sun Life CEO