Michael Lee-Chin, President and Chairman of Portland Holdings, believes the next big investment opportunities are global issues – and he's already investing in the future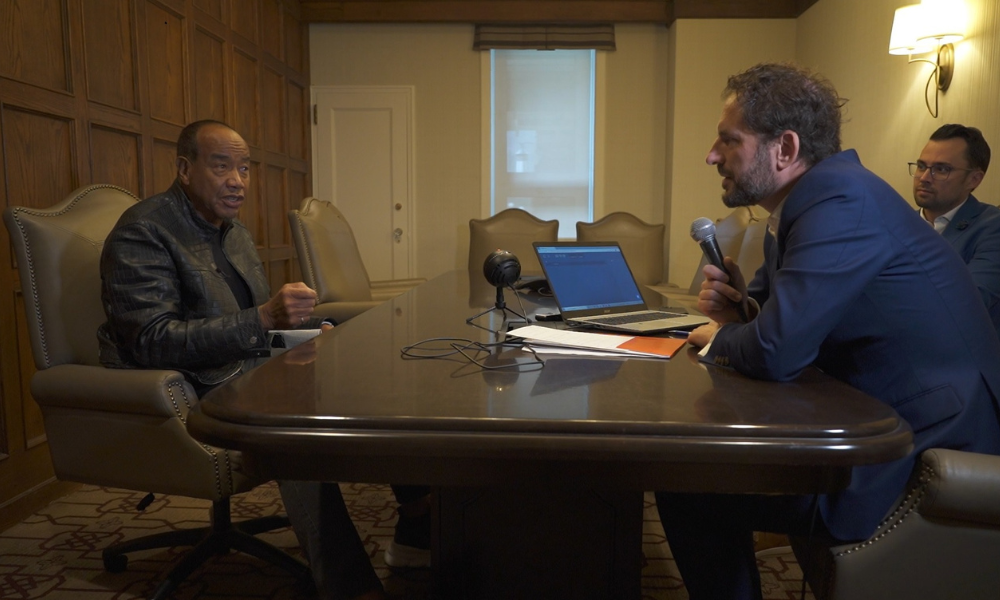 This article was produced in partnership with Mandeville Private Client Inc.
Michael Lee-Chin's next investment idea, typically, is not small fry; it will address "some of humankind's most unmet needs." This is not hyperbole. Lee-Chin, the renowned billionaire businessman and investor, is, typically, making things happen.
The President and Chairman of Portland Holdings Limited., a privately held investment company headquartered in Burlington, Ontario, and CEO and Chairman of its investment dealer, Mandeville Private Client Inc., made the eye-opening announcement at the recent 2022 Mandeville Advisor conference in Banff, Alberta. A Portland Holdings subsidiary, AIC Global Holdings Inc., he explained, had signed a memorandum of understanding (MOU) with Canadian Nuclear Laboratories (CNL) to collaborate in the development of health sciences, clean energy, and environmental responsibility.
Talking to WP, Lee-Chin highlighted Wayne Gretzky's famous words, "I skate to where the puck is going, not where it has been," to highlight where he believes the next major investment opportunities will come from – the push for net zero and a health care boom as the population ages.
Read more: Industry is not being respectful of clients' needs, says Lee-Chin
Lee-Chin described himself as a small cog in this wheel of change but revealed he became aware of CNL through investments in ITM Isotope Technologies Munich SE ("ITM"), a company based in Munich, Germany, for which he is also on the supervisory board. ITM produces the radioisotope lutetium 177, which is used in precision oncology – the treatment of cancer at the cellular level that attacks cancerous cells and leaves neighbouring healthy ones alone. At a board meeting, it was made clear that ITM, in which Portland has a stake of about €210 million, had been trying for two years to establish a relationship with CNL, which is working on a complementary isotope called actinium 225.
Lee-Chin "called a friend" on the board at CNL, and within a week the two firms had signed an MOU to work together. Upon seeing the world-leading proficiency of CNL in fields such as clean energy tech, small modular reactors, and hydrogen as a fuel, he realized this was going to be central to helping countries around the world meet their net-zero targets. And, even better, the expertise was on his doorstep – in Canada.
"Several countries have signed up to be net zero… but most have no idea how to get there," Lee-Chin said. "To get to net zero, you have to have some nuclear baseload to provide fuel, energy for industries, for aviation, for shipping, etc. – and very few countries have that expertise. Fortunately for us, here in Canada, we have that expertise in spades, in a government repository called CNL, which is unique in the world."
A once-in-a-lifetime opportunity
Without nuclear energy, he warned, our grandchildren will have problems such as respiratory illnesses and lung diseases. CNL has around 600 nuclear scientists and 1,600 engineers in their Chalk River facility, in Ontario, working on solutions to this drastic pending issue, and many more.
For Mandeville's advisors, and their end clients, this represents a potential once-in-a-lifetime opportunity. Lee-Chin said. "At this point, whether you are CPP, OMERS, whether you're an institution, or a retail client, you don't have access to these types of investments. With CNL, there'll be funds needed to implement and operationalize projects. Clients will have a wonderful opportunity to come and co-invest with us in these projects."
On a personal level, the renowned philanthropist is humbled that he has an opportunity to contribute, while he said CNL's staff are "eagerly awaiting" at the chance to get going with fresh opportunities and funding. It fits Portland's mantra of "Doing Well by Doing Good" while the relationship also chimed with the theme of the conference – "Level Up," an inspirational message of continual improvement.
A key part of this opportunity is the precision oncology space. As a baby boomer himself, Lee-Chin, 71, knows a large percentage of the North American population wants to live longer and also have a good quality of life while they're alive. Unfortunately, the more one ages, the greater the chance of developing cancer.
Traditional radiotherapy and chemotherapy treatments are brutal, but Peptide Receptor Radionuclide Therapy (PRRT) targets only cancerous cells, with minimal side effects. Lee-Chin believes, therefore, that we are in the early innings of a health care boom, which includes a powerful "sub-boom" in oncology.
A deep understanding
Just like the net-zero thesis, precision oncology fits into Lee-Chin's wealth-creation framework, which he defines as the three P's: predict, plan, and persevere. To guard against wild speculation, the first stage requires deep research and education. To that end, AIC hired a Chief Medical Officer, Dr. Ramon Arscott, and a Chief Scientific Officer, Life Sciences, Dr. Hubert Walinski, who provide expertise and add to the about 500 staff at ITM that Lee-Chin can call upon for opinion.
Lee-Chin said, "As an investor, we have to understand what it is we invest in. It doesn't make sense us getting into areas that we don't have a deep understanding of because we're not speculating here; we have to understand it."
This is hugely important for the end clients, who also have to go through an educational and confidence-building process to become better investors themselves. "This is not just trading stocks," Lee-Chin added. "We're investing for the long run."
Frank Laferriere, Chief Operating Officer at Mandeville Private Client, said the collaboration with CNL gets to the heart of why Mandeville was founded more than a decade ago. Mandeville set its stall out not to be just another dealership, but one that would make things better for clients and the world. Leading this approach is, of course, Lee-Chin, who thinks beyond simple stocks.
"What are we facing right now is rising levels of cancer," Laferriere said. "So, what are we doing? We're looking for ways to invest and provide capital for people who are going to develop solutions for cancer treatments, which is what we've [already] done with Portland affiliate ITM offerings, which we've made available to our clients and institutional clients. It's been incredible."
Read more: 'I wanted to be wealthy. I wanted to have that security'
The energy challenge is endemic to all mankind. Nobody wants to go back and live in caves and be subsistence farmers, he joked. The IP rests in Canada, and eventually investors will be able to play their part and benefit. "We expect that Portland Holdings group of companies will be able to come up with vehicles or avenues that will allow institutional investors and retail investors to co-invest alongside some of these initiatives down the road. This is just the start."
Just like the great Gretzky said, you've got to know where the puck is going. No one has a crystal ball, but Lee-Chin has a vision – and he's already backing up his words with investments.