Despite astounding 10x growth in 5 years, it's not all about the numbers for one advisor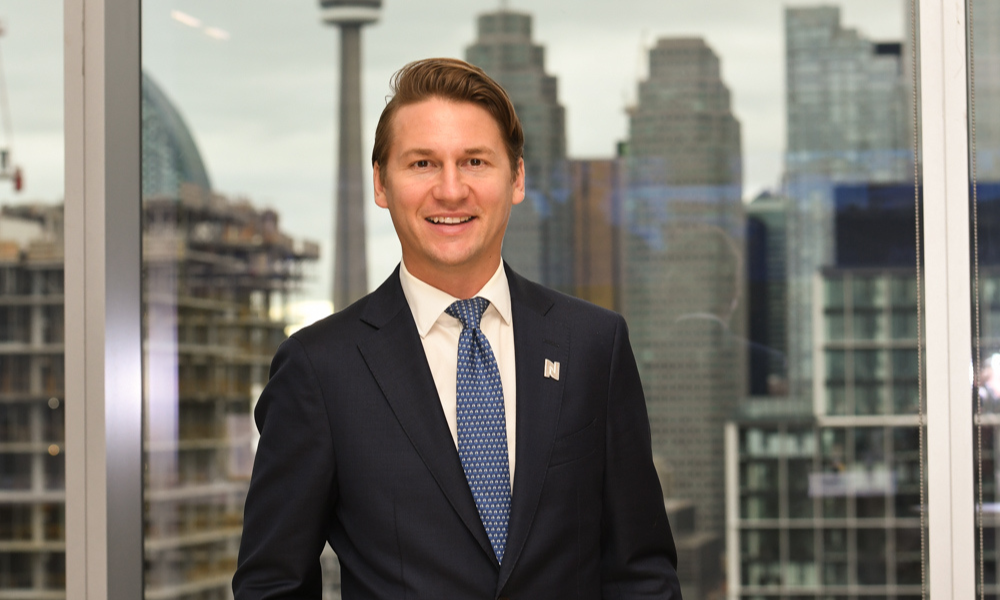 Coming into Toronto's financial industry, Kyle Westhaver was looking for one thing above all else: a firm with principles that aligned with his. Finding one that prioritized the kind of in-depth planning he believed clients needed was proving to be a tall order, until he found Nicola Wealth.
"That was exactly what they focused on and that got me interested," Westhaver says, adding that he soon learned more about the firm that he liked such as they cultivate a very entrepreneurial spirit, are constantly innovating, and are avid proponents of mentorship.
"They play the long game here and ultimately, that's what works really well for myself, the firm, and most importantly our clients."
Having grown his client roster 10x in the five years he's been Nicola Wealth, Westhaver attributes his practice's explosive growth in such a short time to a few factors — not least of all working with some of the top advisors in the country. Though he definitely put his nose to the grindstone, Westhaver made a point of stepping back to take in the lessons from those who had more experience. The fact that the Nicola Wealth team "invested in me, made sure that technically I was strong, and taught me how to really take care of people" gave him the ability to expand much faster than he would have been able to otherwise.
Nicola Wealth also plays the long game when it comes to their client-first approach. When they first meet a client, before any talk about investments or how the portfolio might look, advisors dig in and create a comprehensive financial plan. Taking that time upfront can be a tough sell initially, when the person says they've seen the firm's performance, think it's great, and want to come onboard, but Nicola Wealth sees the value in their approach and stands behind it. Going into the relationship, both sides are assured it's an excellent fit and, because the recommendations the advisor makes are always customized to the client's situation, the overall probability that the client will have fantastic outcomes increases. For example, against the bleak backdrop of 2022, Nicola Wealth's core composite portfolio was up over 7.5%.
Ultimately, while Nicola Wealth deals with numbers — the stark difference in how the firm's clients performed last year versus the average Canadian investor "certainly started a lot of conversations around clients' dinner tables with those that are close to them," Westhaver notes — it's not all about the numbers: the firm's foundation is that of human connection. That suits Westhaver, who quickly realized his passion is working with people who inspire him, and while that's definitely colleagues it also applies to clients. Maybe you won't be best friends with everyone, but in the end it's more than just business. In the course of their role, advisors find out a lot about clients personally because the information is often pertinent to their financial circumstances — but for that information to flow, you need develop a level of trust. To that end, Westhaver is committed to doing everything in his power to build a personal relationship with the clients he works with.
As Westhaver steadily cultivates the great community he's created within his practice, as a partner in the firm he's also focused on mentoring "that next tranche of great Nicola Wealth advisors," as well as taking a leadership role to ensure the firm keeps up with fast-moving technology and continues to "define ways to provide more and more value for our clients." Their ultra-high net worth clients tell them that when it comes to innovation, it's both cutting-edge technology and bespoke white-glove client management that makes the difference.
"Anything we can do from a technology standpoint to make it easier for clients to understand their current situation, there are big dividends there," Westhaver says. "We want clients to have all the information they need at their fingertips, on demand but also provide that attuned, in-person advisory team. A lot of times there's a focus on either or, but in our view it's both of those things."
From the beginning of his time with Nicola Wealth, Westhaver knew it wasn't about working with any new client; it's about making sure you're working with the right clients. For Westhaver, that's multi-generational business families, incorporated professionals, and entrepreneurs: clients who "have a certain level of complexity where my skills are especially helpful, I can do good work in that specific area, and provide better outcomes overall." Advisors need to find their niche and dedicate themselves to specializing so they can be the best for a certain group rather than just OK for everybody. That, in the end, is the real key to growth and sustainability in the field.
"So much of the success I've had has been from people sharing stories about the success they've had as clients of Nicola Wealth," Westhave says. "Ultimately, there's no better outcome than a client referral."