Jump to winners | Jump to methodology | View PDF
THE BEST IN THE EAST
What makes a financial advisor stand out? It's something the wealth management industry has been trying to figure out since its inception, and the answers have evolved over time. Gone are the days when advisors were merely stock-pickers, focusing on returns but barely speaking to clients. Products are increasingly sophisticated, passive investing has reaped rewards in recent years, and more investors are choosing to do it themselves. Against that backdrop, how does an advisor add value?
The key – as proved by the pandemic – is communication. A good investment portfolio is a must, but understanding a client's life, unique circumstances and financial goals is what separates the best advisors from the rest.

Back in May, Wealth Professional showcased 30 5-Star Advisors from Western Canada and Quebec; in this issue, we spotlight 35 advisors who are raising the bar for clients in Eastern Canada and Ontario. What they all have in common is not just knowledge of their products and how to invest their clients in the right portfolio, but also a critical ability to engage with clients and build a trusted relationship.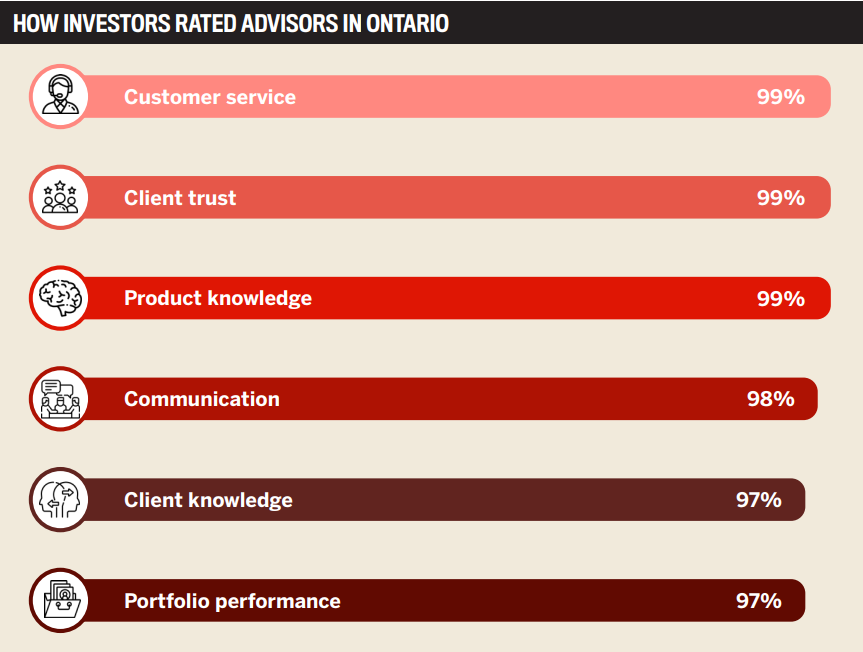 Managing complexity
Darren Coleman of Coleman Wealth at Raymond James believes an advisor's primary mission is to help clients navigate how complicated the world has become. An investment only perspective misses the personal picture. If most of your conversation with a client is about markets and investments, Coleman says, you've got "lots of blind spots."

With baby boomers getting older and people living longer, family issues should instead be at the heart of the discussion. "Now it's about longevity – and that's a different paradigm and a different set of skills as an advisor," Coleman says. "As well as investment and taxation dynamics, you've also got to think about healthcare, mobility and capacity issues."

Because of this need to manage multiple facets of clients' lives, Coleman believes that "the most successful advisors in the future will be part of teams, where you have multiple personalities and skill sets. The days of the advisor trying to be the one-person band are gone."

Coleman, who credits his "remarkable" team for his spot on WP's 5-Star Advisors list, runs a cross-border practice, which he says allows him to help clients that other financial institutions struggle to deal with.

"With the complexity that comes with different tax systems and different investment and compliance regimes, the fact that we can embrace, engage and provide real solutions has been a key element to our success," he says.

Help in tough times
For Jason De Thomasis, financial planner and chief compliance officer at De Thomas Wealth Management, ensuring clients have peace of mind is paramount – something that can be deeply personal when they are dealing with death and illness. De Thomasis had several clients directly affected by COVID-19.

"When you get that unexpected call, something that wouldn't have happened if it wasn't for the current situation, that's hard to deal with," he says. "I've helped several clients outside my realm of being their advisor, and I take pride in that because it's such a difficult time. It helps them get on to the next day, and I can only imagine how difficult that must be."

De Thomasis also dealt with clients' changing financial situations during the pandemic, including helping them navigate the Canadian Emergency Response Benefit (CERB) program. His work is informed by treating every client like family, and he feels the responsibility of every decision he makes – which is ultimately why he makes the best calls for clients, he says.

"We never assume that things are what they are and always go the extra step because we're dealing with clients' futures here and their livelihood. Anything that we've missed could be detrimental to that, and I never want that to be the case."

Monica Weissmann, a financial advisor at Manulife Financial in Toronto, echoes the belief that clients should be treated like family. "I think of them in the same way I think about my sister," she says. During the pandemic, Weissmann's compassion only increased, and she's been in touch with clients as frequently as they wish to discuss the markets and update them on their personal accounts.

Weissmann entered the industry after spending years looking for an advisor of her own and finding herself frustrated at the lack of suitable options.

"I was looking for one who would have three main qualities: I wanted somebody who knew the products; who would tell me what to do, when to do it, what to buy and how much to spend; and I wanted someone who would have my interests at heart more than their own pocket," she says. "It proved a tough objective to find all three things in one single person."

Emboldened by what she saw as a gap in the market, Weissmann worked late at night and early in the morning to learn about investing – and she found the process of soaking up the knowledge extremely satisfying. In 2000, she switched careers and became an advisor. She admits it was a scary time, taking a pay cut as she built up her business, but she's gone from strength to strength, now managing money for about 120 households.

"My best advice to those who start now is to trust yourself and your gut feelings," she says. "Try to stay true to yourself and don't copy anybody else. Adapt and adjust the advice you get to your own personality and [your] own values."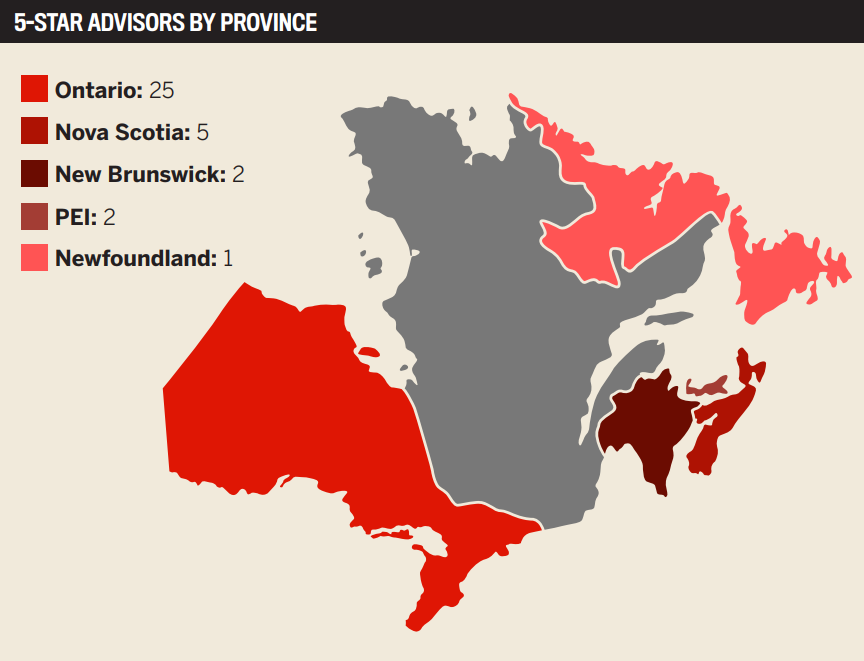 The importance of transparency
Dennis Graves of Graves Financial Advisory Group at CIBC Wood Gundy is a 35-year veteran of the industry; he started as a financial planner before moving to the brokerage side and then becoming a portfolio manager. He now runs a 99% discretionary business and oversees a four-person team in Halifax, Nova Scotia.

With an understanding that one size does not fit all, Graves structures the investment mix to meet each client's unique situation. Underpinning this approach is a commitment to transparency, and nowhere is this more evident than with fees. Graves' message to clients is simple: nothing is hidden.

"Our marketing strategy is to tell people, 'You'll know what you're paying,'" he says. "And the nice thing is, they can fire me tomorrow and the fees stop. So every day, we have to prove ourselves to the client to have them continue to pay the fee."

Performance is, of course, fundamental to retaining a strong client base. A year into his career, Graves watched as the market dropped 25% on October 19, 1987, in what became known as Black Monday. It was a steep learning curve, but his subsequent success has been cemented by providing value and quality advice during such moments of volatility.

"Don't feel that you have to undercut everybody else's business," he advises. "It's not a zero-sum game; it's not a race to the bottom. Quality will rise to the top. You need to show the value, and people will pay for it."
Ontario
Cory Garlock
TD Wealth Private Investment Advice
Dan MacMillan
BMO Nesbitt Burns
David Little


Blue Oceans Private Wealth, iA Private Wealth

Derrick Fernandez


Envision Private Wealth, Harbourfront Wealth Management

Deven Lad


Mangrove Wealth Group, iA Private Wealth

Doug Dahmer


Better Money Choices

George Fiotakis


George Fiotakis Team, IPC Investment Corporation

Ida Khajadourian


Khajadourian Wealth Management, Richardson Wealth

Jackie Porter


Team Jackie Porter, Carte Wealth Management

Janet Dawes


Green Private Wealth, Harbourfront Wealth

Jason Chanyi
Chanyi Wealth Management, Mandeville Private Client Inc.
Jason De Thomasis


De Thomas Wealth Management

Jason DeJean


The Wealthbuilding Group, Harbourfront Wealth Management

Jason Polsinelli


Polsinelli Financial Advisory Group, Scotia McLeod

Kelvin Rampersad


K & V Rampersad Financial Services, Carte Wealth Management

Monica Weissmann


Manulife Financial

Philip Tonge


Tonge McChlery & Associates, IG Private Wealth Management

Rob McClelland


The McClelland Financial Group, Assante Capital Management Ltd.

Rosemary Horwood


Rosemary Horwood Wealth, Richardson Wealth

Eastern Canada
Brian Himmelman
Himmelman & Associates Financial, Manulife Securities
Dan LeBlanc


WLWP Wealth Planners, iA Private Wealth

David Martin


IG Wealth Management

Darren Peters


TD Wealth Private Investment Advice

Dixi Robertson


iA Private Wealth

Kathy Robertson


Robertson Wealth Advisory Group, CIBC Wood Gundy

Kim MacInnis
Edward Jones
Frank Ryan


Ryco Financial
The end result is a list of 5-Star Advisors who are recognized based not on AUM, but rather the service provided to their clients.