The rebalance occurred in conjunction with the rebalance of its underlying index, the Nasdaq Future Global Sustainability Leaders Index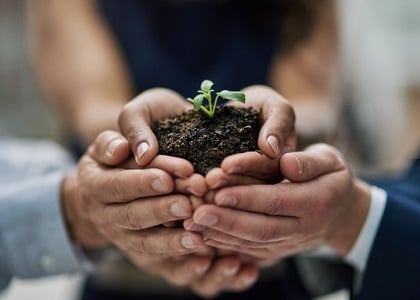 On April 30, 2019, Horizons ETFs completed the rebalance of the portfolio of the Horizons Global Sustainability Leaders Index ETF ("ETHI"). ETHI's rebalance occurred in conjunction with the rebalance of its underlying index, the Nasdaq Future Global Sustainability Leaders Index (the "Index"), which holds 100 large-cap equity securities of companies that are global climate sustainability leaders (as measured by their relative carbon efficiency1), and are not materially engaged in activities deemed inconsistent with responsible investment considerations.
Unlike other index strategies where there is a set methodology that (to some extent) automates the index selection process, every stock in the Index's portfolio is reviewed by the Responsible Investment Committee (the "Committee" – see details below). The Committee ensures that the companies within the Index comply with the key selection requirements, so that the portfolio comprises their view of the world's most socially responsible, large-cap companies listed in developed markets.
The key selection criteria include the following:
Each company must either have a direct carbon impact at 60% below their industry's average, or otherwise be engaged in activities that significantly helps avoid carbon use by other industries
No fossil fuel producers
No companies significantly engaged in gambling, alcohol, junk food, uranium and nuclear energy, armaments and militarism, destruction of valuable environments, animal cruelty, chemicals of concern, mandatory detention of asylum seekers, pornography and/or human rights violations
New Gender Diversity Screen
On this particular rebalance, a crucial new screen was added to the methodology to include increased scrutiny on gender diversity.
The Committee has incorporated a gender diversity screen into the inclusion policy, requiring constituents to have at least one female on their board to be eligible for inclusion in the Index. This new screen resulted in some stocks being removed from the Index despite previously qualifying.
Constituents/Weights
Nasdaq Future Global Sustainability Leaders Index
As at May 1, 2019
Twenty nine stocks were added to the Index. Many of the additions are technology and communications companies. There is certainly a much larger technology bias entering the portfolio, including Splunk, Align Technology, Palo Alto Networks, Activision Blizzard and Workday.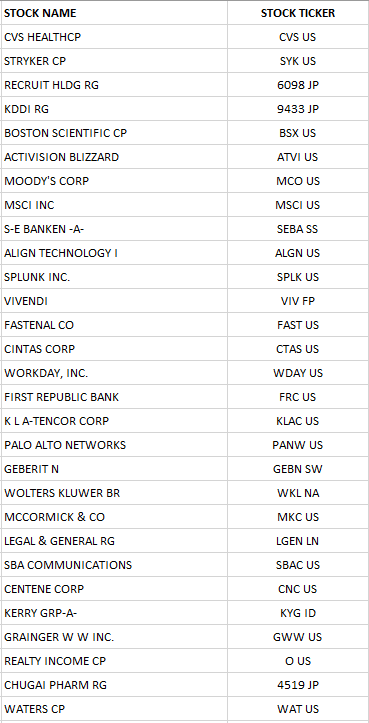 Deletions:
The constituent stocks removed from the Index are listed below. As noted earlier, some of these stocks were removed for failing to meet gender diversity criteria, or in some cases, just simply because their carbon footprint scores dropped relative to other companies. The most notable exclusion from the index is Intel Corp., which was previously a 3.5% weight in the ETF. For Canadian investors, they will also notice that the two Canadian-domiciled stocks, BCE and Rogers Communications, were removed from the Index. This means that ETHI has 100% non-Canadian exposure, which may appeal to investors looking for global diversification outside of Canada.
Removals from the Index as at May 1, 2019: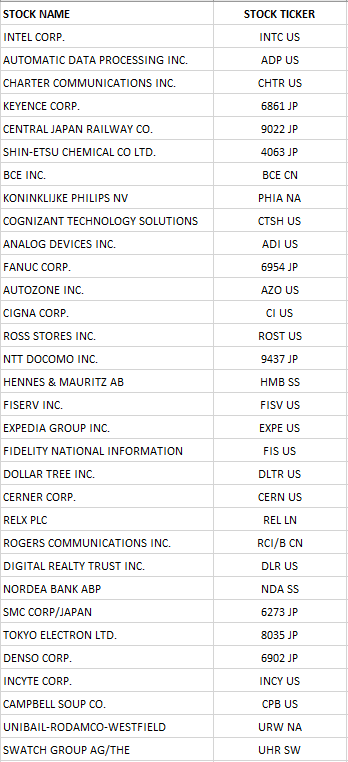 Responsible Investment Committee:
The Responsible Investment Committee comprises individuals responsible for confirming and reviewing the scoring of the stocks within the Index. It is comprised of the following three people – each of which has extensive experience in socially-responsible-investing-focused screening.
Adam Verwey
Adam is Executive Director of Future Super, a fossil-fuel-free and ethical retail fund. Adam has a long history in ethical investments, with an expertise in superannuation, ethical analysis and ESG (environmental, social and governance) index portfolio construction. He is the portfolio manager for the ground-breaking Australian Fossil Fuel Free Index and the Australian Sustainability Leaders Index, both launched in 2015. Prior to Future Super, Adam was a senior manager at Australian Ethical Investment and Superannuation. From 2005 to 2014, Adam contributed to growing funds under management from AUD $300 million to over $900 million. Currently a director for the Australian Centre for Corporate Responsibility and treasurer of non-profit Climate Action Network Australia, Adam is also the chairperson and investment committee member at Grosvenor Pirie, a boutique investment company managing over $300 million on behalf of Future Super and other ethical superannuation clients.
Simon Sheikh
Simon is Managing Director of Future Super Group, an investment manager and promoter of ethical investment funds. Its flagship fund, Future Super, was launched in 2014 and is Australia's first fossil-fuel-free and ethical retail super fund. Simon's background includes five years as National Director for GetUp!, Australia's leading progressive advocacy group, in which time the organization's membership tripled to 640,000 members. Simon also sat on the inaugural board of the (now) 100,000-strong Australian Youth Climate Coalition, and was named NSW Young Professional of the Year. In addition to leading large organizations working for progressive change, Simon has worked at NSW Treasury and has provided consulting services to a wide range of organizations including Bendigo Bank, Asset Owners Disclosure Project, major unions and community groups. Simon is also a director at Grosvenor Pirie, a boutique investment company managing over AUD $400 million on behalf of Future Super and other ethical superannuation clients.
This article is a special promotional feature produced in partnership with Horizons ETFs.