Work-from-home models have given rise to compliance issues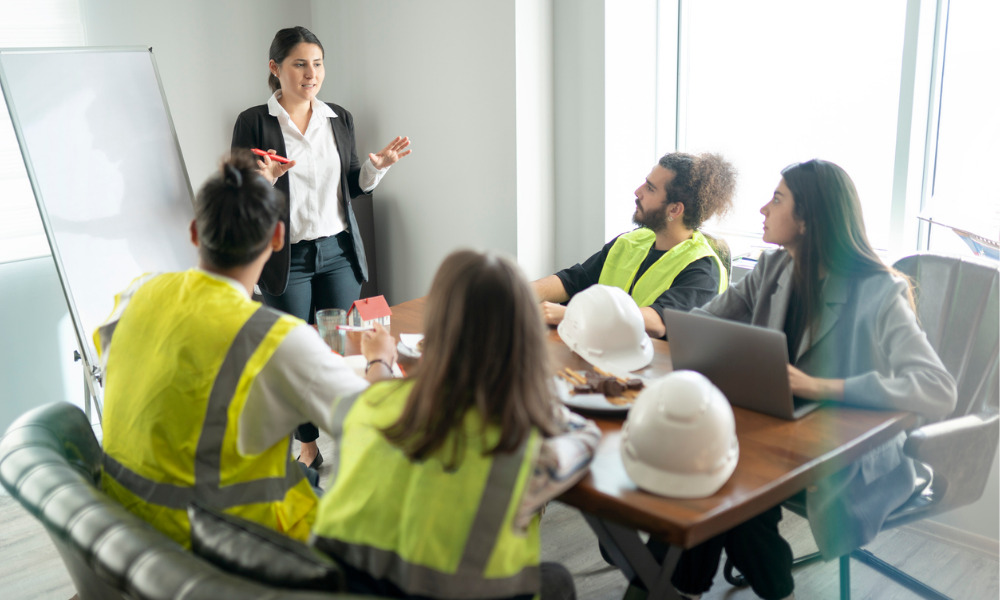 Many things have changed since the pandemic and the rules around keeping employees safe has resulted in great upheaval for businesses.
While the employer remains responsible for employees, even when they are far away from the office, the changes have been hefty when it comes to occupational health and safety (OHS), as employment lawyer Stuart Rudner tells it.
In a new white paper written by Rudner Law and published by UKG, Occupational Health and Safety Guide for Canadian Employers, Rudner says that misconceptions about health and safety responsibilities in "work from home" models have given rise to compliance issues.
"Initially, when the pandemic struck, and people began working remotely, a lot of employers had this sense of relief that now everyone was out of their physical office, they didn't need to worry about health and safety," says Rudner.
"This, of course, is absolutely incorrect. Just because an employee works remotely from home doesn't absolve the employer of their obligation to ensure their safety."
What is the 'workplace'?
When it comes to workplace safety, a "workplace" is not limited to the traditional place of work.
Even before the pandemic, "workplace" was not limited to anything within the four walls of the building; for example, an employee on a business trip or attending an employer-sponsored social event could be covered by occupational health and safety legislation.
Rudner reveals that we're now seeing more legal cases concerning health and safety in remote work.
In one instance, an employee working from home tripped and fell down the stairs. The employee was walking from her home office to her kitchen during her lunch break when she fell, with the court ruling that she was, in fact, eligible for workers' compensation benefits. The judge added that the injury was a "sudden and unexpected event that occurred during work."
"The court found that because the incident was part of the mandated lunch break, it occurred in the workplace and therefore, it was covered by workplace safety legislation," says Rudner, who is advising his clients to be very clear when delineating what is and what is not the workplace in an employee's home.
Future of safety
For HR and safety professionals, this new model is only the beginning of the transformation of keeping employees healthy while on the job.
"The future of health and safety programming will go far beyond the traditional regulatory and physical worker safety model. It will become far broader in its reach and far more all-encompassing," says Matthew Allen, regional vice-president at RINA Services.
From mental health initiatives to the principles governing diversity, equity, and inclusion, social responsibility, the environment, and even cybersecurity could all soon fall under the responsibilities of health and safety professionals.
"You get the feeling sometimes they are on an island of one" says Allen about safety leaders, "that can be a lot of pressure."
Allen says traditionally the occupational health and safety profession has focused on physical hazards and control methods, but now, as many have likely already experienced, mental health and the risks that threaten mental wellbeing are becoming much more prevalent in today's workplace.
Allen suggests safety leaders consult with medical professionals to better understand the challenges in this area, because it is often influenced by more than just the work environment.
"We're so aware of everything in the 24/7 news cycle, this can tend to compound mental health, stress, anxiety, and health issues," says Allen.
One employer tool was recently updated to take into account all of the changes over the past few years.
In 2013, a national standard for psychological health and safety in the workplace was unveiled. It provided a systemic approach to developing a psychologically healthy and safe workplace, including identifying hazards, assessing and controlling risks, growing a culture to promote a healthy, safe workplace and implementing measurement and review systems to ensure sustainability.
More recently, ISO 45003 was introduced by the International Organization for Standardization in 2021, with guidelines for managing psychosocial risk within an OHS management system.
And with the major upheaval of the pandemic, Workplace Strategies for Mental Health (WSMH) updated its Guarding Minds at Work program, a tool for employers to effectively assess and address the psychosocial factors known to have an impact on organizational health, the health of individual employees, and the financial bottom line.
It was used as a reference for the standard starting back in 2009.
"We were looking to align it with the [ISO] standard… to make sure that people don't have to choose between them. They'll be aligned," says Mary Ann Baynton, director of collaboration and strategy at WSMH.
With so much changing in the world of work since COVID hit, the time was right for a comprehensive update to the free set of tools and resources.
"Things have changed so much, there's more remote work. So there's new questions in [the program] about the impact of remote or isolated work," says Baynton.