'If employer is untruthful, misleading, or even unduly insensitive, they could be on the hook for additional money'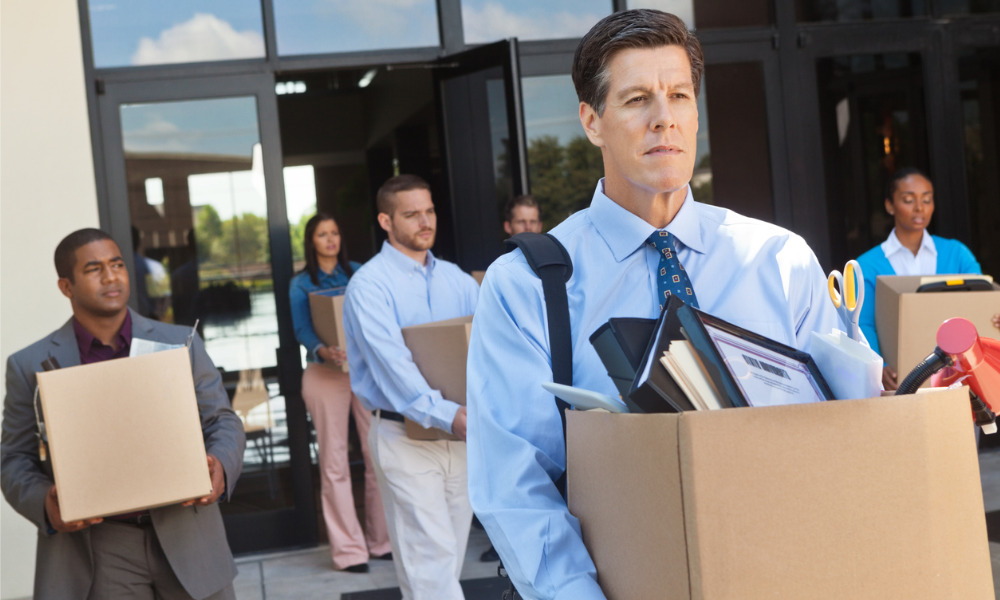 We seem to be knee deep in the season of layoffs, as large employers are saying so long to so many workers. And they're looking to do it fast.
In a lot of cases, companies are being forced to make quick decisions to save their financial statements, says Jason Averbook, CEO and cofounder of digital company Leapgen. "The faster they can move people out – that sounds bad to say it like that — but the faster they can move people out, the better,"
This is a matter of "course correction" amid the current economic climate, he said. "The types of companies that we're seeing doing layoffs, mostly, are types of companies that got heavy during COVID. There [was] a lot of hiring for lots of different reasons, because of a business [need], but also because they were watching this digital acceleration happen, and not knowing what was next."
How to do it the wrong way
These employers are finding there is a right way to let go of so many workers at once, and one company is facing scrutiny. Case in point: Twitter.
The company faced legal fallout recently from mass layoffs under Elon Musk's management, including complaints from some workers that severance payments are less than promised and from other employees that the company retaliated against them for exercising protected labour rights.
A Los Angeles lawyer filed individual arbitration claims on behalf of three employees who claim the company hasn't committed to paying them the severance they were promised before Musk acquired it.
Lisa Bloom, the lawyer for the employees, said she's prepared to bring hundreds more such complaints on behalf of Twitter employees and contractors. Unlike lawsuits that are filed and fought over publicly, arbitrations are handled in a closed-door process.
The company was also named in two complaints to the National Labor Relations Board. In one labour board case, Twitter is accused of terminating an employees in retaliation for an unsuccessful effort with other workers to organize a strike.
The strike was planned for Nov. 17 but never took place, according to the complaint, because employees were deterred by an email sent by Musk telling them to commit to being "extremely hardcore" if they wanted to keep their jobs.
How to do it the lawful way
With all of this upheaval and change, there are some things to be aware of when attempting to do so legally, says a lawyer.
"Reports of employees finding out they have been fired by email or being locked out of their work accounts may sound like something from a dystopian nightmare. However, in light of the prevailing economic conditions, multiple tech companies have begun discarding employees by the truckload, changing the employment landscape in the process," says Paulette Haynes, founder and managing officer of Haynes Law Firm.
"If the employer is untruthful, misleading, or even unduly insensitive, they could be on the hook for additional money. In one recent decision – Pohl v. Hudson's Bay Company, 2022 ONSC 5230 – an employer was penalized by the court for marching an employee out the front door of the employer's premises despite no allegations of misconduct," she says.
"It certainly appears, now more than ever, that employers must take care when terminating employees as courts are ready to scrutinize their conduct."
Growth on the horizon?
But in one country, many employers are thinking the opposite and the time is ripe for investments in the workforce, instead of mass terminations.
CEOs across New Zealand are investing more in talent to drive long-term transformation amid concerns on inflation and macroeconomic volatility, according to a new report.
PwC's 26th annual Global CEO Survey, which included 142 New Zealand CEOs, found that 86 per cent are investing in upskilling their workforce in priority areas in the next 12 months.
PwC's findings revealed that 79 per cent of local CEOs think global economic growth will decline in the next 12 months, while 76 per cent believe the same thing will happen to the country's economic growth.
This "increased pessimism" from New Zealand's executives is "not surprising" given the challenges over the past years, according to Mark Averill, CEO and senior partner at PwC New Zealand.
Among the respondents, 38 per cent said they feel extremely or highly exposed to inflation in the next 12 months, followed by macroeconomic volatility at 26 per cent.
"When the survey was carried out late last year, interest rates and inflation were rising and there was widespread talk of a recession. The results clearly illustrate how much of a concern these issues are for CEOs," says Averill.