Taking your company to the next level is all about employee happiness. Learn what the happiest companies have in common.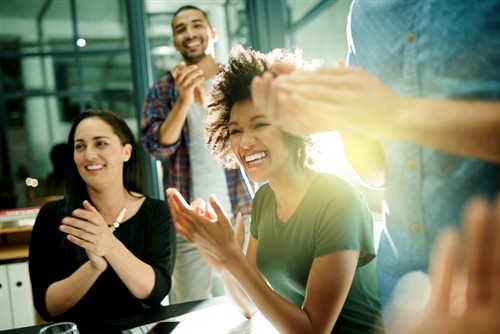 by Justin Reynolds
If you're interested in taking your business to the next level, you need to do everything within your power to build a workplace that fosters employee happiness.
That's because happier employees are more productive. Since they like their jobs and believe in their company's mission, they're also much more likely to stick around for a long period of time.
How exactly can you build a happy workplace?
A recent study released by Robert Half International shines a light on some of the characteristics that are pervasive among the happiest companies. For starters, the survey found that the happiest workplaces had 10 or fewer employees. The unhappiest workplaces, on the other hand, had at least 10,000 employees.
Additionally, the study found that happy organizations share the following traits:
1. Employees take pride in their organization
It comes as no surprise that the employees who work in the happiest workplaces believe in what their companies are trying to do. They take pride in their organizations to the point some even advocate on their behalf during their free time.
2. Everyone is treated with respect
It's impossible to be happy at work if the people around you don't treat you fairly. In the happiest organizations, all employees are treated with respect by both their managers and their colleagues. This motivates them to work harder and do their best. That's compared to an environment where respect isn't given equally and everyone simply goes through the motions to keep their jobs.
3. Compensation is competitive and fair
As we found in our Engagement Report, nearly 25% of workers would take a job somewhere else if they were given a 10% raise. The happiest companies pay their employees fairly, with some even choosing to practice salary transparency or the idea that compensation metrics are known by every worker in the organization.
4. Employees can work autonomously
Happy companies trust their employees to do their jobs. To this end, they regularly let employees do their work independently. From time to time, certain projects may require a more hands-on managerial approach. But for the most part, employees at the happiest workplaces are autonomous.
5. Work is interesting and meaningful
The happiest workplaces are filled with employees who enjoy their jobs and are interested in the work they are actually doing. In these environments, workers are eager to develop new skills and learn new things. They also believe that the work they do matters.
6. Employees get along with one another
According to our Engagement Report, coworkers are the number one thing employees like about their jobs. But that's assuming employees get along with each other. There's no shortage of healthy, positive relationships between coworkers at the happiest workplaces. There's tons of camaraderie.
7. There are ample opportunities for career development
Professional development is a top priority for many of today's workers. Yet only 25% of employees believe their organizations offer enough opportunities for growth, according to our Engagement Report. The happiest workplaces make profession development a top priority. They have mentorship and training programs, and they also encourage their workers to attend relevant conferences, trade shows, and seminars.
How does your company stack up?