Study shines damning light on experiences of women employees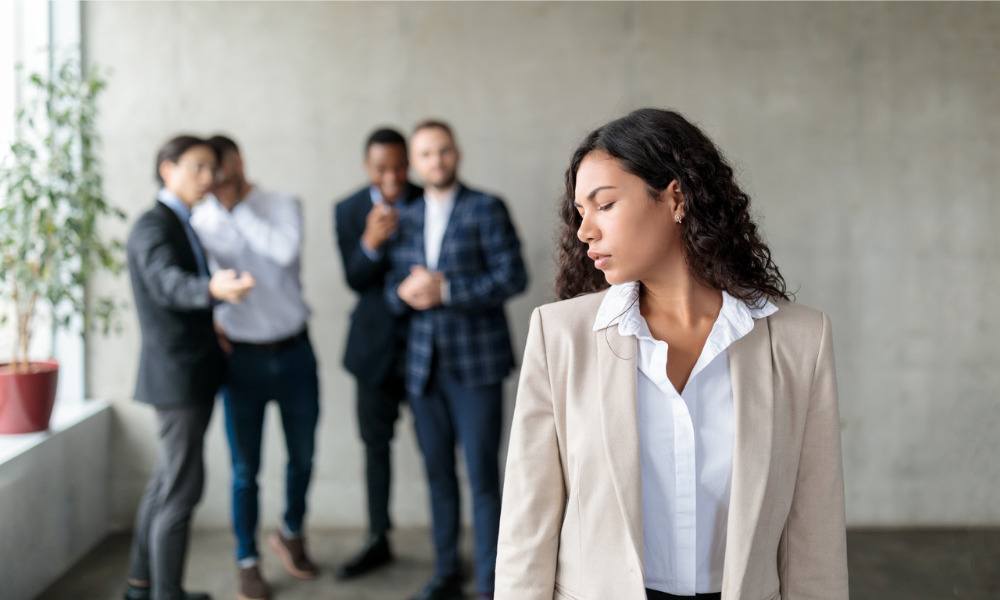 Despite some progress over the years, for many women in the workplace, and especially those of colour, racism and sexism is still a big problem. According to a new study, the issue remains "rampant."
Exposé of Women's Workplace Experiences Challenges Antiracist Leaders to Step Up exposes hard truths, showing the scourge of racist and sexist behaviour continues to exist in many workplaces. And for some marginalized employees, the level has got worse.
"The findings are quite scary," says Julie Cafley, executive director of Catalyst Canada. "It's saying that workplace racism is rampant."
Catalyst found that more than half (51 per cent) of women from marginalized racial and ethnic groups have experienced racism while on the job. While this might not be surprising on its surface, the report, written by Samantha Erskine, Sheila Brassel, and Kathrina Robotham, also shows that women with darker skin are more likely to experience racism versus those with light skin.
"The question around the darkness of the skin tone was actually pretty shocking to me as well," says Cafley.
The report heard from of 2,734 women from marginalized racial and ethnic groups in Canada, Australia, South Africa, the United Kingdom, and the U.S.
How to attract women
With labour shortages affecting all industries, it's in organizations' best interest not to alienate more than 50 per cent of the workforce.
The COVID-19 pandemic caused significant shifts in the way employees view and engage in work, especially for women who are often the primary caregivers in their family. After millions of women dropped out of the workforce in 2020, they're now returning in droves, just when talent-hungry companies need them most.
In January, adult women had an unemployment rate of 3.1 percent, according to the U.S. Bureau of Labor Statistics. That's down from 3.6 percent the year prior and a huge improvement from six percent in January 2021.
So, how do leaders, especially those hyper-focused on creating diversity, equity and inclusion (DEI), attract women to their companies? By providing benefits, perks and programs that support employees holistically, according to Stefani Ribaudo, chief people officer at The Lifetime Value Company (LTV Co.), a New York City-based technology firm.
"During the pandemic, LTV Co. continued to adapt to ensure we were effectively supporting our employees through the changing landscape," says Ribaudo.
More work needed
While these efforts may bear fruit, for women in construction, just being accepted as a contributing employee can often be insurmountable and they are more likely to experience safety challenges on the job.
"Women are few and far between in the construction industry" says Amina Dibe manager of government and stakeholder relations at the Residential Construction Council of Ontario - "the range is no more than seven per cent of construction workers are women on site."
Dibe says diversity, equity, and inclusion initiatives have helped, but suggests there is still a lot of work to be done.
"If you're a woman and you're not getting treated properly, whether you're getting bullied or you can't find well-fitting personal protective equipment…you're not going to feel included and inclusion is a health and safety issue."
A recent survey of 3,000 women working in heavy industry conducted by the CSA Group found 40 percent of respondents reported being injured on the job because they didn't have proper fitting personal protective equipment.
Lea Nebel, partner at Blaney McMurtry, says all workers have the right to refuse unsafe work, but "'some female workers may feel a little bit reluctant to mention potential health and safety issues."
Women in tech
And in the tech industry, organizations are often heavily weighted toward male employees but for one employer, it recently undertook an initiative to balance out the gender ratio.
"We looked at how we were reading job postings; we wanted to make sure that they weren't male-coded, we wanted to make sure that they were enticing, and something that a female audience would be interested in and want to apply to," says Alyssa Morrell, global human resources manager at OnActuate, an ERP, CRM, and HCM software provider.
"It's really common in the tech space to have a lack of women working in the tech space in general but also climbing the ladder and making it up into those roles and so we really wanted to make a concerted effort to support them in that journey."
For the 100-employee company, with 70 workers in India and 30 in North America, tweaking the gender makeup was one of Morrell's first big efforts when she joined in Sept. 2021.
"We recognized that there was a gap in terms of that middle-management level, and having the gender diversity," she says.
Once new female employees have been onboarded, OnActuate encourages them to join a mentorship effort, that it calls the women in leadership mentorship program, which formally began in January.
"They're working with world-class people in the industry, learning directly from them, getting that mentorship and guidance," says Morrell.