Company culture plays a huge role in the success or failure of any organization. Here are three ways to strengthen yours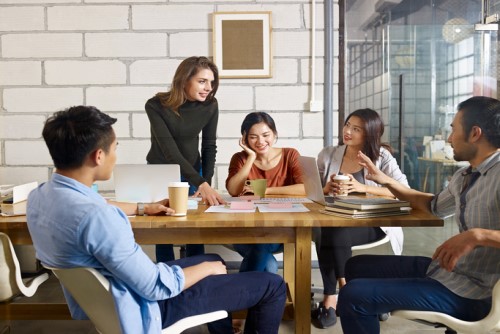 by Chris Rhatigan
If we're sure of one thing here at TINYpulse, it's that workplace culture is crucial to employee satisfaction. Our research has repeatedly demonstrated that more than benefits, work-life balance, and flexible schedules, the invisible web of culture reigns supreme. These other items matter too but not as much as employees feeling like they're an integral part of something bigger than themselves.
You might think of fun office perks as an easy way to boost culture. Beer in the fridge and a casual dress code might be nice, but they're window dressing. Instead, strengthening culture is mostly connected to transparency and peers supporting each other.
Here are three easy ways you can strengthen your company culture:
1. Value your team
Duane Hixon, cofounder and CEO of N2 Publishing, told Entrepreneur that everything boils down to valuing your people. And it's not enough to say that you value them — you need to follow it up with action.
"Even if their viewpoints are different than yours, if you value and care about that person, they can buy into what you are building and you can build a relationship," he said. "If people think you are only pursuing your goals, then you can't build a culture that means anything. We have all kinds of backgrounds here, but we all appreciate and believe in each other and we're all excited about the mission of the company."
Bringing the diverse people in your organization together toward accomplishing a common goal isn't an easy task. Companies with a strong culture make a conscious effort to demonstrate that they value their team more than anything else.
2. Bring in the right people
Traditional wisdom says the best people for the job are those who are most qualified. American culture values meritocracy over nepotism. But skills aren't the only thing that should go into the equation. Hiring candidates with the right values and who will fit in well with colleagues is just as important.
CEO of Vanderbloeman Search Group William Vanderbloeman said: "Some of the mistakes we made were when we hired people who had a great track record but didn't do things the way we do. For me, culture trumps competency every single time."
Before hiring, you need to question if the candidate will get the most out of their teammates. A true contributor challenges those around them in the right way. It's better to have a team of solid role players than a group of all superstars.
3. Be authentic
Unfortunately, building culture isn't a simple equation. You can't copy what someone else has done and slap it on your company. Strong culture is the byproduct of the alignment in mission, values, and purpose. It's what makes you different and special. It's your organization's DNA.
That means it's critical to survival. Organizations that invest time, resources, and energy toward developing culture can reduce turnover and increase employee happiness.