Looking to grow your brand? Turn on your computer. Andrea Cornish investigates the world of fan pages, followers and likes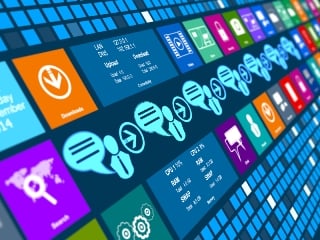 Financial advisors and planners are increasingly looking at ways to harness the marketing power of online media to promote their brand. But many don't know where to start, how to take full advantage of these platforms and most importantly, if it's really worth it.

Why bother?
If nothing else, the sheer potential to reach customers makes investigating social media worthwhile. Almost everyone with a computer and an internet connection is using some form of social media in their personal lives and more importantly, many are now using the medium to interact with companies.

"A lot more communication, interaction and networking is occurring in the social media space these days," says Paul Gollan, CEO. "I think there's an assumption that it's only just the younger generations that are using social media, but from my experience that's not the case – it's going across all age groups, all demographics and I think it's just getting bigger and bigger all the time."

Another good reason to build your brand online is that it costs next to nothing. Social media really levels the playing field for small businesses to compete against major business operations.

But perhaps the greatest advantage of social media is its ability to increase your business's visibility. Blogging, tweeting, posting are simple ways to help you keep your business top of mind with your clients.

'Like' what?
Establishing an online presence means more than just putting up a website. It's a bit like setting up a second life for your business. If your website is your "home" on the web, then Twitter is where you go for coffee and Facebook is the pub. These are all just online locations that give people the opportunity to interact with you and your business.

There are many, many social media outlets – Facebook, Twitter, LinkedIn are the biggies, but don't forget Instagram, YouTube, Blogger, Google+, Pinterest… well, you get the idea. No one has time to maintain a presence on all of these outlets. The key is to identify which ones will bring the greatest benefit to your business and focus your energies there.

10 ways to use twitter for your business
1 Watch this space: Use "Twitter Search" to find out what people are saying about your company, your competitors and any words related to the mortgage industry
2 Follow: Interact with professionals related to the mortgage industry – real estate agents, accountants, solicitors, etc
3 Just out of interest: Share links to interesting new stories or blogs
4 Quick tips: Give followers pithy words of wisdom
5 A little personality: Feature updates about employees
6 Opinion poll: Ask questions of your followers
7 Set limits: Try to pull back on shameless self-promotion
8 Re-tweet: Comment on others' tweets to build community and rapport
9 Images: Pictures say a thousand words – add a photo of yourself
10 Greater involvement: Get employees involved by tweeting about the company as well

Facebook for businesses

Chances are you're familiar with Facebook on a personal level, but you may still have questions about how it fits with your business. Here are just a couple of ways you can use Facebook to reach customers and support your brand…

Company announcements: Moving your office, changing your business hours, taking on a partnership… your business is changing all the time, and this is a non-obtrusive way of sharing this information with your customers

Introducing employees: New staff, baby announcements, promotions – Facebook is a great way to tell your clients about changes in the office and help them get to know your employees. These types of connections help build a feeling of familiarity

Charities or sponsorship: If you sponsor a local team, or are involved with a charity, you can use Facebook to involve customers in upcoming events

Q&A: You can use your wall to answer financial-related questions

Ear to the ground: Comment on recent news such as rate changes, house prices or bank decisions

Contests: Giving people the opportunity to win something is a great way to draw attention to your business and increase traffic to your Facebook page. You can run it on your wall or through a special Facebook app. Be aware, however, that while it will boost the number of likes or fans, you may have to keep giving away gifts to keep people interested

Photos: Customers like to see you – put a face to the name and post photos of yourself, your employees and even snaps from special company events


The power of LinkedIn
If you're not actively managing your profile on LinkedIn, you're missing a golden opportunity to expand your reach, not only to customers but also to prospective employees. Here are just a few ideas on what LinkedIn can do for you:

Increase your SEO
Include the keywords that borrowers are likely to put into a search engine when trying to find financial advice on your LinkedIn business page and watch as your company climbs the Google charts.

Highlight customer satisfaction
Ask a satisfied customer to write a testimonial on your LinkedIn page to take advantage of the 21st Century's answer to word-of-mouth.

Become an expert
Take advantage of LinkedIn's "Answers" section to provide expert advice. Spend half an hour a week providing the most up-to-date financial advice and send a private message to the questioner letting them know you can assist further if needed.

Target ads
If your specialty is providing advice to seniors or the self-employed, then you can take advantage of LinkedIn's targeted advertisements. These allow you to deliver your message to people of a certain age, in a certain geographic area or even by job description.

Build your professional contacts
Every financial advisor worth his salt has a deep bench of contacts in real estate, insurance, law and commercial lending. Use LinkedIn to find these contacts and you will be able to refer your clients to trusted professionals and they will return the favour.

What's next?
After you've identified which social media outlets to concentrate your efforts on, have a think about what your goals are and how much time you are willing and/or able to commit to it. By listing your goals and comparing them against your effort/time you can get a better gauge on whether these activities are furthering your business.

If you're failing to see any benefits, then perhaps take a step back and re-evaluate the outlets you're using. If blogging bores you, try YouTube. If LinkedIn isn't to your liking, why not use Plaxo?

Also look at what kind of content you are posting on Facebook, Twitter, YouTube and so on. Shameless self-promotion is not the goal here, and people will quickly tune you out if that's all you ever post. Look for ways to communicate with your audience, as opposed to talking at them.
And lastly, look at what your competitors are doing. There are a lot of great ideas out there and you don't need a massive marketing budget to adopt some of those ideas to build your own online presence.


This is a slightly amended version of an article written by Andrea Cornish. It has been shortened to make it suitable for web publishing.