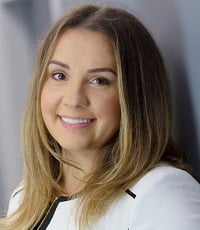 Professional Wealth Advisor
Precision Wealth Management
Age: 33
Years in industry: 12
Certifications: CFP
At 32-years-old, many advisors are still trying to establish a basis for their practice, let alone transition a successful business to a new firm. Yet that is exactly what Iwona Nicastri did in 2017. After a decade at a firm in Richmond, she bought her mentor's financial planning division and moved to Precision Wealth Management in Parksville.
"I took a leap of faith when I purchased the financial planning division and moved my practice from Richmond to a small town on Vancouver Island. I successfully transitioned 99% of my clients (over 200 households) which included a dealer change, which was a paperwork nightmare. I moved most of my clients to a fee-based platform and ultimately saved them fees."
By making the move, Nicastri says her practice has grown and she has been able to provide more products and services. "Our team has big goals and I'm looking forward to helping achieve them!"
Nicastri, who was born in Poland and immigrated to Canada when she was five-years-old, believes there are multiple challenges that young advisors face today. "Navigating through the different advisor channels – banks, brokerage firms, financial planning only, independent dealers vs MGAs, there are so many options. Where you hang your hat is critical and it may take a few different tries to find the right fit."
Her advice to young advisors is to "take your time to choose the right one (channel) for you. Find a mentor in the industry and do a lot of networking amongst other advisors in different distribution channels and firms. It's hard to survive on your own – find a good team that will help support your business and help you grow."