A new study revisits how the Canadian economy suffers 'staggering' yearly costs in lost productivity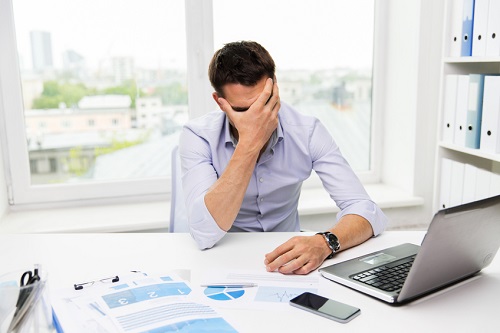 Financial stress continues to take a toll on Canadian employees, creating a knock-on effect that ripples out into the larger economy.
In its 2019 National Payroll Week Survey of Employed Canadians, the Canadian Payroll Association (CPA) has found that 40% of workers are so financially stressed that their work performance is suffering.
"The costs of financial stress on people, their families, businesses and the economy are staggering," said Peter Tzanetakis, president of the Canadian Payroll Association, in a statement.
Out of more than 4,000 respondents, nearly a quarter said they lose 40 minutes each day at work to being distracted from personal financial matters. That equates to an 8.1% loss of productivity based on an eight-hour workday, which the association said adds up to an economic blow of $15.8 billion in lost productivity for Canada.
Massive as it is, that cost does not even consider losses from increased absenteeism — something one out of 10 workers polled admitted to — turnover, benefit claims, decreased job satisfaction, and slumping morale.
The survey also revealed that 40% feel "overwhelmed" by the amount of debt they owe. One out of three respondents admitted that their debt has increased from where it was in 2018, and they are still spending more than their net pay. Among those with credit card debt, 38% said it would take them more than a year to pay off; 5% said it would take at least a decade.
And while one rule of thumb would recommend a minimum savings rate of 10% of net income, two thirds of employees fail to reach that goal. With 43% of employees living paycheque to paycheque, there's little room for many workers to build a nest egg; 53% of working Canadians surveyed said they have set aside less than 25% of their retirement savings goal. Another 19% said they would be unlikely to come up with $2,000 if they were to face an emergency within the next month.
When asked what issues most concerned them when it comes to the economy and their personal finances, 83% cited the rising cost of living and inflation. Other issues that weighed on worker's minds were recession, higher costs of housing/rent, higher interest/mortgage rates, and a decline in the value of their house.
Part of the problem, the survey found, could be due to a lack of financial awareness. Less than half of survey respondents said they frequently make a budget, and 30% admitted they only keep a mental budget. But workers clearly want to do better on this front, as 78% said they would be interested in financial education offered at the workplace, particularly on saving for the future and better budgeting.
One strategy to address these issues, the CPA said, is for businesses to encourage a "pay yourself first" program. But just over one third of employees said they are now participating in such programs, and only 55% said their employer has such a scheme in place.
"Much like mental health, for Canadian businesses struggling to identify strategic advantages in a very competitive business environment, actively addressing the financial wellness of employees could provide a competitive edge and deliver bottom-line results," Tzanetakis said.