Leading ETFs VP says qualified women must be more direct when seeking career progression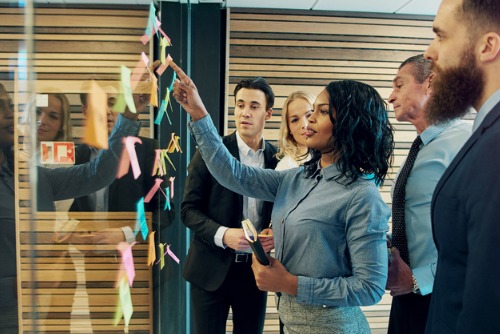 Women should be less timid when getting what they want from their career in finance.
And Stacey Steinberg, vice president, ETFs, Western Canada, Mackenzie Investments, believes that having swagger and actually asking for what you want will help break through hurdles in the male-dominated industry.
Speaking to Wealth Professional after taking part in the Women of Influence in ETFs panel at the Radius ETF conference in Vancouver, Steinberg said men tend to be more direct when chasing career goals or putting themselves forward for promotions.
While she believes in a level of self-empowerment, she said that men and women have different approaches but that it's up to the latter to adjust.
She said: "I don't believe in stats or generalisations but if we look at men and women, we are actually more similar than different. But if we zero in on how we are different, men tend to almost, and not wrongly, demand x, y and z … whatever they are looking for.
"Whereas woman, and I'm one of them, we timidly walk in and try to ask for things … 'if it would be ok'; even in the way we write emails … 'I'm just asking for this'.
"We should not do that. Men do not ask that, they say, 'I need this'."
Steinberg added, though, that this works twofold and does not buy into the fact that the blames lies with someone else over why you might not be getting that promotion or responsibility.
She said: "The ceiling may be in front of you but you can also, whether you are male or female, be preventing yourself from hitting it.
"Personally, I don't always buy into the fact that someone blocked me. I think that sometimes we block ourselves.
"Did I love the hurdles, no but it doesn't matter if you are a man or a woman, you are going to get hurdles, and each one of them makes you better should you successfully navigate them."
Aside from gender issues, Steinberg also addressed general trends in the ETF space, drawing on a wealth of experience that has seen her work for Vanguard and Horizons ETFs.
She said that the future of the vehicle can be split into two issues: user ownership and human capital.
She explained: "The ETF structure itself is battle-tested but the owner has not been. The ETFs have been around a long time. They navigated through 2007-2008 without any issue. In fact, they were the liquid product of choice for both institutional and retail investors but in the last five or six years, we have seen a new onset of investors.
"To get beyond and disaggregate news and noise, it's going to take some ownership of the users."
She added that the consideration of human capital is not new by any means but is often overlooked.
She said: "I live in Calgary so I am tied to energy full stop. I work in the finance industry so right there two out of three Canadian sectors I have already hit. I should probably not invest anything in the financial sector or anything in energy. So we start to incorporate the human capital into the asset allocation of our invested capital.
"I think people will hit diversification in a way that is meaningful for their financial future more than is already happening.