Experienced industry insider on her napkin beginnings and why many organisations are struggling to keep up with tech innovation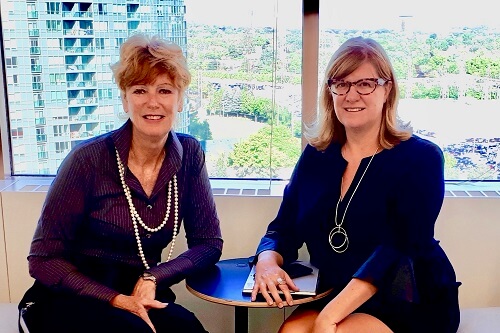 Banks face a challenge to hang on to their top advisors as they struggle to keep pace with technology, according to a leading digital consultant in the wealth space.
Jackie Clark is an industry veteran with extensive experience in helping investment firms and banks provide financial innovation to clients. Having worked for TD Canada Trust, BMO and Scotiabank among others, Clark is the owner and principal of Solutia SDO and currently works on the client engagement side with Ontario Teachers' Pension Plan among her clients.
She has seen first-hand how younger, more tech-savvy advisors grow frustrated at organizations that can't provide the tools they need to help clients.
Clark told WP: "For the older individual advisors, it's a matter of building your team out with people that can help them. Even the younger advisor, the tech-savvy individuals who find themselves working in an organization where tech is not a priority, if they feel they don't have the tools at their disposal to provide their clients with support, you will see those advisors leaving the organization to follow the trail of technology.
"You'll have noticed that advisors will move very easily from one organization to another for a better desktop experience and that's a big problem for banks in particular. That's where I have most of my experience."
Clark said upgrading a new desktop or platform is a long and expensive business and that while the banks are wrestling with this, they are seeing their top advisors being poached by other organizations whose technology has improved at a faster pace.
She said: "That's the problem – the older ones will stay where they are comfortable but are they as effective managing their clients? Probably not. The younger ones will follow the technology and I know several banks that are experiencing a run-off of their advisors and they are typically their high-performing advisors.
"It's a huge challenge to retain advisors these days and give them what they need."
Clark founded Solutia with three other former colleagues 16 years ago while working at Canada Trust, a move she describes as a "natural step". Her role at Solutia is to engage clients to help them manage and programme projects, and she has fostered an impressive reputation in the wealth space.
It's a far cry from her beginnings in the booming 1980s when, after graduating with a computer science degree, she jumped at the chance to join Canada Trust and map out the tech future of the company on a napkin with colleagues over a few beers at lunch.
"If we had a problem, everyone would get around the table and solve it," she said. "It was a very informal and powerful way to share ideas."
From those humble beginnings, Clark has seen the financial industry change beyond recognition over the past 20 years. She said this is down to its reliance on technology and its insatiable appetite for innovation.
She said: "Back then, the advisor desktop was a bit of a twinkle in someone's eye – it really was up to the advisor to go to the various systems they could to get the data they needed to compile for their clients' reporting needs."
Labour intensive and often inaccurate, advisors now have to be more sophisticated to meet clients' expectations. Back then, it was okay for a money manager to take their sweet time to put together a report manually because their client was mystified by the whole process anyway. Times have changed.
Clark said: "Now the client is very sophisticated and demanding and very much 'I want it when I need it'. There's no time to wait for reports to be produced, they have to be very accurate and very reflective of the client's particular situation. They want that total financial picture and they want it now."
She said advisors and banks' brokerage firms are struggling to keep up with tech requirements, which is why the younger generations are gravitating towards "advisor-in-a-box" applications.
It brings into question the whole human-versus-tech relationship and Clark admits that nobody really know how it's going to play out in the long term. It's clear, however, that people need human interaction less and less.
She said: "It's a generation thing. People just don't like to meet in person and speak with humans; they prefer to interact with their technology in a different way.
"There are apps available to load on to your desktop to consolidate your portfolios across multiple institutions and you can do it at home after dinner with a glass of wine and you don't really have to interface with anybody. Human interaction isn't as necessary as it used to be."
Clark points out, though, that high-net-worth and ultra-high-net-worth clients require a personal service which is often the only differentiator between many of these companies.
The question, she said, is as these individuals pass their money down to younger generations and as they then grow older, will they want the human touch or will they want more of a relationship with their technology?
"No one really knows the answer to that but I think there will always be a necessity for the personal touch for the client experience, it's important to keep clients and for attracting new ones."
Picture: Jackie Clark, left, with client Kristina Riis, of the Ontario Teachers' Pension Plan