After nearly doubling assets through tech and people investments, president eyes next leg of growth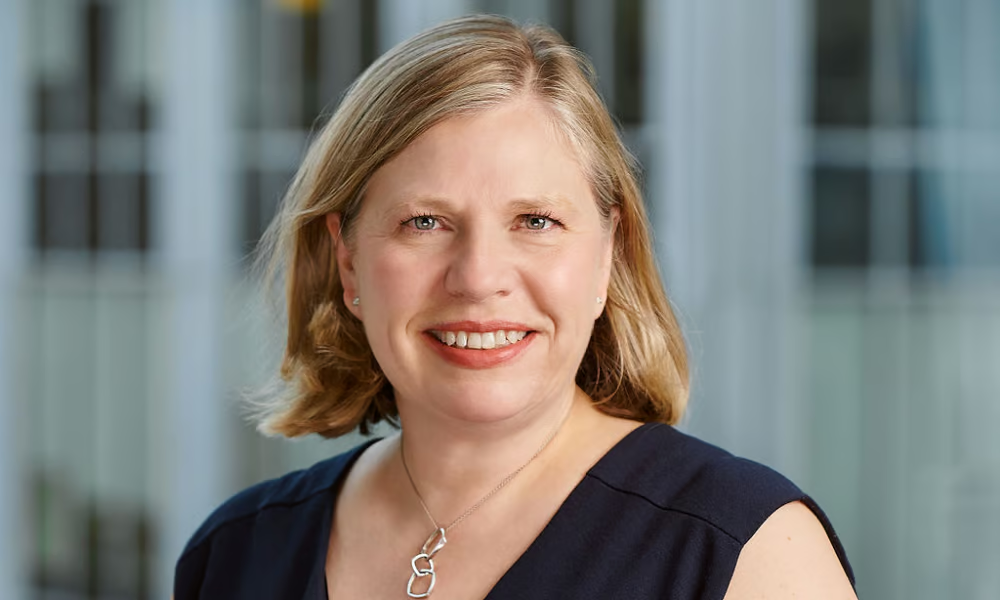 For the wealth management space at large, the past couple of years have been quite a ride. But the unique market climate of recent years is just a piece of the story for Janine Guenther and Dixon Mitchell Investment Counsel.
"We've had a really good start to the year and the firm is growing," says Guenther, who took the helm as the BC-based investment firm's first female president in 2021. "We're just talking to clients right now about their second-quarter performance and going through annual reviews, and we've got some really happy clients and some really good news for the firm."
As difficult as it was to be fully insulated from the poor performance of last year's bond markets, Dixon Mitchell managed to avoid the worst of it. This year so far, the firm has seen a rebound across client portfolios, including on the fixed-income side, which Guenther says speaks to the firm's long-term view and investments made in the business.
"Our investment committee revisits the portfolios every month, and in an emergency, if that happens. We try to think long-term all the time and keep ourselves out of trouble," she says. "We're never perfect, but we seem to have missed a lot of the drama of last year."
The firm has retained roughly the same mix of 30% institutional and 70% private clients, with some growth in Indigenous and pension plan business. From around $2.5 billion in AUM at the start of Guenther's tenure, the firm has just crossed the $4-billion mark, comfortably ahead of its target to double assets within five years of her taking the helm.
Over the next three or four years, the firm plans to double its size yet again, which the firm is well-positioned to do after some key investments. Among several ambitious projects since its leadership transition, the firm has embarked on a full tech refresh of its trading and back-office operations.
"We learned that there aren't a lot of solutions available for a firm like ours that has clients across multiple custodians. When we did our RFI, only three firms responded," Guenther says. "We're about 90% through our transformation for both our trading and back-office operations as well as our CRM."
The firm has also put in place regular webinars, which consistently garner an estimated 125 registrants who also follow through as attendees. That helps drive traffic toward the firm's website, which was refreshed to feature every member of the DM staff. Having profile information for all team members, not just executives, has been instrumental in helping the firm resonate with clients and prospects alike.
Aside from webinars and its site, the firm's digital strategy also leverages social media to broaden its online reach. That effort, Guenther estimates, has contributed to the roughly $8,000,000 in new assets the company has gained as part of its near-doubling in AUM over the past couple of years.
From a people perspective, Dixon Mitchell has distinguished itself as one of Canada's top small to medium employers since Guenther assumed leadership. It also recently bolstered its leadership by hiring a COO, a new position for the firm.
"When you begin a business from scratch and expand it to a remarkable $2.5 billion in just 20 years, you're successfully navigating the challenges of entrepreneurship," she explains. "Now that we've reached a certain size, it's important to enhance our leadership team to ensure our talented individuals who excel in client communication and business development have sufficient time to dedicate to these crucial tasks."
Looking through the lens of proficiency, over half of Dixon Mitchell's team of 36 people are either CFA charterholders, or currently somewhere in the program. Its bench also includes a number of CFPs, QAFPs, and chartered market technicians (CMTs), as well as people with computer science and culinary backgrounds who later found their passion in the world of investment management.
Guenther also highlights Dixon Mitchell's commitment to giving back to the community, which includes working with organizations in Vancouver to prepare and serve meals for the less fortunate. Those and other efforts, Guenther says, have helped the firm's people come together at a level beyond their day jobs.
Dixon Mitchell has also exerted efforts to expand its base of shareholders. Over the past three years, the fully employee-owned firm has enabled many of its people who never even thought about owning a piece of an investment firm to receive dividends, among other perks of company ownership. Eventually, it aims to extend that benefit across the firm.
Looking ahead, Guenther says the firm is looking to grow its team in Vancouver and Calgary. It's also thinking about establishing an office in Eastern Canada, with Toronto being at the top of the list given its clientele there.
"That's a huge undertaking. You need to at least have an admin person, and client-facing people to give them someone to talk to," Guenther says. "That's probably next on our list to do."