Compliance-obsessed advisors get nervous when discussing Twitter, let alone using it. But social media can - and should - be more beneficial than burdensome. Here are four key steps to success.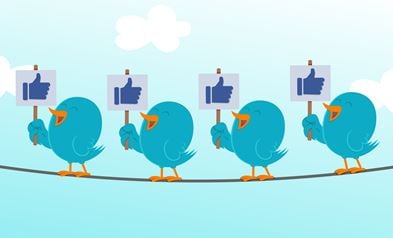 Advisors still question the value of social media - is it worth the time and effort spent learning how to use it properly and is there really an ROI?
Social media platforms are not only a great way to find new prospects, but are also essential to being found by your audience. Your clients and prospects are looking for you via social; if you don't appear online, consider yourself invisible.
Here are four ways to incorporate social into your web marketing strategy.
Incorporate social into your website
Social media networks and your website should work seamlessly to promote your brand online. Working together, these two channels drive an unlimited number of interactions, impressions and ultimately sales to help grow your firm.
One of the quickest ways to make sure your online assets are working together is to include visible social media buttons on your website. This strategy makes it easy for your web audience to "like," "follow," or "share," your web content.
Social strategy
A multitude of research concludes that, in most circumstances, posting 2-3 times each day is ideal.
If you only post once, it's likely to be lost in the millions of other messages being aired, while more than three posts each day often desensitizes users to the value of your message.
The exception? On Twitter it's acceptable to post as many as 5-6 times each day, as long as your tweets span across several hours. Experts suggest keeping your posts short – less than 80 words. It's also worth mentioning that images and video are more likely to engage your audiences. Try writing one short post each day and posting a picture or video as well. See for yourself which gets more action.
We recently learned of the 90-9-1 rule when it comes to grading your engagement with your social media audience. Out of 100 points, you get 90 when a message gets shared, 9 points for a comment and 1 point when someone "likes" it. What's the big picture? Getting your message shared via social media is much more valuable than other types of engagement.
So, how do you make people share your message?
The first rule to getting your online audience to share your message is to ensure that your posts are valuable. As a financial professional, share your knowledge about a specific topic or offer templates or guides that will help your viewers solve a problem.
For instance, creating a free downloadable month-by-month budgeting template is much more likely to get shared online opposed to a generic post promoting your firm. Providing your viewers with value is the simplest way to get them to share your message.
LinkedIn
When Advisor Websites surveyed advisors on their social media usage, 44 per cent of advisors reported spending the most time and effort on LinkedIn and more than 60 per cent of advisors used LinkedIn to gain new clients. Get the most out of the professional network by creating a top-notch profile:
Add the LinkedIn "Company Follow" button to your company's website. The button, or widget, gives your audience an opportunity to follow your company on LinkedIn without ever leaving your website. That way, every time you create a new post on the professional network everyone who follows your company will see it.
Since LinkedIn's redesign last year, you only get 120 characters at the top of your profile to describe who you are and what you do. Create a compelling headline for yourself that will capture readers on the first glance. Instead of "Financial Advisor," try using adjectives like "Innovative Financial Planning Professional." Make the most of your 120 characters.
Reach out to groups on LinkedIn and share your expertise. More than ever, advisors are turning to social media, LinkedIn specifically, to find new prospects. Why? Because LinkedIn makes it so easy! Search for groups that fit into specific areas of your clientele, like "CEOs planning for retirement." Search for questions that are being asked repeatedly and spend some time writing a really well-crafted answer that highlights your knowledge in the field. Zeroing in on new clients is as easy as becoming a thought leader online.
Measuring results
The most successful marketing plans need to be measured in order to gauge success. Advisors and marketers alike have expressed that the biggest challenges in using a social media strategy is identifying metrics by which to measure.
Today, digital measurement tools like Google Analytics help reveal what's working. Traffic from social media and social media engagement should be able to indicate how well your social strategy is working.
This is a slightly amended version of an article written by

Maggie Crowley, Vancouver-based digital marketing coordinator at AdvisorWebsites.com

. It has been shortened to make it suitable for web publishing.