Investment in the sector is growing in the region says Toronto Finance International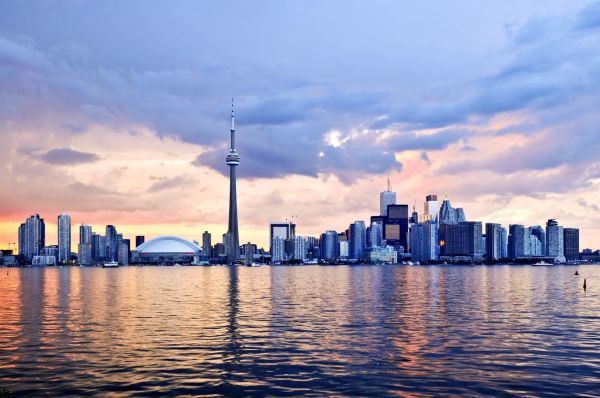 As the use of technology in the financial services sector escalates, the Toronto region can forge its place as a global leader in the fast-growing fintech sector according to a new report.
A new report from the public-private partnership Toronto Finance International says that fintech investment in the Toronto region has grown dramatically during the past five years, from $24M and eight deals in 2013 to $221M and 25 deals in 2018.
Despite this exponential growth, the region is lagging other major financial centres in the number and size of deals. But there is an opportunity to be seized.
"We have one of the highest investment growth rates globally, with a compound annual growth rate of 118 per cent since 2010," said Jennifer Reynolds, president and CEO of Toronto Finance International. "While this is a much smaller absolute investment base than that of global hubs like London, New York and San Francisco, we have the opportunity to leverage North America's second-largest financial centre, combined with its third-largest tech cluster, and use this momentum to become a global fintech leader."
3 key areas of focus
The report called "Seizing the Opportunity: Building the Toronto Region into a Global Fintech Leader – Update 2019" is an update on TFI's 2017 report.
It concludes that there are three key areas that should be the focus for the region's fintech ecosystem:
Openness: Create an environment that encourages innovation and drives collaboration among ecosystem partners.
Proximity: Encourage closer and more frequent engagement between participants in the fintech ecosystem to share and collaborate on ideas that result in technological improvements.
Global awareness: Elevate the Toronto region's global reputation as an international fintech hub in order to attract and retain start-ups, talent and investments both nationally and globally.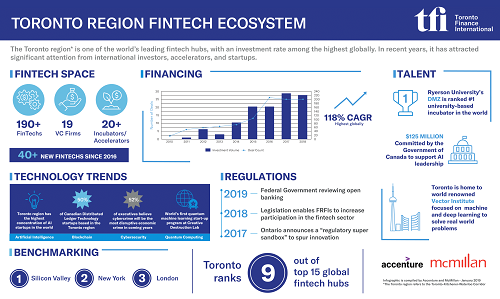 "Since the original report was published in 2017, government and regulatory bodies have taken positive steps to start addressing some of the concerns and needs of the fintech industry both in the form of legislative action and policy recommendations," said Pat Forgione, a partner in the financial services practice group at McMillan LLP. "However, it will be important as we move forward that all stakeholders continue to actively participate in policy discussions that support this momentum, in order to develop an environment that enables new and established fintech companies to thrive."