Awards finalist on starting her own business and overcoming archaic attitudes towards women in the wealth industry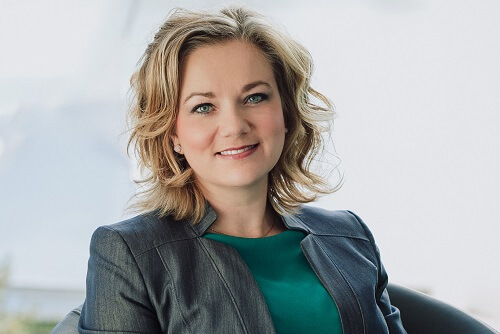 It was her career sliding doors moment. About two years into starting her own business, Janea Dieno's dream was flagging and she was offered a job as a wholesaler.
The Saskatoon-based financial planner and private wealth advisor was ready to settle for an easier life of sales targets and corporate rules.
But then she sat down and thought about the aspects of entrepreneurial life she enjoyed, like meeting clients and helping them on their financial journey. Reluctant to give these up, she did a U-turn and opted to plough on with Brightrock Financial.
"Am I ever glad I did," she told WP. "I think two years after that, they got rid of that [wholesaler] job."
Now in operation for more than 10 years, Dieno has grown her business organically, starting with friends and family and buying only one small book of business along the way.
She is a finalist in the Young Gun of Year category at WP's inaugural Women in Wealth Management Awards, which takes place on November 21 at the Beanfield Centre in Toronto.
But Dieno's route to wealth management success didn't follow a straightforward path, having first enjoyed spells in the tech and software world and then five years in hotel hospitality.
However, with a background in marketing and finance, she realized it wasn't providing the self-gratification she craved and that the learning curve in hotels had plateaued really quickly. An uncle, who owned a small MGA, intervened and suggested Dieno try out life insurance.
"I said you want me to sell life insurance for a living? What kind of job is that? But I took my licensing course while working in hotels and I loved it.
"Then I looked at the financial planning and said [to my uncle], I already do this is in my own personal life, my own planning, doesn't everybody? He said no, no one does it. So I said 'hah! I can make a business out of it'."
Without a background in banking or at a fund company, Dieno admitted the first five years were a slog. However, she believes she was able to forge her own identity because of this so that now her personality is imprinted on her business.
She said: "I was trying to meet with clients but I didn't really know any of the products and didn't know any of the processing or the systems. But by the same token I wasn't brainwashed, so I came in with this whole notion of, well, I don't know how it's done, so I created it on my own."
He added: "My personality is all over [my business] – that's what comes through with clients. It's not just transactional; we're that hand they hold when they are going through job transitions or a death or a job or a divorce."
Dieno said that apart from the usual industry challenges of building a book of business and establishing a reputation, she has had to deal with, at best, archaic attitudes to women succeeding in this industry.
She said she still gets asked who she works for and whose assistant she is despite the fact she has qualified for a top-100 advisors conference for the past two years.
She said: "You get into these advisor conferences, there was only five women that qualified, and the gentlemen have their own groups. They'll discuss business aspects whereas I get shuffled off with the wives.
"No! I'm a business owner. My husband should be talking about the 'spousal things' not me. My husband gets mistaken for the advisor quite often when we go to conferences and he actually works in a potash mine underground, so he has nothing to do with the business. He puts on a hardhat!"
So what's her advice to young women who want to establish themselves in the wealth space?